The defining moment for Christian talk radio happened February 24. In the previous ten days, programs such as James Dobson's Focus on the Family and Marlin Maddoux's Point of View had urged listeners to call congressional representatives to protest a provision in a $12.4 billion federal education bill that could have virtually outlawed home schooling.
Nearly one million callers jammed the House of Representatives' phone lines to protest HR 6. Lawmakers approved an amendment, 424 to 1, that stripped the home-schooling portion of the bill. Thus, Christian radio's small but loyal audience dramatically influenced the political agenda in Washington.
Although the vote was not a watershed event in America's political history, the effective alliance between Christian radio and largely conservative Christian activists may foreshadow their influence on the issues of health-care reform, abortion, and countless other social concerns. With new satellite technology, extensive mailing lists, and phone networks, Christian broadcasters are able to mobilize hundreds of thousands of concerned listeners on short notice.
Christian radio has mushroomed to the extent that it is now the third most-common format on the dial, behind country and adult contemporary. The National Religious Broadcasters Association (NRB) says 1,600 stations—one in ten—have a Christian format, more than two-thirds of them for-profit. Reflecting a trend in the larger culture, talk has become the hottest format in Christian radio, with 15 nationally syndicated shows. The success of pre-eminent talkmeister Rush Limbaugh—heard by up to 20 million people weekly—has done much to inspire Christians to follow his formula. Factors spurring the popularity of talk radio include its low production cost, immediacy, and ability to reach a nonprint-oriented audience.
Although programming and station outlets have grown, Stephen Winzenburg, communications professor at Grand View College in Des Moines, Iowa, says Arbitron ratings show Christian stations attract under 2 percent of the total audience, even though 10 percent of all stations have Christian formats. Winzenburg says the regular core audience is between 3.5 million and 4 million, and consists primarily of women.
"Most stations are barely making it, and very few are profitable," says communications professor Quentin Schultze of Calvin College in Grand Rapids, Michigan. He says the increase in the number of stations has not automatically translated into more listeners.
Of the commercial Christian stations, 440 are talk oriented, compared to 900 in secular talk radio. Even though the NRB and the Evangelical Council for Financial Accountability (ECFA) regulate fundraising and, to a lesser extent, morals, ministries are not required to join in order to start broadcasting on the airwaves.
KING OF THE AIRWAVES
The undisputed king of Christian radio is Focus on the Family president James Dobson. His daily half-hour show, on the air since 1982, is heard by nearly twice as many listeners as any other in Christian talk radio, via 2,300 stations and broadcast translators. In some urban areas, Focus may be heard two dozen times—on half a dozen stations that play it four times daily. Dobson also has a five-minute daily commentary on 1,150 stations.
Focus's own research indicates an average audience of 4 million during the week. Dobson's broadcasts are only one avenue he has to reach people. He has written 14 books and hosted two film series for churches. He also has a question-and-answer column in 370 newspapers and is at the helm of a magazine- publishing company with eight titles. Focus brought in more than $79 million in donations last year.
As a nonprofit organization, Focus cannot be directly involved in political lobbying, but the ministry can use its resources to inform people and motivate them to act, including flooding Washington, D.C., switchboards as the need arises. "The government is becoming increasingly bold in its intrusion into areas that traditionally have been the purview of the family," says Focus vice president Paul Hetrick. "Radio gives us an instant response indicator."
Dobson's national standing has turned his ministry into a lightning rod for liberal ire. Homosexual activist Mel White, a former ghostwriter for Pat Robertson and Jerry Falwell, has written a book about his "coming out" and has become a vocal critic of the traditional Christian teaching that homosexual behavior is wrong (CT, June 20, 1994, p. 35). In July, White staged a one-week "Fast for Understanding" outside Focus's new headquarters in Colorado Springs. Hetrick says, "We're the premier example, in Mel White's view, of a religious organization that totally misunderstands the Bible and God's will for homosexuals."
Yet, in the minds of conservative voters, Dobson conveys trust. "Dobson is extremely reputable," Winzenburg says. "He doesn't ask you every day to call your senators. You know when he does ask, that means it's pretty serious stuff."
While the Christian audience may be small compared with those of secular programs, they are avid listeners. "They respond in terms of money. They respond in terms of political pressure. They respond in terms of letters and protesting and boycotting," Winzenburg says. Talk radio's ability to telegraph the need for urgent action has become one of its most useful features.
"The beauty of live radio is that many times we are able to call our listeners to action," says Carmen D'Arcy Stanczykiewicz, director of broadcast marketing for Beverly LaHaye Live, heard by 750,000 people on 100 stations daily.
TALK RADIO'S PIONEER
The most popular Christian live call-in show is Point of View, hosted by Marlin Maddoux, who has been syndicated nationally since 1982. Point of View has an estimated audience of more than 2 million. The Dallas-based Maddoux sees Christian radio as a First Amendment stronghold against a liberal and secular press.
Maddoux says he is undeterred by Christians who criticize him for making "disparaging" remarks about President Clinton. Maddoux says that Scripture shows Jesus as "a very confrontational type of man."
Many issues discussed on Point of View, such as homosexuality or sex education, are the result of wayward government policies, according to Maddoux. "We've got to get involved if we want to save the country and the children." In 1985, Maddoux formed the USA Radio Network, which has several live call-in programs, such as Christian Consumer Advocate and Youth Talk. More are planned.
"We are in the process of developing full-time talk," Maddoux told CT, with radio stations taking as many hours as needed from a satellite feed.
"Some Christian talk-show hosts are upset that many Christians are listening to Rush Limbaugh instead of staying tuned to Christian stations," Winzenburg says. "You can't be too opinionated on Christian radio without alienating your audience."
Although Limbaugh gains many Christian listeners with his conservative message, few are aware of his own religious views. In a recent interview in The Door magazine, Limbaugh said he adheres to traditional Christian beliefs, but he declines to use radio as a pulpit. Not so with Maddoux, who says, "I go further than Rush Limbaugh. I espouse the Christian view."
UNFETTERED CONTENT
With the demise seven years ago of the Fairness Doctrine—which required broadcasters to allow a "reasonable opportunity for the presentation of contrasting viewpoints"—Christian radio has become a champion of unfettered airwaves. This new freedom has not necessarily translated into increased responsibility in content. "Very few stations are willing to provide standards of conduct for the people they have on their programs," Calvin College's Schultze says. "There aren't theological, doctrinal, or even ethical standards."
In 1986, the NRB organized its own ethics panel, the Ethics and Financial Integrity Commission (EFICOM). Yet EFICOM was dissolved in 1993, and NRB has stipulated membership in the 15-year-old ECFA as a prerequisite for NRB membership. Ministries wanting to display the ECFA seal of approval must meet accounting, fundraising, and governance standards. However, there are no clear content standards. "We do not get into the theology of what they're saying on the air, other than we ask for a statement of faith," says ECFA president Paul D. Nelson.
Indeed, beyond restrictions on endorsing candidates, there are few restraints on the program content of Christian broadcasts, related print material, and audio and video recordings. Through his programs, broadcaster and pastor Jerry Falwell has sold, for $43 each, more than 100,000 videos featuring former Arkansas state employee Larry Nichols, who has been on 150 talk shows. Nichols claims that "Bill and Hillary Clinton violated every law on earth through Whitewater." The tape also suggests Hillary Clinton had repeated adulterous affairs, and the President has ordered killings of "countless people." Clinton, going on a live radio show, called the video "scurrilous" and likened Falwell to the moneychangers Jesus threw out of the temple.
Falwell is not alone in alleging Clinton's misdeeds. Another talk-show host, Vic Eliason, on Milwaukee WVCY's Home Front in April, said, "The issue [is] how many people have died in proximity to this present administration; someone said it is anywhere between 22 and 29 people who have perished in one manner or another; some allegedly accidental, some allegedly self-inflicted."
Eliason does not restrict his attacks to politicians. He targeted Chapel of the Air host David Mains for allegedly booking New Age guests (CT, May 16, 1994, p. 38) and cancelled the program on his station after 30 years. Seven other stations followed suit, but Chapel of the Air continues on 450 outlets. "I had worries about whether we were going to survive, but it looks like we'll be okay," Mains says.
Why do such allegations draw listeners? Tom Nash, a communications professor at Biola University in La Mirada, California, says, "There are Christians who like a really angry message. That's why sometimes the more vitriolic ministries succeed." Yet NRB president E. Brandt Gustavson of Manassas, Virginia, warns, "Because of the haranguing about everyday politics, [some will] be turned off to the real message of hope and encouragement of finding Christ."
HOW TO BE ACCOUNTABLE
For religious nonprofit organizations, the airwaves have provided a unique and powerful way of raising money. While most broadcasters exercise careful restraint in fundraising, others test the limits. Last December, Denver's Bob Larson, the controversial host of the call-in show Talk-Back, went on the air pleading for funds, saying the Lord had told him in a vision that he needed to raise $1.89 million to revive Christian radio in America. On the air, Larson said, "You say, 'What's the vision?' I'm not telling you because, if I tell you, enemies of this ministry out there who want to see me off the air … would cut my knees out from under me in a moment's time." Larson went on to explain that an $89 donation would net two videos, one on the Devil in the classroom, the other on neo-Nazi Satanism. If callers put the contribution on a credit card, a third cassette about the Devil would be included. A $189 contribution would result in four videos and a book. "You say, 'I already got all that stuff; I gave last week.' Give again, give it away, give it to somebody else, and just give us the gift." Such tactics have given Larson a reputation as the rebel of religious talk radio.
In contrast to Larson, NRB's Gustavson says, "Our ethics statement calls for tasteful requests for funds. Some, no doubt, are more forceful, or may I even say, possibly gimmicky, in their fundraising. But the majority of NRB members are really very straightforward."
One complicating factor for Christian radio's mainstream is that some of the most controversial shows have dropped out of NRB, yet religious broadcasting as a whole gets besmirched when nonmember ministries get into trouble. Another talk-show host, Harold Camping, president of the 39-station Family Radio, asserts in two self-published books and on his show Open Forum that the world will end in September. "Theologically, there are no ways of getting a nonmember to stop that type of thing," Gustavson says. ECFA's Nelson says around 70 percent of all religious broadcasters belong to the organization. Yet membership is voluntary. Falwell, Eliason, Larson, and Camping are former members or have never joined.
WHEN LEADERS STUMBLE
Although the majority of radio ministries operate within careful guidelines, the public nature of broadcasting means that moral or financial failure becomes public as well. Following the televangelist scandals of the late 1980s, religious broadcasting's leaders stiffened their resolve to police themselves.
Thus far, the accountability system has worked reasonably well, although broadcasters' misbehavior has not ceased. Last December, Darrow Parker, host for seven years of the Radio Bible Class Day of Discovery and Sounds of the Times programs, resigned after confessing to "personal failures and marital infidelity." In October 1992, the Solid Rock Radio board of directors voted to suspend broadcasts after host David Hocking admitted "moral failure in recent months that led to sexual sin."
In March, the ECFA terminated the membership of People to People host Bob George after he pleaded no contest to soliciting a prostitute. Bott Broadcasting Company pulled George's show immediately. "George repeatedly failed to provide documentation refuting the charges as we requested," says Dick Bott, Sr., who heads the seven-station network in Overland Park, Kansas. "If organized Christianity does not take this seriously, we lose a lot of credibility." George has denied wrongdoing and claims his arrest was an error by police.
Questions of accountability are also being raised about former ECFA member Hank Hanegraaff, president of Christian Research Institute (CRI) in San Juan Capistrano, California. He is host of the Bible Answerman and author of the bestselling book Christianity in Crisis.
A 35-member "Group for CRI Accountability," which includes several terminated employees, allege Hanegraaff withdrew CRI from ECFA in 1992 so that he could keep $500,000 in book royalties from Christianity in Crisis; secretly borrowed $100,000 from CRI as a down payment for an expensive residence; and intimidated, manipulated, and fired workers without cause. The CRI board of directors has issued a response, saying that the "allegations are groundless and CRI will be fully vindicated when the facts are fully known."
The federal government has also exercised a watchdog role in dealing with religious broadcasting. Last year the Internal Revenue Service revoked the tax-exempt status of Falwell's Old Time Gospel Hour for two years after determining that the program's assets and personnel had been used as a political action committee. The ministry paid $50,000 in taxes in a settlement.
Last summer a House Ways and Means subcommittee held hearings to investigate 21 radio and television evangelists accused of violating the IRS's 501(c)(3) code for nonprofit organizations.
"Not all of them are operated by people with halos," subcommittee chairman J. J. Pickle (D-Tex.) said of nonprofits under review. The subcommittee's report kept the names of the evangelists confidential, but complaints included excessive compensation to family members; treating employees as "ministers" to avoid employment-tax liability; falsifying large contributions to overseas charities; and lying about financial hardships to generate giving. In a report to the full committee in May, Pickle said, "Carefully targeted reform measures are needed to improve compliance with tax laws."
A NEW PARADIGM
The networks and programs that survive and prosper have earned a reputation for integrity. The largest noncommercial network originates at Chicago's Moody Bible Institute, which owns 16 stations and has 275 affiliates carrying programs. Among its live talk shows are Open Line, Midday Connection, and Prime Time America.
Jim Warren has hosted Prime Time America since it began 14 years ago. Warren's regular guests include secular experts in such areas as gardening, automobiles, and sports. "I want to encourage people to think beyond the Christian ghetto," Warren says.
The largest Christian radio network, Salem Communications, owns 26 stations and has 384 affiliates. Already, the Camarillo, California-based network has half a dozen talk programs, including one featuring Operation Rescue founder Randall Terry. Conservative columnist Cal Thomas begins a 9 P.M.-to-midnight issues-oriented show this month. Also this month, Salem will syndicate WYLL's Chicago Talks, dubbing it the Dick Staub Show for a national audience. Chicago Talks has gained an audience beyond core Christian radio listeners by discussing more than conventional Christian issues. Staub says, "There are times when I editorialize and take a very strong position, but we try to give people both sides of an issue. I don't feel the need to nail everybody."
Open debate with disagreements expressed by guests and callers is healthy, Staub says. "Randall Terry is totally convinced he's right on every subject he discusses, and he's there to persuade you that he's right. That's his style, but I'm interested in getting a broader hearing."
With Christian radio's new growth and new constituencies have come new chalenges. Initially, much of religious broadcasting was denominationally based or revival-oriented. Today, parachurch professionals and other Christian ministries are profoundly reshaping the industry. In 1990, the Rutherford Institute, a Charlottesville, Virginia, religious-liberties organization, began airing a two-minute Freedom Under Fire spot on 48 stations. Less than four years later the program is aired on 970 outlets, with a toll-free number at the end.
Likewise, Charles Colson started his daily four-minute BreakPoint in 1991. It is now on 300 stations. Colson, the author of a dozen books and the founder of Prison Fellowship—which has 60 field offices—is hardly unknown in Christian circles. Yet Prison Fellowship has received 80,000 new contacts via Breakpoint.
Equally significant, the unofficial alliance between Christian and secular conservatives on political issues has become a highly potent and nationwide force. The attention to political issues has shifted the focus of religious broadcasting toward closing the cultural divide in America and catering to the felt needs of listeners.
From the earliest days of broadcasting, religion and radio have shared mutually ambitious aspirations. The question of whether contemporary Christian broadcasters can continue to perform their high-wireless act of balancing politics and piety is certain to be the talk of the airwaves for years to come.
Have something to add about this? See something we missed? Share your feedback here.
Our digital archives are a work in progress. Let us know if corrections need to be made.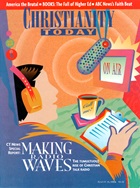 This article is from the August 15 1994 issue.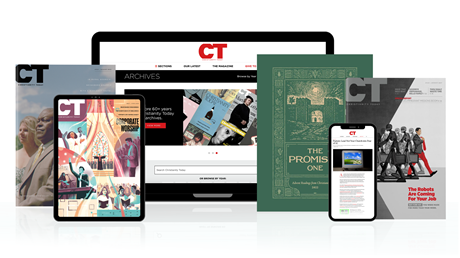 Subscribe to Christianity Today and get access to this article plus 65+ years of archives.
Home delivery of CT magazine
Complete access to articles on ChristianityToday.com
Over 120 years of magazine archives plus full access to all of CT's online archives
Subscribe Now
Mixing Politics and Piety
Mixing Politics and Piety