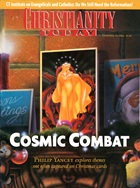 This article is from the December 12 1994 issue. Subscribers can read all of CT's digital archives.
CHANGING PLACES
The stunning point of Christmas is that God considered my needs and the worth of my relationship to Him to be sufficient cause to go through the trauma of changing places.
-Joseph M. Stowell in
"Moody Monthly" (Dec. 1992)
A STUPENDOUS AND ASTONISHING WONDER
Christmas for millions is just "the holiday season." Are we losing the sense of marvel at the Christmas miracle? Why, this is the most stupendous and astonishing wonder which could ever engross the human mind - that the eternal, infinite Creator of the universe should enter our human life, and assume our human nature, by being born as a baby of a human mother!
-J. Sidlow Baxter in
"Awake, My Heart"
THE PERFECT GIFT
Who can add to Christmas? The perfect motive is that God so loved the world. The perfect gift is that He gave His only Son. The only requirement is to believe in Him. The reward of faith is that you shall have everlasting life.
-Corrie ten Boom in
"Each New Day"
NEEDED GENEROSITY
If the result of commercialism is no worse than to make a husband give a gift to his wife, and a father a gift to his child, and to enable us all to be extravagantly generous for once, then there could be much worse things.
-William Barclay in
Daily Celebration
HUMBLING THE GLORIFIED ONE
Jesus, the Christ, is the Eternal One, for in the fullness of time He humbled Himself. John's description is plain: the Word was made flesh and dwelt among us.
I confess I would have liked to have seen the baby Jesus. But the glorified Jesus yonder at the right hand of the Majesty on high, was the baby Jesus once cradled in the manger straw. Taking a body of humiliation, He was still the Creator who made the wood of that manger, [and] made the straw.
-A. W. Tozer in
"Renewed Day by Day"
GOODNESS THAT ...
1
Classic & Contemporary Excerpts from December 12, 1994
Classic & Contemporary Excerpts from December 12, 1994