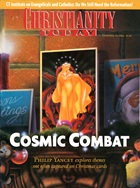 This article is from the December 12 1994 issue. Subscribers can read all of CT's digital archives.
Physical ailments may have curtailed the travels of history's most traveled pope, but 74-year-old John Paul II is not lacking for publicity.
The Vatican, in conjunction with publishers in 35 countries, released "Crossing the Threshold of Hope", the first book written by a reigning pontiff for the general public. Alfred A. Knopf paid $8.5 million for publication rights, a record for a single volume in the United States.
The October 20 release of the book was to coincide with John Paul II's arrival in New York at the start of a four-city U.S. tour. But the pope, who has appeared frail since a fall prompted hip- replacement surgery in April, canceled the visit.
Five million copies - 1.5 million in the United States - of the $20 book have been printed in 20 languages. The 244-page book reiterates John Paul's teachings on a variety of subjects, including the existence of God, pain and suffering, eternal life, the relationship of Christianity to other religions, and a hope for Christian unity.
Richard John Neuhaus, president of Religion and Public Life in New York, compares "Crossing the Threshold of Hope" to sitting across the dinner table from John Paul II for an extended period. "The book shows the unique transnational status of the pope in providing a moral point of reference on everything from the collapse of communism to the Cairo conference," Neuhaus says.
John Paul II, who has been pope since 1978, could reap tens of millions of dollars in royalties from the book, but he has said he would donate the money to charity. The book became an instant bestseller, and a second printing was ordered. "Crossing the Threshold of Hope" is not the first bestseller of the faith this year. The 800-page Catechism of the Catholic Church became ...
1
Pope Lands on Bestseller List
Pope Lands on Bestseller List