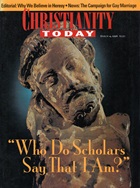 This article is from the March 4 1996 issue. Subscribers can read all of CT's digital archives.
Martha Barnette is the daughter of a seminary professor and the sister of a Southern Baptist minister. She has been involved in a committed relationship for more than seven years. "Like other couples," Barnette says, "we work hard, fret over bills, worry about things like public education, pay taxes, and savor quiet evenings at home and romantic dinners out. We're totally monogamous, and we're in this relationship for the duration."
Unlike most couples, however, Barnette and her partner are lesbians. They have joined a growing list of homosexual couples who regard marriage, in Barnette's words, as "a set of special rights for heterosexuals." These couples want the freedom to visit their partners in hospital emergency wards instead of being denied access because they are not considered family. They want the legal license to make decisions in the event a partner is declared legally incompetent. They want to be able to collect pension and other benefits upon the death of a spouse without having to jump through legal hoops. In short, they are seeking recognition as married partners and all the legal and social privileges that accompany such a designation.
The New York City-based Lambda Legal Defense and Education Fund (LLDEF) is coordinating an aggressive public-relations effort aimed at changing the country's perception—and its laws—regarding same-sex marriage. Says lldef's marriage project coordinator Evan Wolfson, "We want public discussion in every state and every community. Americans deserve to hear the real-life stories of real-life couples, stories that will challenge the stereotype."
Opponents of legal recognition for same-sex marriage maintain that it will contribute to a decline in public morality, to the ...
1
Our digital archives are a work in progress. Let us know if corrections need to be made.
Seeking a Right to the Rite
Seeking a Right to the Rite