After serving more than a decade at World Vision, Robert Seiple is stepping down this month as president of the largest privately funded Christian relief-and-development organization in the world. During his tenure, Seiple doubled the funding for relief work and moved wv's headquarters from California to Federal Way, Washington (south of Seattle). His most lasting contribution, however, may prove to be his pushing the organization beyond the first two steps of relief and development into effective engagement of the deep-seated nationalistic conflicts that have erupted around the globe in recent years. World Vision, which was founded in 1950 when Seiple was eight years old, today operates in 100 countries worldwide. Before coming to World Vision, Seiple served as a United States Marine captain during the Vietnam War and was president of Eastern College and Eastern Baptist Theological Seminary.
How has the landscape of relief and development changed since you came to World Vision in 1987?
I began during the last two years of the Cold War, which was followed by the chaotic, dysfunctional, transitional era we're still in. Without the balance caused by having two world superpowers, we've seen virulent identity wars break out that are difficult to stop and that continue to burn like fires in the back 40. Relief-and-development agencies need to bring a new emphasis to conflict analysis and reconciliation that relief agencies have never had.
For instance, you can go to the border of [the former] Zaire and Rwanda and feed refugees in the camp, but if you stay long enough, the refugees not only recover physically but begin to monetize the food they're getting so they can buy guns and go back over the border and continue the carnage. Bringing reconciliation in these circumstances requires a new level of geopolitical sophistication, for which we have precious few models.
Do faith-based organizations receive more respect now in the international community than when you began?
Absolutely. We are invited to sit at tables we have never sat at before. We are listened to in ways that we've never been listened to before. I don't know how long this window of opportunity will stay open for faith-based organizations, but the world realizes it doesn't have answers for the Bosnias and the Rwandas of our time.
How does the modifier "Christian" distinguish the work of Christian development agencies?
Where others see intractability, Christians see possibility because of the reality of a sovereign God. Our hope is not just an abstract theological concept, but a hope made tangible by the resurrection of Christ and the reality of his second coming. This gives us a sustainable hope, which is a very important commodity in development work. People die in this world not simply because they don't have food or water, but because they don't have hope.
Some have criticized World Vision for losing its original Christ-centered focus. What is driving this criticism?
Some of it has been a perception problem. This is an organization that was founded in the heart of an evangelist, Bob Pierce. Those who followed him didn't keep all his methodologies. Pierce went to the pastors, for instance. Stan Mooneyham, who came second, went to the folks in the pews. When you bypass the pastors and go to the folks in the pews, you create a dynamic that might raise some questions.
Also, in 1978 World Vision began the process of internationalization. This means simply that we began to give the ministry away to other entities around the world on an equal basis, a process that's still going on. I think we failed to properly explain to churches what was happening.
Having said that, however, I don't think we ever lost that evangelistic heart. Admittedly, our job description is a little different than for people who do crusades or hand out Bibles or do translations. We are charged with undertaking relief-and-development work. But this work is a sign and an outworking of the gospel of Jesus Christ. I think some people feel that when you become more holistic, you have to give something else up. That's not true. It just might make the witness to the gospel a bit richer.
Does World Vision sometimes undertake relief work without mentioning the name of Jesus?
In terms of evangelism, you just mentioned one methodology: saying the name of Jesus. Whether we are in a restrictive context or not, our emphasis should always be to show the love of Jesus through our work and share his name where we can share it. But there are places where we'll be expelled from the country if we were to broadcast the name of Jesus. So we need to be wise as serpents and gentle as doves in those contexts. In a broad sense, our method of witnessing is incarnational. We walk the talk. People have to be drawn to the gospel, especially people who have been brought up with another story.
Does that mean replacing their religious stories with the gospel story?
Yes, over time. This is not only true with those in non-Christian nations, it's also true in so-called Christian nations. In America we have a lot of Christians talking about truth but demonstrating something less in their actions. This makes the gospel unattractive. In fact, when we're not careful about how we treat one another, we can inoculate the unconverted against the gospel we say we believe. That's one of Satan's great methodologies.
So, I think if we were going into a country where you can't speak openly the Word, that's probably not all bad. Saint Francis said to preach the gospel every chance you get—use words if necessary. That's very real and important in a restrictive country, but it's also increasingly important in the Western context, where we have the freedom to say anything.
Evangelical Politics
You've been president of Eastern College and of World Vision, and you understand the politics that operate in evangelical organizations. What message would you like to communicate to the leaders of our institutions?
I don't want to suggest that I have all the answers, but I think the church is very much in need of a way of doing business that brings back the purity of the faith. The saddest part of my 15 years of working with Christian ministries is how Christians treat Christians and the energy that's expended in trying to purify a denomination or in trying to create an ascendant organization, one that's better or bigger or takes in more money than the next one.
I think we've gotten away from the ethic of love and grace. All too often in the public square, our Christianity comes across as either triumphal or judgmental. The Great Commission gets short shrift because we have yet to figure out how to love in terms of the Great Commandment, which was given before the Great Commission.
I believe there's a need for repentance among visible Christians today in terms of the Great Commandment to love God and neighbor. I say that from the perspective of someone who was raised in the church, saved in the church, memorized his catechism and his King James Version of the Bible in the church, and who loves the church. I say it because I'm bothered by the amount of our energy being dissipated by answering questions that Christians ask of Christians. They're not questions about loving Jesus. They are theological nitpicking that border on the political and have an ideological bent. They are less than holistic and are designed as a litmus test for who will be included in the circle. As we balance the number of angels on the tip of a pin, we've not noticed the world is going to hell in a handbasket.
But aren't there questions of truth for which one should fight to the death?
There are questions of truth that one should be prepared to die for. There are questions that one should be prepared to discuss. And there are questions about which one should simply say, "That's a good question; after we stop seeing through the glass darkly, maybe we won't have to ask it again. Or maybe we don't need to ask what even Christ never chose to ask." Each case needs to be looked at individually.
But look at the enormous amounts of energy that go into these fights. At what expense? Do they strengthen our foreign missions efforts? Is the perception of Christian solutions to ecclesial problems in the eyes of the unconverted as good as it could be? Is there any possibility that in our internal catfights—which have become anything but internal—we have turned people off?
Mahatma Gandhi once was asked what it would take for India to become Christian. He answered that Christians would have to start acting as Christians. I think all of us who have platforms for speaking need to be very, very careful. This is where leaders are going to be held up and judged, not by one another, but by almighty God.
Do you see this infighting as unique to North American Christianity?
Yes, pretty much so. As I go around the world, I see people whose commitments to almighty God are much purer and a faith that's much richer than ours. We have insulated ourselves like we insulate our homes and have made faith less than necessary. We like a good argument, and we like to be heard in the public square. We don't care if folks are falling off the sides of the kingdom platform as long as we can make our points.
I find there are a lot of questions and definitions that only Americans talk about and divide over that are never thought about in other parts of the world. They don't have time to think about them. They're persecuted, they're less than whole physically, they're fighting for their families' lives, they're trying to hold onto the last shred of hope. Their faith—the subject of things hoped for, the evidence of things not seen—is real.
Where the Money Goes
What percentage of World Vision revenue comes from government sources?
We are the largest privately funded relief-and-development agency in the world. Just under 18 percent of our funding comes from government sources, which means the great majority of our funds is from private sources.
What percent goes for administrative overhead?
Last year our administrative overhead was about 20 percent.
Is that considered an acceptable percentage for donor-based organizations?
In terms of the watchdog agencies, anything 35 percent or better is acceptable. I think most thinking people feel that it's a very good ratio, given how we raise money and how we use it. At the same time, we constantly try to get it lower when we can do so without destroying the effectiveness of the ministry. Some ministries cost money—and working in the developing world is not inexpensive in terms of its structure.
The Next Millennium
What do you think your legacy will be?
I tend to look forward and let other people figure that out. But I would hope my legacy would be one of keeping the faith of our forefathers. I would hope it would be one of courage in doing what was right, even when it was difficult or disruptive. By that I mean things like moving an organization 1,100 miles and putting everything on the line so that we could position that organization to be better able to work in the twenty-first century. I hope folks would see the work we've done with the reconciliation methodologies that we've been discussing. And I would also hope that we've become more reflective in working with the right agenda during the decade-plus that I've been here.
Then there would be other people who would look at the numbers and note that we went from a $145 million organization to a $350 million organization, plus or minus. That's fairly dramatic.
What will face your successor?
The world is changing at exponential rates, and organizations that are going to have an impact in the twenty-first century have to do two things right. They have to make the changes that will be necessary, and then they are going to have to pick their partners with wisdom and discernment. The humbling part of our world is that no one organization is going to operate by itself. We're going to be working alongside folks in the next century, I think, that we've never thought of working with before.
Leaving World Vision, how do you understand God in a world where 33,000 children die daily from hunger-related causes?
In my travels, I saw young children who had almost never experienced the human touch banging their heads against orphanage walls. As these kids died, their names were taken off the cribs and their bodies were carried out at night. Such tragedies are impossible to grasp, and we will always ponder the question of where God is. The concise answer, of course, is that God was the same place he was when his Son was hanging on the cross.
At the same time, we must be careful that we don't blame God for the fallenness of humanity. For instance, we still live in a world—albeit with 6 billion people—that can still feed itself and has the means to generate food stores to feed many more. The dominion God has given human beings over the earth is not just a gift, but also a challenge and a responsibility. If a two-year-old North Korean girl starves to death because we can't get food to her, I think we've failed in our responsibility. We are to use the tools God has given us to solve these problems.
I remember standing on a bridge over the Kagera River on the border of Tanzania and Rwanda about a month after the killing started there. Looking into that river swollen with dead bodies—old and young, boys and girls—I saw there the depth of evil in the world. At the same time, as the water sprayed down over the falls, a rainbow hovered over the entire scene. While there is much to despair over in this world, believers know this is a world God so loved. That's a good starting point as we go out into the world. We do not have to bring God with us when we go. He's there first, even before the foundations of the world. And that's tremendously comforting.
Have something to add about this? See something we missed? Share your feedback here.
Our digital archives are a work in progress. Let us know if corrections need to be made.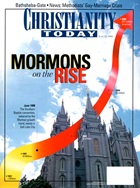 This article is from the June 15 1998 issue.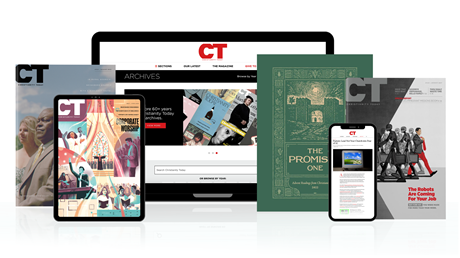 Annual & Monthly subscriptions available.
Print & Digital Issues of CT magazine
Complete access to every article on ChristianityToday.com
Unlimited access to 65+ years of CT's online archives
Member-only special issues
Subscribe
De-Seiple-ing World Vision
De-Seiple-ing World Vision