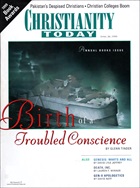 This article is from the April 26 1999 issue. Subscribers can read all of CT's digital archives.
The Bible is not only a book of incomparable stories and poems; it is also a book of divinely inspired lists. I suspect that my lifelong love of lists was sparked when I was a small boy, listening only half-comprehending to the Bible being read aloud. (I'm sure I was not the only child spellbound by the recitation of clean and unclean animals in Leviticus: "And the stork, the heron after her kind, and the lapwing, and the bat. All fowls that creep, going upon all four, shall be an abomination unto you.")
If you are also a lover of lists, and a lover of books, this issue of CT is for you. Here is our list of the best books published in 1998. More than 200 titles were nominated. Ballots were sent to a large panel of pastors, scholars, writers, and other church leaders, who chose the titles for our "Top 25" list. (Because of ties, the list includes a total of 26 titles.)
CT's Book of the Year is The Divine Conspiracy: Rediscovering Our Hidden Life in God, by Dallas Willard, published by HarperSanFrancisco (the copublisher of last year's Book of the Year, Billy Graham's Just As I Am). Eerdmans led all publishers with a total of six titles.
As always, the books play off each other, as if in conversation. Poet Kathleen Norris's Amazing Grace shares a spot on the list with Roger Lundin's Emily Dickinson and the Art of Belief; many of the words in Norris's "vocabulary of faith" were central to Dickinson as well. I'd read both of these books, but I never thought about them at the same time; now I will.
In After Heaven, Robert Wuthnow reports on America's spiritual "seekers." In The Divine Conspiracy, Dallas Willard observes that it is quite possible to be a Christian today without being a disciple of Jesus. Maybe we should read Wuthnow ...
1
Our digital archives are a work in progress. Let us know if corrections need to be made.
1999 Christianity Today Book Awards
1999 Christianity Today Book Awards