While Israel is pulling out all the stops in preparation for an inundation of pilgrims to mark the beginning of the third millennium of Christianity, a dispute in one of the cities where it all started is giving tourism officials headaches.
The city of Nazareth, Jesus' boyhood home, is in the midst of a $100-million renovation that includes an archaeological re-creation of a first-century village and the construction of new hotels (CT, Feb. 8, 1999, p. 22).
But an area near the massive Church of the Annunciation, designated for construction of a tourist plaza, has been seized by local Muslims who claim it for a mosque. They want to commemorate the tomb of Shehab al-deen, who fought against Crusaders in the twelfth century. Tensions erupted into violent clashes last Christmas and again on Easter.
Islamic leaders have thus far refused to compromise and rebuffed an offer of another larger locale for a mosque, which was made by a committee that included deputy prime minister Moshe Katsav and foreign minister Ariel Sharon.
Nazareth's Christian mayor, Ramez Jaraisi, and the Israeli government officials are in a difficult position. Muslims, not Christians, are now the majority population in Nazareth. But the Vatican has threatened to close churches and possibly even reconsider a visit by Pope John Paul II if a mosque is built in the shadow of Nazareth's prime attraction.
With the largest flood of pilgrims in Holy Land history at stake, officials are working diligently for a solution. Katsav, who is also tourism minister, says "Israel has invested $500 million during the last few years in preparation for 2000." But government officials realize the investment could be for naught if Muslim extremists cause large numbers of Christian tourists to stay away.
BETHLEHEM, JERICHO: The Israelis have competition. Jordan and the Palestinians, who now control Beth le hem and Jericho, are making their own plans for pilgrims and tourists.
As with Nazareth, Bethlehem is a mess for visitors this year as hotels and other facilities are being built. The parking lot in front of the Church of the Nativity has been torn up for construction of another pilgrims' plaza.
In Jericho, bold new attractions could bring new notoriety to one of the world's oldest cities. A casino opened last year and appears to be thriving despite condemnations from both Jewish and Muslim religious leaders.
A line of steel towers has been constructed for a cable car that will soon whisk visitors from the archaeological site marking the ruins of ancient Jericho up to the "Mount of [Jesus'] Temptation," with a magnificent view of the southern Jordan River Valley.
Just across the river, a major excavation and restoration project is under way at a Byzantine-era complex of churches, monasteries, and waterworks originally built to commemorate the ministry of John the Baptist.
Wadi Kharrar, as it is called today, has become the focus of a $5 million Jordanian tourism effort to entice pilgrims into the Holy Land outside of Israel next year.
But a majority of people who come to Jericho go south instead of east, heading for Masada, the mountaintop fortress where 960 Jewish zealots took their own lives rather than submit to Romans in A.D. 73. "Just about every tourist who comes to Israel comes to Masada," says Tali Gini, an archaeological inspector who oversees the site. Masada already has a cable car, but a new one accommodating twice as many passengers is being constructed.
COMINGS AND GOINGS: Access and egress are two of the biggest concerns for those in charge of readying sites for next year. New hotels can be built virtually anywhere. Holy sites located inside centuries-old buildings do not as easily lend themselves to change.
At the traditional site of the Last Supper, just outside the walls of Jerusalem's Old City, a new exit has been installed.
A separate exit for the Old City's Church of the Holy Sepulchre, which marks the traditional spot of the crucifixion and burial of Jesus, is more of a challenge. Israeli government officials are in talks with the Orthodox, Catholic, and Coptic clerics who oversee all activities within the ancient facility.
The religious leaders showed uncharacteristic agreement on a rotunda gilding and remodeling that brightened up the inside of the church a couple of years ago after an American millionaire agreed to foot the bill. But any change that gives a perceived advantage to one Christian tradition over another inside the Church of the Holy Sepulchre is sure to prompt sharp disputes among Jerusalemite Christians.
SIX MILLION VISITORS: Roman Catholics are likely to make up the largest number of visitors next year at the Church of the Holy Sepulchre as Pope John Paul II has proclaimed 2000 a "holy year" as well as a "world pilgrimage to the Holy Land year."
Vatican officials have told the Israelis to expect 6 million pilgrims in 2000. For the past three years, an average of 2.4 million visitors traveled to Israel, including many evangelicals.
Rick Ricart of TTI Travel in Wheeling, Illinois, has mainly Protestant clientele. "We're up 35 percent in bookings for the Holy Land," he says about next year.
Whether the political climate will remain stable enough to draw visitors who have been weighing a visit for many years is still, to some degree, out of their hands. But if tourists come, Israel plans to be ready.
Have something to add about this? See something we missed? Share your feedback here.
Our digital archives are a work in progress. Let us know if corrections need to be made.
This article is from the June 14 1999 issue.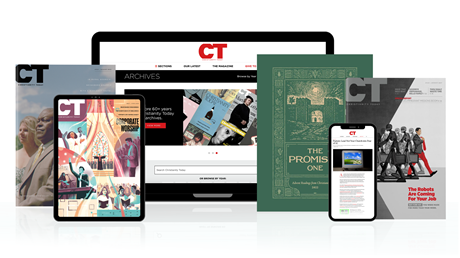 Annual & Monthly subscriptions available.
Print & Digital Issues of CT magazine
Complete access to every article on ChristianityToday.com
Unlimited access to 65+ years of CT's online archives
Member-only special issues
Subscribe
Preparing for Pilgrims
Preparing for Pilgrims