Hell, we might say, with apologies to Jean-Paul Sartre, is for other people. Hitler, Pol Pot, child molesters perhaps—though there is always the possibility of repentance. The closer we come to our loved ones, even those who have forthrightly rejected faith in Christ, the harder it is to contemplate such a fate. And what about the Hindu family that moved in down the block last year, or the Buddhist émigré from Tibet, or the devout Muslim who teaches at the local college?
Last week at Wheaton College, in the latest installment of the McManis Lecture Series on Religious Pluralism, John Sanders of Huntington College spoke on "The Wider Hope: An Evangelical Inclusivist Understanding of God's Work Outside Christianity." Sanders, whose work in the "openness of God" movement among evangelical theologians—see his book The God Who Risks (InterVarsity Press)—has been widely discussed and debated, starts with the biblical assumptions of "God's universal salvific will" (John 3:16; 2 Peter 3:9)" and "the particularity and finality of Jesus (Hebrews 1:1-3; Acts 4:12)." Given this starting point, Sanders takes up what he calls "the soteriological problem of evil," that is, "what does the creator God, who wants all to be saved in Jesus Christ, do to accomplish this goal?"
It should be clear from the way that Sanders frames this question that he rejects the popular notion, advocated by John Hicks among others, that all the world's "great" religions are equally valid and that all offer a path to the truth that transcends any particular expression of the divine. Nor does he argue for a Christian universalism: the view that "all people are given the opportunity to receive Jesus and all will, sometime or another, be saved." On the other hand, Sanders also rejects the view, held by some evangelicals, that only those who explicity confess faith in Christ will be saved. Finally, in a more subtle but nonetheless important distinction, he differs from evangelicals who proclaim God's power to save outside the scope of human evangelization but who reject the notion that God uses other religions as a vehicle of revelation.
Sanders calls his own position "inclusivism," the view that "the unevangelized have the opportunity to be saved by Jesus if they respond in faith to God based on the revelation of God they have." So, while insisting that salvation is accomplished only through Christ's saving act, and while acknowledging significant differences between Christianity and other religions, Sanders also wants to take note of "a remarkable similarity in the discussions about the divine nature in the major religious traditions of Hinduism, Buddhism, Judaism, Christianity, and Islam." He advocates what he calls a "pneumatological approach" to other religions, seeking to discern where the Holy Spirit is active in these other traditions and thus distinguishing what is true in them (what, in other words, results from general revelation and the ongoing work of the Spirit) and what is false. Apologetically, this plays out in a strategy that "begins by looking for commonalities and then moves on to disagreements."
In conversation the day after his lecture, Sanders remarked that among his students he often encounters one of two diametrically opposed views: the first, that there is no truth in religions other than Christianity, and the opposing view, that other religions are valid on their own terms. In contrast, he said, he wants to argue that other religions are a mixture of truth and falsehood.
In his lecture, which was followed by a lively question-period, Sanders took pains to emphasize that his view can be placed in a long Christian tradition that includes C.S. Lewis, John Wesley, and Saint Thomas Aquinas. Whatever its merits, it cannot therefore be dismissed, as some would wish, as a capitulation to the fashions of contemporary culture. Here, as in his work on the openness of God, Sanders is engaging issues of vital concern to the church. Those who wish to pursue this conversation may want to take in the next MacManis Lecture at Wheaton, on April 13, at 7:00 pm in the Billy Graham Center, Room 136, where George Hunsberger will speak on "the Myth of Religious Pluralism: The Missionary Approach of Lesslie Newbigin."
John Wilson is Editor of Books & Culture: A Christian Review.
Related Elsewhere
Visit Books & Culture online at BooksandCulture.com or subscribe here.
John Sanders 1990 Christianity Today article, " The Perennial Debate | Christians have never agreed on the salvation for those who have never heard of Christ" also appears today at ChristianityToday.com.
For more of John Sanders on inclusivism, see his books No Other Name: An Investigation into the Destiny of the Unevangelized (Eerdmans, 1992), and What About Those Who Have Never Heard?: Three Views on the Destiny of the Unevangelized (IVP, 1995).
Books & Culture Corner appears Mondays at ChristianityToday.com. Earlier Books & Culture Corners include:
My Cab Ride With Gloria | Meeting a legend, tearfully. By Frederica Mathewes-Green (Apr. 3, 2000)
I Read the News Today | Finding the most important story in headlines' sum. By John Wilson (Mar. 27, 2000)
Peace Be With You | Looking beyond naivete and cynicism about peacemaking at Wheaton's Christianity and Violence conference (Mar. 20, 2000)
Putting the Poor on the National Agenda | Ron Sider's timely proposals. By Amy L. Sherman (Mar. 13, 2000)
"To Know the Universe" | Well, sort of. By John Wilson (Mar. 2, 2000)
Guelzo's Lincoln Book a Winner | Established by Richard Gilder and Lewis Lehrman to honor the best historical work each year on Lincoln and the Civil War era, the prize is now in its tenth year. By Allen C. Guelzo (Feb. 21, 2000)
Nancy Drew and the Wine-Dark Sea | The importance of good literature—and how to get young people to read it. By Sarah Cowie (Feb. 14, 2000)
Spring in Purgatory: Dante, Botticelli, C. S. Lewis, and a Lost Masterpiece | The most popular illustration of Dante's "Divine Comedy" has remained effectively "lost" for 500 years—although millions have seen it and admired it. By Kathryn Lindskoog (Feb. 7, 2000)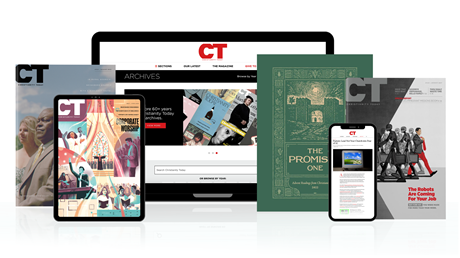 Annual & Monthly subscriptions available.
Print & Digital Issues of CT magazine
Complete access to every article on ChristianityToday.com
Unlimited access to 65+ years of CT's online archives
Member-only special issues
Subscribe
Who in Hell?
Who in Hell?