Sometime in the night of May 8 this year, Pat Hornberger was awakened by a dream in which she saw an automobile accident. She was so concerned, she spent the rest of the night praying for 16 members of her church, Solana Beach (Calif.) Presbyterian, who were on a two-week trip to Ethiopia. Two other members of the same church also woke up that night and were moved to pray for the team.There had, indeed, been a car accident involving the Ethiopia missions team, one that injured three people. And this accident, it turned out, became a turning point for the trip, for Solana Beach's 55-year history, and, we trust, for a little-known people in East Africa, the Afar.Short-term missions had always been a part of this affluent United Presbyterian Church of 2,000 members in north San Diego County. Teams had traveled to a Presbyterian hospital north of Nairobi, Kenya, to rebuild its maternity ward. Other teams went to Malawi and Mexico, while young people traveled on longer mission opportunities. But this was not just another missions trip: it was a long-term, highly focused, investment in an overlooked people group.The trip to Ethiopia was the culmination of several years of prayer and planning by the staff of Solana Beach Presbyterian Church. Our missions pastor, Tom Therault, has been keenly interested in isolated peoples. As the newly installed senior pastor, and having served 20 years on the board of World Vision, I was convinced of the urgent need to meet both physical and spiritual needs of all the world's people, especially the poor.
Descendants of Noah
The church's missions committee appointed a sub-committee to research and pray. They selected the Afar, whose 1.7 million members claim to be descendants of Noah's son Ham. Mostly nomads who care for cattle, camel, sheep, and other livestock, the Afar live in clans of 200 to 1,000 people on the parched deserts of Ethiopia, as well as in Eritrea, Somalia, and Djibouti.While a few Christians, including some from the indigenous Mekane Yesu Church, have worked among the Afar for decades, these Islamic people are largely overlooked by aid agencies. Further, temperatures of up to 125 degrees make the land unattractive to prospective government workers who provide health care and other services. Fewer than one in four Afaris has access to health care. In 1992 just 10 percent of Afari children were enrolled in primary school, and fewer than 3 percent of eligible students were in secondary school.My own relationship with Ethiopia dates back to my involvement in World Vision's relief work during the great famine of the mid-1980s. Because of cyclical droughts, a century of ecological degradation, and uneven distribution of wealth, Ethiopia's population of 60 million is subject to recurring famines. Poverty is a constant: Ethiopia's per-capita income is just $350 a year.But Ethiopia also is a land of great strengths: a proud, ancient people and strong religious traditions, both Christian and Muslim. World Vision's efforts to reverse environmental degradation in Ethiopia's Antsokia Valley proved that the land could be fertile, allowing farmers to produce food even when rains fail. In fact, the relative oasis of Antsokia attracted thousands of Afari nomads, and their livestock, in search of pasture and food in this year's drought.As we accumulated facts about these people, our thinking increasingly moved beyond the usual one-shot, short-term mission project. As a congregation, we wanted to make a significant investment in these people.This meant, first, partnering with local Ethiopian Christians. We have been working with the Evangelical Church of Mekane Yesu (House of Jesus). This church was founded by a freed Ethiopian slave and has worked with Presbyterian and Lutheran missionaries, as well as with World Vision.Second, this meant a major financial commitment over a period of years. Solana Beach has committed at least $650,000 during the next five years to meet some Afari needs: improved irrigation and livestock, an adequate supply of safe drinking water, medical care, and education.Third, it meant regular contact with the people to whom, and with whom, we are trying to minister.
Beyond bulletin inserts
Solana Beach, a community of wide streets, beautiful homes and ocean breezes, is about as far away from the Ethiopian desert as one can get. How, then, could we communicate our vision for the Afar to our congregation? It would take more than inserts in the church bulletin.Two members of the church went to Ethiopia last year to establish relationships with the Mekane Yesu Church and World Vision. Then the Rev. Iteffa Gobena of the Mekane Yesu Church came to Solana Beach, where he preached and shared his church's vision for the people of Ethiopia.Pastor Therault and I then started putting together a trip to Ethiopia. We prayed over hundreds of names in our congregation and developed a list of about 40 people whom we sensed God might be calling to Ethiopia. A general congregational announcement was made, but the team that finally emerged consisted mostly of people invited from the list. They were selected more for their willingness to commit than for any vocation or gift. It soon became evident, however, that God had placed these particular members on this team. Each one made a contribution. One woman was a nurse. Another member, who had considerable experience with Muslims through business dealings, offered deep insights, such as how to treat the Afar with respect as one "people of the book" to another.The team was in place—and each member had made a $3,000 financial commitment—by March 1. For the next two months, team members spent most of their discretionary time preparing for the trip: researching on the Internet, watching videos, meeting together, and recruiting 200 prayer supporters. One member read the Qur'an to better understand the Afar. World Vision brought in experts to help team members understand the context in which they would work. And we tried to mix in some fun: the team took a field trip to an Ethiopian restaurant.
Angel on wheels
By the time we left California on May 4, we felt we were as prepared as we could be. But as is often the case with such things, we discovered that God's preparation for our trip was even better.After two days of travel (from Los Angeles to Frankfurt to Cairo to Addis Ababa) and meetings in the Ethiopian capital, we set off in four crowded and stuffy vans down winding roads, and a drop in elevation of 9,000 feet, toward the small desert town of Asaita, the capital of the Afar district. Our convoy of four split in half as the two lead drivers left the other two vehicles behind.More than three hours into our grueling and monotonous trip, a large bus bore down on the third vehicle, whose driver swerved to avoid a collision. His van flipped over twice, landing upside down, collapsing the roof. When we in the fourth van came upon the wreckage, we were horrified: it looked as if no one could have survived. But then a window was kicked out, and the four occupants slowly emerged.The driver was uninjured, but Aklilu Dogisso of World Vision Ethiopia complained of chest pains; Peggy Ngubo of Solana Beach had a broken collarbone; and Mike Lynch, a World Vision representative from southern California, had lacerations, a concussion, and possibly cracked ribs.We were hours from the nearest town. We had no cell phone or radio to reach our colleagues in the first two cars. A couple of buses stopped, but instead of offering assistance, passengers only helped themselves to bottles of water from the wrecked vehicle.As we waited without shade in the desert heat for what seemed an eternity (but was probably less than an hour), a small van marked medical drove up. An energetic young man emerged, dispersed the growing crowd, and examined the injured. He then arranged transport to a small clinic where the injured could be treated and the rest of us could regroup. At the clinic, as arrangements were made to evacuate the injured to Addis Ababa, we called for another vehicle. We eventually were reunited with the rest of our team and arrived in Asaita, albeit exhausted, concerned, and still shaken. After figuring out sleeping arrangements, we slept as best we could under mosquito nets and on beds shared with tiny bugs.We had assumed that the next morning a few of us would meet with top government officials to exchange polite greetings; instead, the entire team was invited. When we walked into the meeting room, we were astonished to find a large group of government officials, as well as many people from the town, 40 to 50 people in all. Gracious speeches were made and translated. A long report prepared especially for us was read, telling us of the needs of the Afar (and their animals): concerns about health, child mortality, clean water, agriculture, and others.The top official told us how grateful the Afar were that such a large group had come at such sacrifice to meet and serve them. He said that no one ever came to the Afar region. It was too far. Too hot. Too poor. Their needs were great but few people cared. Government, aid organizations, the United Nations—no one ever came."But you came," he said. "And we know you really care about us and our needs because you came, even though it was hard, and even though your colleagues were hurt in the accident."
Providence happens
I immediately wondered how these officials found out about our accident. And why were we, relative strangers, being so warmly received? Why did it seem that every door for future visits and cooperation had been opened by these Afari officials, these "gatekeepers" of power and influence in that region?It turned out that all this was the work of the young man who had rescued us the day before. He was the highest-ranking health official among the Afar, and had just happened to be on the road in our vicinity at the time of the accident. He had lost both of his parents while a young boy; the Mekane Yesu Church had placed him in a church-run hostel and saw that he was fed, clothed, and educated. He had gone on to higher education and returned to serve his people. He remembered the love and kindness shown to him as a boy, and he made sure other officials knew of our mission and intent. He became one of the government escorts who accompanied four team members to meet clan chiefs and other Afaris, including the Imam, the supreme religious leader of the area. He even intervened in one tense incident when a group of young men with machine guns surrounded our photographer, making menacing demands.God's providence was also evident when we returned home and heard how he had awakened three people in the middle of the night to pray for us—just at the time we needed it most.We have planned annual exchanges with our Ethiopian partners, alternating our visits. In addition to the $650,000 pledged by members of the team and our session, we're encouraging our local Presbytery to make the work among the Afar an annual budget item. Even the young people of our church have become involved, pledging to raise funds for the Afar over the next five years through World Vision's 30-Hour Famine. Yet the commitment is deeper still and likely to be longer-lasting. Among ourselves, church members talk about a 10- or 20-year relationship with the Afar."Maybe forever," say some.
Roberta Hestenesis senior pastor of Solana Beach Presbyterian Church and a member of the board of World Vision.
Related Elsewhere
Other Christianity Today stories about Ethiopia include:International Community Has No Excuses in Ethiopia, Says Aid Official | Starvation not widespread, but growing rapidly. (Jan. 18, 2000) Guardians of the Lost Ark | Ethiopia's Christians stake their identity on being heirs of Solomon and keepers of his treasure. (June 14, 1999) Ethiopia Focus on Evangelism | Southern Baptists train for outreach in Addis Abbaba. (Feb. 8, 1999) Centuries-old Treasures Pilfered | Priceless Artifacts are disappearing from Ethiopia's churches and monasteries. (November 16, 1998)Roberta Hestenes's church, Solana Beach Presbyterian , has a its own Web site. For in-depth information about the secular and religious history of Ethiopia , visit africana.com. Ethiopian church tradition about the birth of Christianity in that nation includes this tale of two shipwrecked Syrian slaves and the young prince whom they served.
Have something to add about this? See something we missed? Share your feedback here.
Our digital archives are a work in progress. Let us know if corrections need to be made.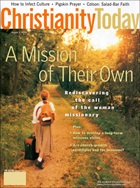 This article is from the August 7 2000 issue.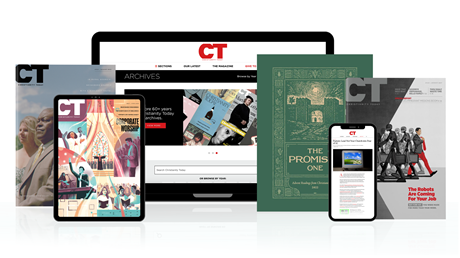 Subscribe to Christianity Today and get access to this article plus 65+ years of archives.
Home delivery of CT magazine
Complete access to articles on ChristianityToday.com
Over 120 years of magazine archives plus full access to all of CT's online archives
Subscribe Now
We Met Noah's Other Children
We Met Noah's Other Children