That's what Christina Landman, professor of theology at the University of South Africa's Research Institute for Theology and Religion, said at a conference titled Critical Issues on being a Christian. The Reverend Dirkie van der Spuy of the Moreleta Park NG Congregation in Pretoria disagreed, saying the Bible is clear that sex is intended for marriage. Management consultant and theolgian Dr. Bertie du Plessis said he didn't want to comment on the issue mainly because marriage is oh-so-different today than it was in biblical times. It's not the first time Landman has made a ridiculous argument about sexual ethics—in January 1999 she wrote a newspaper article praising polygamy. "I think it is all right to split your identities among different partners," she later told another paper. "The way things are now, if I find out my husband has a girlfriend, it cancels everything he and I have shared. It need not be like that. Polygamy may be a good option because it's transparent. It means you have a transparent insight into the sexual habits of your partner."
Speaking of really, really bad ideas, Anglican priest David Christie-Murray is encouraging churches to hold "Christian séances" and to develop parishioners' "psychic skills" in an effort to evangelize unsaved dead. He'll be presenting his, um, unique evangelism plan at a "Christian Parapsychology" conference sponsored by The Churches' Fellowship for Psychical and Spiritual Studies (CFPSS) at Christ Church in Canterbury. By the way, CFPSS president Michael Perry doesn't think séances are such a good idea, either.
OK. One more really bad idea. The San Jose Mercury News reports that all hell broke loose after a group of prison inmates created a Ouija board. "According to Santa Clara County Jail officials, the inmates went from asking a few questions to praying to Satan to three of them screaming out loud after they thought they were possessed by demons," reports the paper. The prison quickly called in a priest. "We have never, ever had anything like this occur here," says county department of correction spokesman Bryan Peretti. Maybe David Christie-Murray should reconsider that church séance idea.
Yesterday, ChristianityToday.com Weblog noted a New York Times editorial criticizing semi-planned "spontaneous" prayer at high school football games as "no less threatening to religious freedom than organized school prayer." The Chicago Tribune also editorialized on the prayers, but supported the "We Still Pray" movement. "The religious establishment clause of the 1st Amendment limits only what the government may say—not the utterances of individuals acting on their own," says the unsigned editorial. "If one person at a football game wants to recite the Lord's Prayer, she may do so. If 4,000 people want to do it, they enjoy the same right. … The meaning of the Supreme Court ruling was that religion should function without the help or hindrance of government. The We Still Pray campaign is proof that it can manage just fine that way."
The Salvation Army in the U.K. is relaxing its marriage rules as part of a major modernizing campaign. Gen. John Gowans, based at the London headquarters, tells The Daily Telegraph that the current rule "is paternalistic, and it is a terrifying restriction on Cupid. Paternalism in the army has been long in dying but I think that it is almost dead now."
"We are all one race, and there is only one God that manifests himself in different ways," the loony CNN founder who's bankrolling the summit said in his address. "The religions that have survived don't have blood sacrifice, and they don't have hatred behind them. The ones that have done the best are the ones based on love." The Washington Post called the speech "rambling." Eventually video of the summit will be available at Beliefnet. Click here for the summit's official site.
Arthur Semens Rajwadi was severely beaten and stripped naked while passing out evangelistic literature at a fair in Surendranagar, India. Witnesses say the attackers wore the clothing of the radical Hindu group Bajrang Dal, but the group denies involvement. Meanwhile, Sister Nirmala, Mother Teresa's successor at the Missionaries of Charity, is campaigning against recent attacks on Christians. "The atrocities on the Christians [are] a disgrace for our country, which is a secular state," she said in an address on what would have been Mother Teresa's 90th birthday.
See our past Weblog updates:
August 29 August 25 | 24 | 23 | 22 | 21 August 18 | 17 | 16 | 15 | 14 August 11 | 10 | 9 July 27 | 25 | 24 July 21 | 19 | 18 | 17 July 13 | 12 | 11 | 10 July 7 | 5 | 3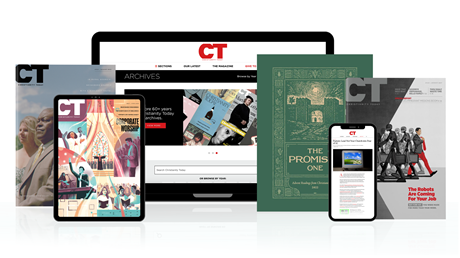 Annual & Monthly subscriptions available.
Print & Digital Issues of CT magazine
Complete access to every article on ChristianityToday.com
Unlimited access to 65+ years of CT's online archives
Member-only special issues
Subscribe
Christians Should Require Premarital Sex Says Theologian
Christians Should Require Premarital Sex Says Theologian