Whatever statistics you turn to, the picture of marriage in America is not pretty—not when roughly half of all marriages end in divorce; not when Barna data show that cohabitation has increased by 443 percent since 1970; not when children in the nineties face at least an even chance of growing up in single-parent households. And as anyone who has been near churches knows, Christians are far from being exempt from divorce and family breakdown.Some observers, like religion columnist Mike McManus, even suggest that the institution of marriage in society is "dying." He points to studies that show we now have the lowest percentage of married adults (58 percent) in America's history. And the percentage of men in their thirties who have never married has tripled since 1970, largely because many couples live together instead of marry.There are a few glimmers in the dark picture. Pepperdine University sociologist Jon Johnston notes that for all the divorces, the mood of society is still not truly antimarriage; the percentage of marriages actually is rising. Dennis Guemsey, who teaches counseling and family therapy at Seattle Pacific University, notes that research indicates "families are not going out of business."All are agreed, however, that marriage in America is in crisis, and that the problem has many roots. Our largely amoral media, for example, must shoulder some blame.So must new divorce laws that hit Western Europe and the United States in the 1960s. So-called no-fault divorce allowed the marriage contract to be voided with the affirmation—by one party—that the marriage was in "irremedial" breakdown. While some reform of the fault system was warranted, the new laws created a situation where, notes Johnston, divorcing is so convenient that "you can file on your lunch hour, and there are no constraints." With breaking up so easy to do, with marriage changing from a relationship of commitment to one of convenience, it is no wonder that many churches feel swamped with the divorced, remarried, and broken.And that points to another root of the current situation: Churches that are less than prepared for the onslaught of need. With divorce so prevalent, what should our response be? What does Scripture say about remarriage? How do pastors and church leaders avoid what theologian J. I. Packer calls the twin perils of legalism and laxism?As contributors in the following pages show, the church has not come to consensus on these and other issues. But there is much that we can agree on, and much to be said.Author and seminary professor David Seamands leads off by arguing that divorce presents the church in America with nothing less than a mission field. Senior editor Haddon Robinson gives a survey profile Of CT readers, with some surprising—even disturbing—findings. Historian Mike Gorman artfully condenses almost two centuries of Christian teaching on divorce and remarriage. Biblical scholars H. Wayne House, William Heth, and Craig Keener give contrasting views of what the Bible says. And counselor-teachers Thomas Needham and Margaret Rinck show how the church can keep from failing hurting couples.This article originally appeared in the December 14, 1992 issue ofChristianity Today.
Other stories from the 1992 CT Institute on divorce and remarriage include:A Marriage Counterculture | In addressing divorce, the church must adopt the strategies of the missionary. By David Seamands Sex, Marriage, and Divorce | Results from a 1992 Christianity Today reader's survey. By Haddon Robinson Divorce and Remarriage from Augustine to Zwingli | How Christian understanding about marriage has changed—and stayed the same—through history. By Michael Gorman Can One Become Two? | What Scripture says about Christians and divorce. By H. Wayne House Remarriage: Two Views | Two New Testament professors debate whether remarriage is acceptable for Christians. By Craig Keener and William A. Heth How Not to Fail Hurting Couples | We need a kind of shock therapy to become alert to missed opportunities. By Thomas Needham Becoming a Healing Community | How the church can develop a climate of help to the hurting.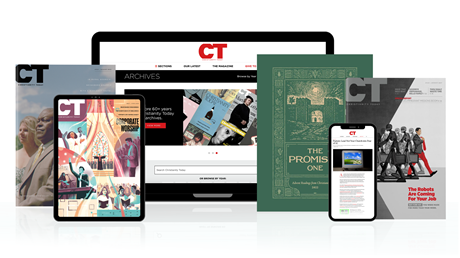 Annual & Monthly subscriptions available.
Print & Digital Issues of CT magazine
Complete access to every article on ChristianityToday.com
Unlimited access to 65+ years of CT's online archives
Member-only special issues
Subscribe
CT Institute: Divorce and Remarriage
CT Institute: Divorce and Remarriage