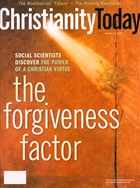 This article is from the January 10 2000 issue. Subscribers can read all of CT's digital archives.
JARS OF CLAY
I hope this article dispels the
false notion Christians have
about the 'Jar boys' and that
they will embrace them as
fellow missionaries.
RACHEL HOWARD, Bristol, Tennessee
Shine, Praise Songs, Shine
RANDALL BALMER'S ARTICLE is a brilliant survey of the "Jars Boys" ["Hymns on MTV," Nov. 15]. However, when Balmer takes on the ever-popular choruses "Father, I Adore You" and "Shine, Jesus, Shine" for evoking reverential mood by carrying little theological freight, he forgets that worship leaders find great use for songs with themes of offering our lives and expressing our love to God the Father, Son, and Spirit.
There are times of commitment in a church service when we need short, memorable tunes, and where enriched Jars lyrics that probe and ask questions would be inappropriate. Balmer forgets to check the latest hymnals, which capture a new generation of North American and British writers who use lyrics to touch the human need and portray an awesome Christ and his finished work at the Cross.
Balmer is not the first to make improper comparisons. It comes from an ill-founded presumption that CCM groups like Jars should both address a non-Christian audience and a Christian audience alike. Instead, we need to celebrate groups like Jars who can powerfully speak to our generation of seekers and also celebrate a different generation of worship musicians and writers capturing powerful music for the church.
FRANK FORTUNATO
Atlanta, Georgia
BALMER SEEMS TO RELISH taking potshots at many traditional hymns and contemporary Christian songs primarily because of their lack of theological sophistication. While this may be a valid concern, his examples aren't compelling. Some songs make theological statements, some offer praise ...
1
Our digital archives are a work in progress. Let us know if corrections need to be made.
Letters