When California pastor Luiz Lemos, 60, was ordered by his bishop to transfer to another United Methodist church last August, he faced a choice between ministry and family: Either move five hours away from home and risk losing two foster children, or resign as a pastor in the California-Nevada United Methodist Conference.
Lemos resigned. But the story of Lemos, now leading a new community church nearby, and seven other pastors who faced similarly traumatic career choices may become a major case study of a bishop's questionable use of power.
All eight United Methodist pastors are conservative evangelicals in the liberal California-Nevada conference; 67 of the conference's pastors participated in uniting two lesbians in a marriage-like rite in 1999.
The evangelical pastors say that Melvin G. Talbert, their bishop until his September retirement and an advocate of same-sex unions, violated the Methodist Book of Discipline while moving to force them from their Methodist pulpits.
Punishment posting?
Lemos, a native of Brazil, resigned from Foothills United Methodist Church in Cameron Park, California, after Talbert abruptly appointed him to the United Methodist Church of Lindsay, California, a smaller church with a declining membership.
Talbert's move was all too familiar to Lemos. Months earlier, Talbert had unsuccessfully tried to appoint another pastor, Kyle Phillips, to the Lindsay church. Phillips refused and has also left the denomination.
Lemos says his Methodist district superintendent required him to relocate one month before his starting date. Pastors are usually given at least six months' notice to move.
Lemos received no consideration for his two foster children. "We must have permission from the court and their biological parents, who still hold parental rights over the kids," Lemos says. "I would have probably lost my foster children. It would have been devastating."
The children, Mexican boys ages 7 and 9, come from abusive homes. "After four years, we love these kids like we would love our own," Lemos says.
67 pastors cleared
While tensions between conservative and liberal Methodists have been brewing for decades, the Sacramento same-sex union ceremony provoked a fresh debate over homosexuality and the process of church discipline.
The California-Nevada conference is one of more than 50 United Methodist conferences across the nation. Tensions reached a boiling point this spring after conference leaders declined to take action against the 67 pastors who performed the rite for Ellie Charlton, 64, and Jeanne Barnett, 69, at St. Mark's United Methodist, Sacramento, in January 1999.
Although the Book of Discipline says homosexual union services are not to be performed by Methodist pastors or held in a Methodist sanctuary, many conference leaders disagree, including Talbert.
The bishop formally filed charges against the pastors for breaking church laws, but an investigating committee dropped all charges. Conservatives have accused Talbert of stacking the committee with same-sex union supporters.
"There is another more basic and fundamental covenant" than the Book of Discipline, Talbert said in one of his few statements on the matter. Talbert declined CT's request to elaborate on his views or address the accusations of misconduct.
In response to the committee's exoneration of the 67 clergy, six evangelical pastors in March issued a letter criticizing the conference for refusing to uphold church law. They also encouraged churches in the conference to hold apportionment money, which supports Methodist operations and ministries, in escrow.
Of the six pastors who signed the letter, four have now left the denomination and are leading community churches. Another four conservative pastors not involved with the letter also have left and are involved in new ministries.
Setup alleged
Kyle Phillips, 39, former pastor of Tehachapi Valley United Methodist Church, initiated the March letter and believes Talbert attempted to set up a scenario in which Phillips could be charged with disobedience.
"He did it so I would get upset—so he could then charge me for insubordination," Phillips says. The pastor says Talbert did not consult the Tehachapi Parish Relations Committee before assigning him to the church in Lindsay. The consulting procedure is explicitly outlined in the Book of Discipline.
"In any other context, I would have taken another appointment," Phillips tells CT. "But it was a violation. He was failing his office. I have too much dignity and integrity to be manipulated."
Phillips, along with 80 percent of his congregation, left Tehachapi Methodist and formed Grace Fellowship of Tehachapi. "I knew there would be no justice," Phillips says. The new church is growing with more than 200 people in attendance each Sunday.
Not all conservatives have vacated their California-Nevada Conference buildings. David Wainscott, 41-year-old pastor of St. Luke's United Methodist in Fresno, says he and his 600 members want to stay in their current building (owned by the denomination) after they break away from the UMC.
Wainscott, one of the six who signed the open letter in March, was suspended by Talbert without warning in August "for encouraging an all-church vote to leave the denomination."
"That is just not true," Wainscott tells CT. The pastor says he was following orders from Vickie Healy, his district superintendent, to poll his congregation about who would stay and who would leave. The next thing he knew, a new pastor had been appointed to his church.
"[Healy] left a message on my cell phone," Wainscott says. "There was no warning."
His congregation responded by changing the church's locks so that Doug Norris, the newly appointed pastor, could not get into the building.
Conference leaders took St. Luke's to court in September in an effort to get a restraining order on the congregation. Their request was denied.
Beverly Shamana, the new bishop for the California-Nevada conference, now oversees the conference's 360 churches.
"We've done everything we can to work with Rev. Wainscott," Shamana tells CT. "We did not want to take it to the secular courts, but he chose to disregard the decision."
St. Luke's members see the conference decision to suspend Wainscott as invalid because they were not consulted before the suspension—another violation of the Book of Discipline.
Robert Kuyper, president of the Evangelical Renewal Fellowship for the California-Nevada Conference, says Wainscott's situation is painful because United Methodists have no formal procedure for churches that want to leave the denomination.
During the past two years, several other Methodist pastors have left the California-Nevada Conference, including Ed Ezaki and his 300-member congregation at Kingsburg United Methodist. Ezaki's church bought its building facility from the California-Nevada Conference and became Kingsburg Community Church in 1998.
Shamana, however, does not foresee the same possibility for Wainscott's church. "We expect that it will continue to remain in the denomination," she says.
Thomas Oden of Drew University's Theological School in New Jersey helped form the Coalition for United Methodist Accountability (CUMA) last spring.
Oden says the CUMA is sympathetic to evangelical pastors who have been driven out of the denomination by conference leaders who have abused rules.
CUMA is helping Wainscott's church with legal matters. "We want to make sure they are taken care of within the procedure of church law," Oden says.
Among others who have left the conference are California pastors John Motz, John Sheppard, and Greg Smith—three of the six conservatives who signed the letter and are now involved in community churches outside of the denomination.
Aside from the "California Six," Ray O'Neil and Ben Kelly, both pastors from northern California, also recently left their Methodist churches because of the increasingly liberal atmosphere in the California-Nevada Conference.
Evangelical pastors were briefly hopeful in May when the church's highest legislative body, the General Conference, voted to uphold the denomination's traditional stance on homosexuality. But leaders from the California-Nevada Conference said this move "resulted in an attempt to suppress our prophetic and pastoral ministries among all people, regardless of their sexual orientation."
"Part of our problem is that we don't have any accountability that really works for bishops," says James Heidinger, editor of Good News magazine, a Methodist publication for evangelicals. "They begin to feel like they are a law to themselves."
'Back off the extremes'
Don Fado, pastor of St. Mark's in Sacramento, presided at the same-sex ceremony of Charlton and Barnett last year.
Fado points that, while the Book of Discipline prohibits homosexual unions, it also says all people are of full worth in God's eyes, regardless of sexual preference.
"It has contradictory things in it," Fado says.
The liberal pastor says there are 2,351 "shall" and "shall not" rules in the book. "There's not a pastor who obeys all 2,351 of these," he says.
Fado does not believe the eight pastors who recently left did so because of the decision on same-sex ceremonies.
He claims that many evangelical pastors have not followed rules regarding offerings that their churches are required to give six times a year.
"They broke the Book of Discipline more than we did. [But] I'm not going to bring charges against them for not bringing the offerings," he says.
As the conference's new bishop, Shamana says she seeks reconciliation with those who have remained in the conference.
But Heidinger is not hopeful: "It will continue to be troubling because you simply have people who are not willing to abide by the law of the church."
Related Elsewhere
Read more about the United Methodist Church at their Web site.
Visit the homepage of the Confessing Movement within the United Methodist Church.
In All Things Charity is a Methodist group that wants to promote action and legislation to "eliminate heterosexism in the Church."
Other media coverage includes:
California congregations split, pastors resign—United Methodist Reporter (Aug. 29, 2000)
Charged pastors led large congregations—United Methodist Reporter (Aug. 29, 2000)
Methodist Pastors Being Disciplined for Taking Stand Against Homosexuality—AgapePress (Aug. 18, 2000)
Methodist pastors divided by a union—The Fresno Bee (March 18, 2000)
22 Pastors Want to Quit Methodist Church, Take Flocks—The San Fransisco Chronicle (May 1, 1998)
Previous Christianity Today coverage includes:
Mainstreaming the Mainline | Methodist evangelicals pull a once 'incurably liberal' denomination back toward the orthodox center. (Aug. 18, 2000)
Sticking With the Status Quo | United Methodists reject gay marriage, ordination. (June 15, 2000)
Creech Stripped of Clergy Credentials | United Methodist minister guilty of breaking church law at gay ceremony.
Methodist Court Affirms Ban on Same-Sex Rites | Prohibition against unions declared binding church law. (Oct. 5, 1998)
What Would John Wesley Have Said About This Debate in the Church? | Can it be said of us that we surprise others by the sympathy and compassion we extend toward homosexuals. (Nov. 11, 1996)
Have something to add about this? See something we missed? Share your feedback here.
Our digital archives are a work in progress. Let us know if corrections need to be made.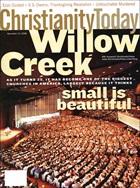 This article is from the November 13 2000 issue.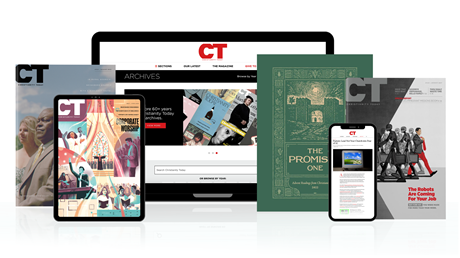 Annual & Monthly subscriptions available.
Print & Digital Issues of CT magazine
Complete access to every article on ChristianityToday.com
Unlimited access to 65+ years of CT's online archives
Member-only special issues
Subscribe
Eight UMC Pastors Quit Denomination
Eight UMC Pastors Quit Denomination