Ticket sales reached a new high over the extended Thanksgiving weekend—nearly a quarter billion dollars—but Christian critics were more impressed with art-house films You Can Count on Me and Dancer in the Dark, each playing on fewer than 100 theaters, than with the giant hits.
What's Hot
How the Grinch Stole Christmas earned another $73.8 million over the Thanksgiving holiday, putting it on track to become the biggest money-maker of the year, but it also earned more sour reviews from Christian critics. Bob MacLean, guest reviewer for Christian Spotlight, complained that the movie Grinch, unlike the book's nasty fellow, is hilariously nasty. "It spends most of the movie insinuating that gross and rude behavior is fine as long as it's funny," he says. "This is the worst kind of lie to foist on children." Culture@Home's Sarah Barnett agrees that it's an unfaithful adaptation. "While the book is a subtle tale that gently raises the issue of materialism, The Grinch is a sledgehammer of a film. Brash and loud, it's worlds away from Dr Seuss's original in both tone and sentiment." World magazine elaborates: "Hollywood spent decades trying to get movie rights to The Grinch—and Dr. Seuss went to his grave refusing. Looking at this revision, it's easy to see why. ... It's too dark and unpleasant to raise any Yuletide cheer." Childcare Action Report can't imagine that families will gather and watch this one year after year. "There was a great deal of 'adult-level' humor, such as the Grinch ... holding a twig of mistletoe on his posterior, aiming it at the Whoville crowd and saying kiss it. I wonder now how many families will see that in their homes this Christmas?" For earlier reaction from Christian critics, including some positive reviews, read last week's Film Forum installment.
Unbreakable enjoyed a mammoth weekend of its own, pulling in $46 million over the five-day holiday, capitalizing on the enthusiastic following for M. Night Shyamalan's previous film, The Sixth Sense. Like its predecessor, Unbreakable stars an emotionally reserved Bruce Willis in a supernaturally tinged plot: After David Dunn (Willis) finds himself the only survivor of a train wreck, a mysterious stranger (Samuel L. Jackson) tries to persuade him that invincibility is only one of many powers he possesses. Christian critics said the film is bigger on flair than emotional punch—"thick with atmosphere and thin on plot development" is how J. Robert Parks of Phantom Tollbooth puts it. "While Shyamalan directs with an even stronger sense of control—his use of tilted camera shots, wide-angle lenses, and brooding atmosphere is fantastic—he's lost the emotional element that undergirded his [previous] film." Crosswalk.com's Michael Elliott was likewise conflicted, calling Shyamalan "one of the more inventive and original storytellers in film today" but finding that "his almost zombie-like style keeps us at arm's length, impatiently waiting for the next plot revelation." Looking Closer's Jeffrey Overstreet says Shyamalan seems a bit too impressed with his plot twists. "By the time the audience figures out what is going on, the movie wraps up abruptly and it's over, as though they still had another half an hour of story to go but ran out of money. ... The ending left me wanting another fifteen minutes of storytelling, to fill in the gaps and help us understand [characters'] motivations." Other critics praised the film just for raising important issues, even if it didn't do much with them. "The overall message of following one's God-given talents is a pretty good one," says Christian Spotlight guest reviewer Curtis D. Smith, "In a way, David is much like Moses, who was fearful of his gift for leadership and questioned God's judgment in asking him to escort the Israelites out of Egypt." Focus on the Family's Bob Smithouser says the film "makes itself easy to root for by featuring a dad who's a hero to his son and by promoting the idea that working through marital woes is the way to true healing." Also, Smithouser notes, "it's not as ominously creepy or theologically unsettling [as] The Sixth Sense. That's refreshing." Holly McClure of Crosswalk.com said it's refreshing to find a film that handles adult themes in a nonexploitative way. "Surprisingly, there are no graphic train wreck scenes or bloody violence," she says; the few violent scenes "aren't graphic, just intense." John Adair of Preview notes some objectionable language, but says "there's much more going on in this film than some foul language—the underlying themes are both thought-provoking and inspirational. ... Loyalty and self-sacrifice are present and there are discussions about or allusions to both hope and salvation. One character comments on how society needs something, or someone, to hope in."
What's New
102 Dalmatians charmed Christian critics, who found it much easier to stomach than most kiddie fare. "Don't get me wrong," says Phantom Tollbooth's J. Robert Parks, "I'm not recommending that you go see 102 Dalmatians sans children. But if you have to take the kids out for a flick, I suspect you'll be pleasantly surprised, and they'll have a fantastic time." In this sequel to 1996's 101 Dalmatians, convicted felon Cruella De Vil (Glenn Close) has supposedly been cured of her craving for puppy pelts, but upon release finds herself relapsing into old habits. It's hardly substantive, says Michael Elliott of Crosswalk.com; it was produced simply "to capitalize on the popularity and financial success of the original film, even though there is nothing new to say." But it's "still amusing," he notes. Holly McClure of Crosswalk.com agrees: "I thoroughly enjoyed this holiday treat and urge you to put this family-friendly winner on your list! Even if you don't have kids, go see it for a superb performance by Close and for her incredible wardrobe." Paul Bicking of Preview adds that "in the tradition of classic Disney animated features, this live-action sequel contains very little objectionable material," making it a "treat for the whole family." Focus on the Family's Bob Waliszewski praises a love-story subplot that presents "audiences with a model relationship that is wholesome and worth rooting for," and lauds the director for not making "the mistake of painting De Vil so dark that younger children will be fraught with fear." Childcare Action Report, however, found one scene "rather disturbing, as truck tires ran over the hands of Cruella's butler—twice, and with little consequence—which may cause some kids to question mom/dad's teachings about being run over by a car." The U.S. Catholic Conference was also nonplused, saying "the recycled plot fails to capture the imagination."
What's Noteworthy
Jeffrey Overstreet of Looking Closer calls You Can Count On Me "the most honorable, responsible, and beautiful film of the year, thus far." This drama about a single mother (Laura Linney) struggling to raise her son and to rescue her lazy brother from ruin "has a lot to say about how everybody carries a mix of nobility and foolishness inside, and how the only way we can all get along is to strive for unconditional love, forgiveness, and humility." Overstreet was most impressed by the depth of the characters. "Linney's performance is a dramatic pendulum, swinging from moral outrage to moral lapses, with amusing and understandable motivations for both. She makes us nervous with the tightwire she walks, but we never stop caring for her all the same. ... Supporting characters are never trivialized; they're just as real, just as incomplete, and capable of good and evil." The film even recognizes the spiritual dimension of the character's choices, Overstreet says; writer/director/actor Kenneth Lonergan plays a cleric in the film who "defies all expectations by avoiding the stereotypical arrogance of a preacher and actually playing an important part in awakening the consciences of both siblings." Matthew Prins, who writes for The Christian Century, was also highly complimentary of the film, especially for delving into the oft-ignored complexities of adult siblings' relationships. "I admit I'd never noticed the nullity of this genre before," Prins says, "but now I wonder why there aren't more adult sibling-relationship films, because what Lonergan is able to mine is engaging: the unconscious spite, the stubborn judgment and the rankled affection that many siblings have for each other." Prins was also happy with the role of the cleric: "The new priest is more concerned with the motives behind the behavior than condemning it. It's Lonergan's ability to twist the expected into something authentic, compelling, and unexpected that makes You Can Count on Me such a joyous film." Preview's Mary Draughon says the film "will appeal to those who like character studies and appreciate a thought-provoking theme about family relationships," but notes that it can't "pass for wholesome viewing because of graphic sexual activity, drug use and foul language."
Another film touted as 2000's best is Dancer in the Dark. Phantom Tollbooth's J. Robert Parks says it's "a musical for the new millennium, and I think it's a tour de force." This film from Lars Von Trier features pop star Bjork as an American immigrant whose difficult life is brightened by fantasy musical numbers she imagines. Parks calls it "both harrowing and deeply moving. I can't remember a movie that physically affected me as much as Dancer in the Dark. Not that there's anything gross or exploitative. Rather, the film is so passionate and visceral I literally had trouble standing or composing myself after the credits rolled." Part of the power comes through religious imagery, which Von Trier also used in his acclaimed Breaking the Waves. "There, Von Trier's obsession with religious imagery and need to exalt his heroine often undermined the narrative," Parks contends. "While both of those fixations come up again in Dancer, they serve to propel the tale rather than slow it down." Tangzine.com's Matthew Ralph was also entranced, calling it "a film you don't always enjoy watching, but in the long run are darn glad you sat through to the finish. You have a movie that gives an intentional wallop that, whether you think is overly self-indulgent or not, still leaves you changed in the end." Darrel Manson, guest reviewer for Hollywood Jesus and pastor of Artesia Christian Church in California, was pleased that Bjork's character was a female Christ figure; the particular details in his review reveal a great deal of the film's ending, but suffice it to say that she faces suffering with silence instead of spite, and she offers the gift of sight to her son. Manson says "it certainly dominated my wife's and my conversation at dinner after we saw it." However, Jeffrey Overstreet of Looking Closer says the film is emotionally manipulative. "I will admit that I was moved to tears by Dancer in the Dark, just as I was similarly moved by Breaking the Waves. But a few hours after leaving the theatre, I realized that I was not thinking much about the story the movie told. I was thinking about how awful it made me feel. ... There has not been enough interest in what good comes of these sacrifices. There has been instead a powerful man building something we like and then slowly, painstakingly, destroying it before our eyes."
Steve Lansingh is editor of TheFilmForum.com, an Internet magazine devoted to Christian conversation about the movies.
Photography by Universal Studios
Related Elsewhere
See earlier Film Forum postings for these movies in the box-office top ten: Rugrats in Paris, Charlie's Angels, Bounce, The Sixth Day, Men of Honor, Meet the Parents, and Little Nicky.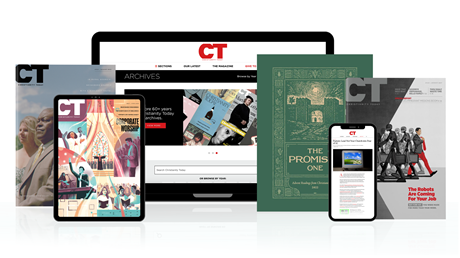 Subscribe to Christianity Today and get access to this article plus 65+ years of archives.
Home delivery of CT magazine
Complete access to articles on ChristianityToday.com
Over 120 years of magazine archives plus full access to all of CT's online archives
Subscribe Now
They Do Not Like Green Grinch's Ham...
They Do Not Like Green Grinch's Ham...