NCC's Edgar seems to back away from "Christian Declaration on Marriage"
In yesterday's ChristianityToday Weblog, we noted that it was a big deal that Bob Edgar, general secretary of the National Council of Churches, had endorsed "A Christian Declaration on Marriage" with leaders of the National Association of Evangelicals, Southern Baptist Convention, and National Conference of Catholic Bishops. Now that the media has noted that the declaration seems to speak against gay marriage by calling for "a stronger commitment to this holy union," and for "practical ministries and influence for reversing the course of our culture" while defining marriage as "a holy union of one man and one woman." Wait a minute, says Edgar. I don't see that in the document. He released a statement yesterday asking people to read only the letter of the declaration, and not the spirit. "I would not want this statement to be misconstrued as if it were an oblique comment on same-sex unions," he said. "There is disagreement between and among our member communions on many issues related to sexuality and marriage. Currently, several of our member communions are in discussion and discernment regarding same-sex unions. Nonetheless, there is unanimity among us in our long-standing advocacy for full Civil Rights for gay, lesbian, bi-sexual and transgendered persons. Through our dialogues, we have come to celebrate the gifts and the challenges they present to us. We stand with them in our common battle against hatred and violence and the pain of exclusion. In our dangerously fragmented society, I regret and will resist any attempt to interpret support for one beleaguered segment of society as an attack another."
One big happy family
The General Assembly of the NCC is meeting in Atlanta this week, and is expected to pass a resolution today asking to meet officially with more conservative churches and denominations that have traditionally avoided the ecumenical organization. (See our earlier coverage of the NCC's desire to be broader here.) One wonders how Edgar's note of "unanimity among us in our long-standing advocacy for full Civil Rights for gay, lesbian, bi-sexual and transgendered persons" would transfer over to this "new table" the NCC wants to build with Roman Catholics, evangelicals and Pentecostals. Surely Catholics, evangelical Protestants, and Pentecostals would agree with the letter of Edgar's statement. Who would want to deny any person full civil rights? But if that meant supporting gay, lesbian, bisexual, or transgendered marriages, there might be trouble.
Meanwhile, more financial trouble
The NCC was in the news for another reason this week: cutting 27 percent of its staff positions. A few of the 17 people whose jobs are being eliminated will be able to work for Church World Service (formerly the NCC's relief agency, which broke away from the organization in May). But about a dozen are out of a job. Last year, the NCC also laid off a quarter of its staff. "I would not want these layoffs to be misconstrued as if they were an oblique comment on our organizational health ... " Bob Edgar didn't say in a press release.
Church leaders, U.S. Marshals agree to end Indianapolis Temple "standoff" peacefully
Representatives of the anti-tax church and the U.S. Marshals Service (which has been ordered to seize the church) met yesterday to discuss an end to the three-day vigil church members have held inside the building. "No implication should be drawn that any kind of deal has been or will be reached, only that both sides desire a peaceful solution," said U.S. Marshal Frank Anderson told the media. Baptist Temple attorney Albert Cunningham said both sides agreed not to use violence: "We do not expect the type of raid where they just enter in, take over and abuse the people." Senior pastor Greg Dixon reiterated this on his end by demanding that anyone planning to protest violently leave. "You do it my way in my church," he said. As a reminder: the Indianapolis Baptist Temple hasn't paid income and Social Security taxes for its employees since 1984. (Just about every other church in America pays the taxes without grumbling.) The IRS says it now owes $6 million. The church and parsonage (which the Marshals Service already seized) aren't worth that much, but the IRS is apparently calling it even. (See more coverage from The Indianapolis Star and the Associated Press.)
Head of Care Net dies in traffic accident
Guy Condon, director of Care Net, a network of about 600 crisis pregnancy centers, died in a traffic accident near his home in Purcellville, Virginia. He was 46. He is survived by his wife and four daughters. "Antiabortion activists from across the country mourned Condon this week, describing him as a longtime advocate who reached out to both antiabortion and abortion rights groups," reports The Washington Post.
Related Elsewhere
See our past Weblog updates:
November 16 | 15 | 14 | 13
November 10 | 9 | 8 | 7 | 6
November | 3 | 2 | 1 October 31 | 30
October 27 | 26 | 25 | 24 | 23
October 20 | 19 | 18 | 17 | 16
October 13 | 12 | 11 | 10 | 9
October 6 | 5 | 4 | 3 | 2
September 29 | 28 | 27 | 26 | 25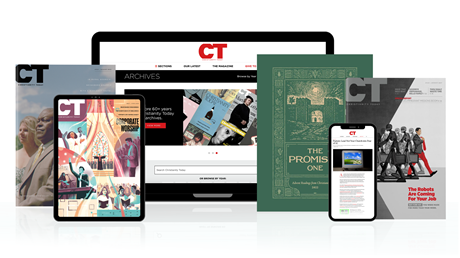 Subscribe to Christianity Today and get access to this article plus 65+ years of archives.
Home delivery of CT magazine
Complete access to articles on ChristianityToday.com
Over 120 years of magazine archives plus full access to all of CT's online archives
Subscribe Now
When I Said Marriage Was Between a Man and a Woman I Didn't Mean It Can't Also Be Between a Man and a Man...
When I Said Marriage Was Between a Man and a Woman ...