If you have been listening to the rhetoric of some theologians, journalists, and ecumenists during the last month, you're forgiven for thinking the Vatican is about to mandate Latin and burn heretics at the stake. Dominus Iesus: On the Unicity and Salvific Universality of Jesus Christ and the Church, published September 5 by the Vatican's Congregation for the Doctrine of the Faith, merely reiterates long-standing Roman Catholic beliefs. But critics are calling it "a mixture of medieval backwardness and Vatican megalomania" and "a questionable attempt to bring back the absolutist view of the church of the First Vatican Council with the unlimited primacy of the pope." And if you think that's bad, you should hear what non-Catholics are saying.
Much of the garment-rending, however, is in response to the way Dominus Iesus has been spun. A few clarifications about what Dominus Iesus doesn't say, therefore, are in order.
First, the Vatican's statement doesn't call Protestants "gravely deficient." That phrase was used to describe non-Christian religions: "If it is true that the followers of other religions can receive divine grace, it is also certain that objectively speaking they are in a gravely deficient situation in comparison with those who, in the Church, have the fullness of the means of salvation. However, all the children of the Church should nevertheless remember that their exalted condition results, not from their own merits, but from the grace of Christ." While Protestants may disagree on the first sentence, to the second we can add a hearty, sola gratia–felt amen.
Dominus Iesus also doesn't say Protestants aren't real Christians. On the contrary, it affirms that Protestant churches—"ecclesial communities" in Vatican-speak—"have by no means been deprived of significance and importance in the mystery of salvation." Their baptized members are held to be in a state of grace: "Those who are baptized in these communities are, by Baptism, incorporated in Christ and thus are in a certain communion, albeit imperfect, with the [Roman Catholic] Church."
Finally, Dominus Iesus doesn't slam the door on post–Vatican II ecumenical efforts. It simply reminds readers that ecumenism isn't done simply to be nice: "Inter-religious dialogue, which is part of the Church's evangelizing mission, requires an attitude of understanding and a relationship of mutual knowledge and reciprocal enrichment, in obedience to the truth and with respect for freedom." Those who regard this language as a setback to cooperation should remember it was a mere seven decades ago that Pope Pius XI condemned Protestants as adherents of a "false Christianity" and called discussion between Protestants and Catholics "a most grave error, by which the foundations of the Catholic faith are completely destroyed."
That so many left-of-center ecumenists have responded with outrage only highlights the need for a statement like Dominus Iesus. In the words of "The Gospel of Jesus Christ: An Evangelical Celebration" (CT, June 14, 1999, p. 51), real unity comes via "an ecumenism of conviction, not an ecumenism of accommodation."
As evangelical Protestants and Roman Catholics continue to work together, discovering and emphasizing points of unity, it behooves both sides to remind the world periodically that we still really believe what we say we believe. In the past 18 months, evangelical Protestants acted similarly in The Amsterdam Declaration and the Gospel Statement, which (like Dominus Iesus) warn against indifference to doctrine and an uncritical openness to religious pluralism.
Documents such as these are also crucial for true cooperation, as they spell out beliefs we've summarized elsewhere. There is a danger of thinking that by coming up with language we can agree on, we've also agreed on what we mean by those words. Not so! We can recite with Roman Catholics, "We believe in one holy catholic and apostolic Church," but, as Dominus Iesus illustrates, we do not fully agree on the meaning of the words holy, catholic, apostolic, and Church. (See senior editor Timothy George's " What I'd Like to Tell the Pope About the Church")
What Roman Catholics mean by that phrase, Dominus Iesus reminds its readers, is that almost all Protestant bodies "are not churches in the proper sense" and that "they suffer from defects." Naturally, we disagree—as we always have with these teachings. As Christianity Today's Timothy George notes, "From an evangelical perspective, we must say to the church of Rome the same thing that this document says to non-Catholic Christians: serious defects remain in Catholic teaching and piety, and we call the church of Rome, as we call our own churches, to further reformation on the basis of the Word of God."
Therein lies another area in which we agree with the wording—but not the meaning—of our Catholic brethren. In a certain sense, we do suffer from defects. But so does the Church of Rome. The Bride of Christ is, in the words of Vatican II, a pilgrim church. It comprises believers who, as Protestants since Luther insist, though truly righteous in Christ are truly sinful in themselves. We will be imperfect until our bridegroom returns for us. In the meantime, we are called to prepare for that great day.
And therein lies our hope for unity. Evangelicalism is, at its core, a renewal and reform movement. At our best, we're constantly holding up our dogmas to the light of the Bible, constantly examining the speck in our own eye, ever becoming the bride Christ wants us to be. As Christ-loving believers in various churches do this work with humility and patience, we will continue to grow closer.
Have something to add about this? See something we missed? Share your feedback here.
Our digital archives are a work in progress. Let us know if corrections need to be made.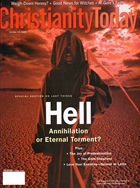 This article is from the October 23 2000 issue.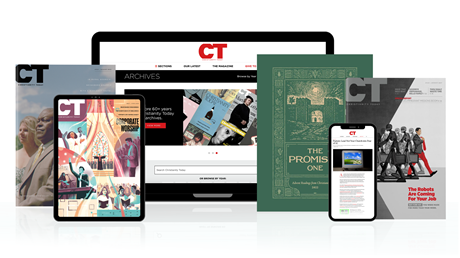 Subscribe to Christianity Today and get access to this article plus 65+ years of archives.
Home delivery of CT magazine
Complete access to articles on ChristianityToday.com
Over 120 years of magazine archives plus full access to all of CT's online archives
Subscribe Now
Honest Ecumenism
Honest Ecumenism