Devil's playground or child's play?
Christians seem to be in a real quandary about this one: should they celebrate Halloween in a uniquely Christian manner (All Saints Day); or should they encourage their kids to use their imaginations and have fun while trick-or-treating; or should every good believer shun this festival of Satan? Beliefnet has a whole series on this very question which includes answers from a witch and a piece by Diane Baker (A chilling mixture of an episode of Martha Stewart's Living and Cultic Ancestor Worship 101: "When the children come home from school on Halloween, worn out from the excitement and parties, I have a snack waiting: their own roasted pumpkin seeds, a seedcake, and the bread of the dead we've made the night before. We light candles on the altar and read Samhain stories. Then we cast a circle and stand around our altar and pray together.") For Christians Beliefnet also has an essay by Richard Mouw, "Making Real Decisions About Halloween." Its tone is very similar to some of the stories CT has run on the topic, like Harold Myra's "Is Halloween a Witches' Brew?" and Anderson Rearick's "Hallowing Halloween." Mouw writes that Halloween has become such a popular and prevalent celebration that Christians can "no longer take 'innocent' Halloweens for granted ... we must be especially diligent in teaching ourselves and our children that the real antidote to the threat of evil has been provided through the death and resurrection of the One who is the Lord of all our days and nights."
Halloween Banned?
Apparently Christians aren't the only religious group worried about the quasi-religious implications of Halloween. According to this news story, Halloween celebrations are beginning to be routinely banned in many school districts because of the complaints of Jewish, Muslim, and Christian parents: "Conservative Muslims consider Halloween haram (forbidden), since they believe it represents the "shaytan," or devil, and also because it is a non-Muslim holiday. Likewise, religiously observant Jews discourage Halloween celebrations because of the holiday's Christian and pagan (and therefore non-Jewish) roots."
Preaching, teaching, and "sharing"
As evangelicals continue to debate women's ordination and the role of women in the church, expect a lot of confusing decisions like this Tennessee case. Basically, a female church staff member spoke on her philosophy of ministry during two Sunday night services at Cedar Springs Presbyterian Church (PCA), and a visitor reported the pastor, John Wood, to the denomination's displinary committee for allowing a woman to preach. Wood argued that the female staff member was not ordained, so what she said could not be considered preaching. Dominic Aquila, a spokesman for the denomination, told a local Knoxville paper that while the church's elder board did not intend to violate policy by approving a request for the woman to speak in church, the denomination believes that the speech "likely crossed the line" into preaching. Wood has been cleared from violating church policy by the denomination, but women's roles are murkier than ever for this congregation, and denomination. More on this is available from the Religion News Service.
Chinese men unwilling to give up concubines 'for the good of the State'
As China is slowly growing more affluent, many of the issues that Communism claimed to conquer are rearing up again. Prostitution, multiple marriages, and concubinage are becoming such a problem that marriage and bigamy laws are currently being reconsidered by China's National People's Congress. Other concerns for women include growing statistical evidence that one in three wives is routinely abused by her husband at least four times a month The international news source The Age, reports that the growing practice of bao er nai (keeping a second wife) has led the southern province of Guangdong to introduce regulations allowing legal wives to seize the money, presents and property bestowed by their husbands on live-in mistresses.
Ebola kills 19 more as it spreads
Most of the people who are dying in this most recent outbreak contacted the virus by caring for suffering patients or family members, in Uganda, health officials told the Associate Press this morning. So far 73 are dead and a total of 224 have been identified as infected with the Ebola Sudan strain of the virus. About 96 people have recovered from the deadly fever, and health officials hope that the outbreak is somewhat contained, now that they have banned traditional funerals in which friends wash the body of the deceased and then dip their hands in a communal bowl. Ebola victims are most likely to infect someone through contact with bodily fluids in the hours preceding and following their death.
Related Elsewhere
See our past Weblog updates:
October 27 | 26 | 25 | 24 | 23
October 20 | 19 | 18 | 17 | 16
October 13 | 12 | 11 | 10 | 9
October 6 | 5 | 4 | 3 | 2
September 29 | 28 | 27 | 26 | 25
September 21 | 20 | 19 | 18
September 15 | 14 | 13 | 12 | 11
September 7 | 6 | 5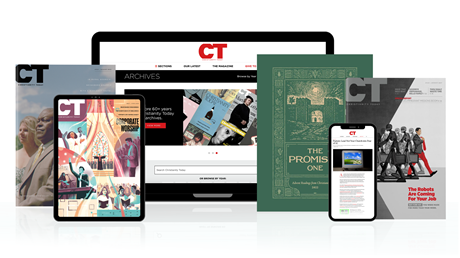 Annual & Monthly subscriptions available.
Print & Digital Issues of CT magazine
Complete access to every article on ChristianityToday.com
Unlimited access to 65+ years of CT's online archives
Member-only special issues
Subscribe
Howling Over Halloween
Howling Over Halloween