"[George W. Bush] has blown a major lead, and the campaign has lost focus in these last several weeks," Robertson said on CBS's Face the Nation. "And people keep saying, 'Will he please get back on message?'" He also criticized Bush for taking conservatives for granted and warned, "It's a dangerous strategy just to ignore your base, especially to play like something you're not." To illustrate, Robertson noted that conservatives are "not energized" in their support of Bush because the Republican candidate hasn't "come out swinging like a fighter." Robertson's appearance on the Sunday talk show came one day after Bush addressed a "Road to Victory" rally of Robertson's Christian Coalition. But even at that rally, Bush was criticized—just not by name. "We have one candidate who changes his personality ever now and then and then we have another candidate who has distanced himself from his supporters and pals around with John McCain," Dede Robertson, Pat Robertson's wife, said shortly before Bush's tape. "Some coalition members jeered when Bush's speech was announced," reports The Los Angeles Times. "But the heckling quickly subsided as he began his videotaped remarks." The New York Daily News notes that Bush "carefully avoid[ed] strong language on hot-button social issues" in his three-minute address. Shortly before the Road to Victory conference, Robertson said he wouldn't be talking about the FDA's approval of RU-486. "I think it's a trap for Bush, and I think he ought to stay out of it, and I will too," Robertson told the Los Angeles Times (he made similar statements to Newsweek). "Right now, to play this campaign on abortion would be a tragic mistake. Voters, by a vast majority, are more concerned about other issues."
''Our confession of Christ as the only son, the medium through which we see the face of God, isn't arrogance that deprecates other religions but an expression of joyous gratitude,'' Pope John Paul II said yesterday in an attempt to settle arguments over the document. Answering critics who were hoping the statement reflected more the thinking of Cardinal Joseph Ratzinger of the Congregation for the Doctrine of the Faith (who authored the document) than the pope himself, John Paul II noted that he had approved it to the letter. "It's my hope that this declaration that I hold dear, after many mistaken interpretations, can finally serve its function as clarification and at the same time as an overture," he said at a canonization ceremony. "The document clarifies the essential Christian elements, which serve as the basis for dialogue rather than as obstacles, because a dialogue without foundation would be destined to degenerate into empty verbosity." (See more coverage from The Guardian and The Washington Post.)
Sudarshan Hansda was tried separately for the murder of the Australian missionary and his sons because of his age. The trial of fourteen others, including alleged leader Dara Singh, continue. (More coverage of the verdict is available from South African and Australian news sources.)
A dozen evangelists from the Jesus Miracle Crusade were taken hostage July 1 when they visited a rebel camp to pray for other captives. One of the evangelists escaped Monday and told the military where they were being held. Five hostages—an American, three Malaysians and a Filipino—are still captive by other bands of the Abu Sayyaf rebels.
Wheaton College has announced its new, inoffensive replacement for its Crusader mascot. The evangelical school will now play as the Wheaton Thunder. The college's Web site says that more than 1,300 nominations were considered and were assessed by the following criteria: "1) graphically representable, 2) teams could rally behind it and be inspired by it, 3) gender neutral, 4) cheer-able, 5) stand the test [of] time, 6) heroic, representative of strength and determination, 7) unique, and 8) constituents could easily identify with it." And, if you think about it, thunder is one of the few things that's scary but doesn't kill people. Only one problem with that list, however: if being graphically representable is your number one criterion, how are you going to graphically represent thunder? Sound waves? As sophomore Megan Cheng tells the Chicago Sun-Times, "It's very hard to visualize, but I really do like the name." College President Duane Litfin tells the Chicago Tribune that Wheaton is in no rush to finalize its depiction of thunder.
Related Elsewhere
See our past Weblog updates:
September 29 | 28 | 27 | 26 | 25
September 21 | 20 | 19 | 18
September 15 | 14 | 13 | 12 | 11
September 7 | 6 | 5
September 1 | August 31 | 30 | 29
August 25 | 24 | 23 | 22 | 21
August 18 | 17 | 16 | 15 | 14
August 11 | 10 | 9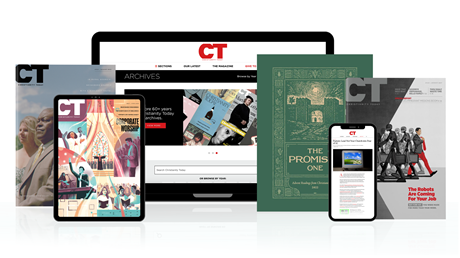 Annual & Monthly subscriptions available.
Print & Digital Issues of CT magazine
Complete access to every article on ChristianityToday.com
Unlimited access to 65+ years of CT's online archives
Member-only special issues
Subscribe
Pat Robertson Unmotivated Warrior
Pat Robertson Unmotivated Warrior