"Question abortion"
Is one of many slogans a group called Feminists for Life is posting on college campuses nationwide in an effort to reach young women who traditionally equate feminism with reproductive-rights. One in five abortions is performed on a college student, so Feminists for Life wants to challenge philosophy on campuses and serve as a guide to pregnancy resources. The group has enlisted actress Patricia Healey of the TV show Everybody Loves Raymond to serve as its honorary chairwoman, and has designed a series of posters and an ad campaign similar to the anti-smoking "truth" campaign in its rebellious tone and style. "College students are constantly told to challenge the status quo," said Serrin M. Foster, president of Feminists for Life. "Twenty-seven years after the Roe v. Wade decision, abortion has become the status quo."
George says the abortion battle is too lucrative
According to George magazine, both pro-life and pro-choice lobbies make too much money to truly work for a national resolution of abortion issues. Some of George's numbers are compelling: pro-life organizations draw at least $500 million and pro-choice groups draw about $660 million a year. "If Abortion Inc. were a company, those revenues would place it among the top 1,000 corporations in America today," the author writes. But eventually the article's premise begins to unravel. You could just as easily argue that the pro-life and pro-choice movements are so heavily funded because there is little ideological ground for a consensus palatable to both positions.
Shout to the North and the South
South Korea's President Kim Dae Jung told The National Catholic Reporter that the reconciliation process he has been negotiating with North Korea represents "a Christian hope" that has been woven throughout his embattled political career. Kim converted to Catholicism in his early 30s and says that he had a direct encounter with Jesus once as his political enemies attempted to drown him. "I used to pray twice a day," Kim said, "but at that crucial moment I didn't and was only thinking about how I could save myself." All that changed when Christ appeared beside Kim. " I firmly held his sleeves, honestly begging for my life," he says. "A few seconds later, red beams of light flashed through my blindfold, and I heard a boom, boom! Then there was the sound of planes approaching and somebody calling my name." Kim sees all he has experienced as God's redemption: "All my hard trials experienced in the past—imprisonment, frequent detention, torture, and forced exiles—happened in the process of God's redemptive work ... and in that sense, I think, I have also participated in God's salvation project."
When the going gets tough, the tough talk God
Moments after Alabama's Crimson Tide lost by two points to Central Florida last Sunday, coach Mike DuBose answered reporters' queries about whether he would resign with an unusual reply. "If God tells me I need to do something else, I will do it on the spur of the moment," DuBose told reporters after the homecoming loss. "He has not told me that." DuBose continued, "This is probably not what you want to hear, but I'm going to say it anyway. I went the entire week last week blaming God for the loss to Tennessee. I was wrong. The Word says that we should consider it pure joy when we're being tested, and in all circumstances we should give thanks. And I do give thanks for the opportunities and the situations that we find ourselves in." Some sportswriters have called this "tent revival rhetoric" from a failing coach facing dismissal, but some feel DuBose was speaking from the heart. Scott Sparks, pastor of Calvary Baptist Church in Tuscaloosa, told the Tribune, "It's not one of those things that, as a Christian, I'm jumping up and down and saying, `Yee haw, there's one for us.'" Sparks said his first reaction to DuBose's statement was "that he's being honest about one of the most important things in his life."
Fasting & Prayer 2000
About 2,500 leaders and lay people from different denominations are gathering in Orlando today for the start of an annual three-day fasting and prayer session for the world. Scheduled to speak is Bill Bright, of Campus Crusade for Christ, who was recently diagnosed with pulmonary fibrosis. The event will be broadcast live by several national Christian radio stations, and participants who couldn't make it to Florida can also take part via the Internet. Also speaking are Kay Arthur, Bill McCartney, Pat Robertson, and Dennis Rainey.
Related Elsewhere
See our past Weblog updates:
November 1 |
October 27 | 26 | 25 | 24 | 23
October 20 | 19 | 18 | 17 | 16
September 29 | 28 | 27 | 26 | 25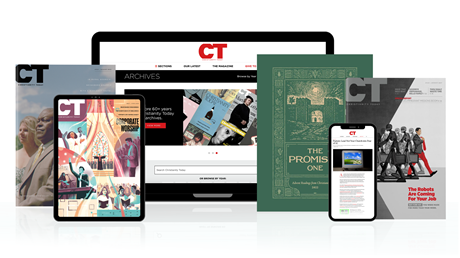 Annual & Monthly subscriptions available.
Print & Digital Issues of CT magazine
Complete access to every article on ChristianityToday.com
Unlimited access to 65+ years of CT's online archives
Member-only special issues
Subscribe
Pro-life Feminists Say What?
Pro-life Feminists Say What?