"In recent years, there has been a dramatic and unprecedented shift in Jewish and Christian relations," says a statement prepared by the Institute for Christian and Jewish Studies, signed by more than 160 Orthodox, Conservative, and Reform rabbis, and appearing in several major U.S. papers yesterday. "Throughout the nearly two millennia of Jewish exile, Christians have tended to characterize Judaism as a failed religion or, at best, a religion that prepared the way for, and is completed in, Christianity. In the decades since the Holocaust, however, Christianity has changed dramatically. … We believe these changes merit a thoughtful Jewish response. Speaking only for ourselves—an interdenominational group of Jewish scholars—we believe it is time for Jews to learn about the efforts of Christians to honor Judaism. We believe it is time for Jews to reflect on what Judaism may now say about Christianity." The statement then outlines eight statements, such as "Jews and Christians worship the same God" and "Nazism was not a Christian phenomenon." The institute's Rabbi David Sandmel says this latter remark caused many academics and rabbis not to sign the document. Rabbi A. James Rudin of the American Jewish Committee was one of them. "I happen to think Christian teaching prepared the seedbed for the poisonous weed of Nazism," Rudin tells Baltimore's The Sun. "I would never make the statement that Christianity led to Nazism directly. But it prepared the seedbed and I don't think the statement says that directly." The Washington Postcompares the document to the Vatican's Dominus Iesus statement last week, which asserted the primacy of the Roman Catholic Church. Meanwhile, First Things editor Richard John Neuhaus tells UPI that the statement "represents a genuinely new phase and a very promising step forward in Jewish-Christian relations."
"We have been indulgent with totalitarian postures, hurting democracy," eight church representatives said at an open-air Mass in Cordoba Friday night. "We have discriminated against many brothers without committing ourselves to the defense of their rights." More than 9,000 people are officially listed as "disappeared" from the country's 1976-83 military dictatorship, but human-rights groups put the number at two or three times that number. Martin Abreju, the director of one of those groups, the Buenos Aires-based Cels, says, "We think it's a very important step forward, this recognition. However, we are demanding [that they] not only to make a different speech about what they have been doing but also to open their files. … We do know that [priests] might have information about the fate of disappeared people and of kidnapped children."
The men were reportedly on their way to attack Father Susheel of the Christ the King Church in Ganaur village Tuesday afternoon, when the priest's watchman tried to stop them. The men then beat the watchman and his family, and the watchman died in a New Delhi hospital. "Despite constant assurances from the government, the attacks seem to continue unabated and the Christian community still lives in fear," says Father Victor De Souza of the Catholic Bishops' Conference of India.
Christian youths in Gombe state began protesting the introduction of the Islamic legal code Thursday, but when they met up with young Muslims, the protest became violent—and didn't calm down all weekend until ten people were dead. More than 1,000 people have been killed in Nigerian religious clashes since February.
As the pope was about to bless a 19-year-old last Wednesday at St. Peter's Basilica, she began "yelling obscenities at him in an agitated and cavernous voice clearly not her own," witnesses reported. The Pope took her aside and prayed with her for half an hour. "It appeared afterwards that the Pope's intervention had only a temporary effect on the girl," reports The Telegraph.
Related Elsewhere
See our past Weblog updates:
September 7 | 6 | 5
September 1 | August 31 | 30 | 29
August 25 | 24 | 23 | 22 | 21
August 18 | 17 | 16 | 15 | 14
August 11 | 10 | 9
July 27 | 25 | 24
July 21 | 19 | 18 | 17
July 13 | 12 | 11 | 10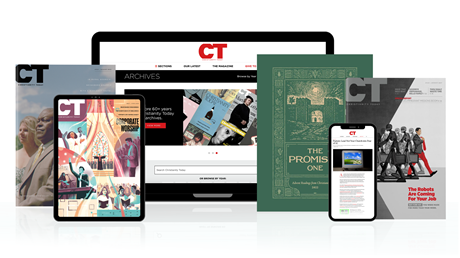 Annual & Monthly subscriptions available.
Print & Digital Issues of CT magazine
Complete access to every article on ChristianityToday.com
Unlimited access to 65+ years of CT's online archives
Member-only special issues
Subscribe
'It Is Time for Jews to Learn About the Efforts of Christians to Honor Judaism ' Say Rabbis
'It Is Time for Jews to Learn About the Efforts of ...