A bad week for Crosswalk.com
It's been a rough week for Christian Internet site Crosswalk.com. First, it disclosed that its CEO, Scott Fehrenbacher, was "named in criminal proceedings in Orange County, Florida." If that sounds odd, since Crosswalk is based in Virginia, and Fehrenbacher moved there from Seattle, the press release gives a few clues.
The allegations, which do not involve Crosswalk.com, are related to a dispute with a former business competitor who was involved in purchasing Mr. Fehrenbacher's successful former business, but which apparently suffered losses since it's sale in 1998. … These allegations involved a business deal whereby Mr. Fehrenbacher sold his values-based software program, which rated mutual funds based on their support for socially responsible stocks and other investments. Unfortunately, the individuals who purchased the business have been unsuccessful in maintaining profitability and marketing this database research program, and apparently now are trying to blame Mr. Fehrenbacher for such failures.
That's all Weblog has seen so far about the charges, but here's a little background. Fehrenbacher's "successful former business" was the Institute for American Values Investing. But actually it was Crosswalk that purchased "the brand name and proprietary investment screens" of that Redmond, Washington-based company. What Crosswalk didn't buy, apparently, was his eValueator program, which Fehrenbacher sold to Arthur Ally's Timothy Plan, another values-based investing company (based in Winter Park, Orange County, Florida—birthplace of Crown Financial Ministries' Larry Burkett). The software, then as now, sells for $400. But if you'd like to see essentially what it does, take a look at Fehrenbacher's Investigator, which he put together at Crosswalk. Like eValueator, it checks mutual funds, companies, and portfolios for involvement in pornography, abortion, tobacco, gambling, and other ills. But unlike eValueator, Investigator is free. Weblog has absolutely no idea if the criminal charges have anything to do with the similarities between eValueator and Investigator, but offering a free product that does the same thing as a $400 product may have something to do with the latter being "unsuccessful in maintaining profitability and marketing this database research program." More on this case later, to be sure.
But as if having your CEO arrested wasn't bad enough, Crosswalk got another bit of bad news this week: Nasdaq kicked the company's listing off the National Market and booting it down to the Nasdaq SmallCap Market. In baseball terms, it's been back to the minor leagues. (Entrepreneur.com has a very nice explanation of the difference between the National Market, the Small Cap Market, Bulletin Board stocks, etc.) In a press release, Crosswalk says it "does not feel that it is the best interest of the shareholders to take on considerable dilution that would be necessary for the sole purpose of maintaining [a National Market] listing."
It's not all bad news for the dot-com, however. Crosswalk was chosen as the primary advertising vehicle for the NBC sitcom Kristin? Apparently the reason critics said the show looked like a Christian sitcom was because it was supposed to. The star, singer Kristin Chenoweth, is a Christian herself, but she tells Beliefnet "the show's more about morality. I wanted to portray a person who is a Christian but who has real dilemmas just like any single young woman." That's nice, but apparently Paramount TV is thinking that its best bet is to market the show to Christians—particularly the Christians who visit Crosswalk's entertainment page.
Billy Graham returns to the pulpit
With seven months having passed since his last public preaching but mere weeks since his last serious hospitalization, 82-year-old Billy Graham began a four-day crusade in Louisville, Kentucky last night. But the big news, apparently, was the weather: both The Dallas Morning News and The Courier-Journal of Louisville led off their stories by noting that a three-hours rainstorm stopped just minutes before the crusade started. Also of note: Graham has apparently stopped commenting on much apart from his ministry. "I just cannot answer all those questions any more, all the political questions and social problems," he said at a press conference. "I haven't been able to keep up with everything. I'm here just to proclaim the gospel of Jesus Christ."
The Roman Colosseum even more evil than thought
According to tradition, Christians were fed to wild beasts in the Roman Colosseum, originally called the Flavian Amphitheater (some scholars question whether it actually happened.) At the very least, Christians protested what went on inside. But now there's even more reason why the Colosseum deserved criticism: it was built from the sacking of the Jerusalem Temple. According to London's Daily Telegraph, Geza Alfoldy of Heidelberg University, working with Italian archaeologists, recently deciphered an inscription that reads, "The Emperor Caesar Vespasian Augustus had this new amphitheatre erected with the spoils of war. There is no doubt what war this was, the sack of Jerusalem."
More articles
Missionary hostages in Philippines:
Sudan:
Persecution:
Egypt's Copts riot:
Faith-based initiatives:
Supreme Court's Good News decision:
Education:
Other church-state conflicts:
Online pornography:
Popular culture:
Homosexuality:
Divisions in the Episcopal Church:
Poverty and the Church of England:
Southern Baptist meeting:
Denominational meetings:
U.S. Catholic bishops meet:
More Catholicism:
Sex abuse by clergy:
Church conflicts:
Worship:
Promise Keepers:
Evangelism:
Science and health:
Other stories of interest:
Related Elsewhere
See our past Weblog updates:
June 20 | 19 | 18

June 15 | 14 | 13 | 12 | 11

June 8 | 7 | 6 | 5 | 4

June 1 | May 31 | 30

May 18 | 17 | 16 | 15 | 14

May 11 | 10 | 9 | 8 | 7

May 4 | 3 | 2 | 1 | April 30

April 27 | 26 | 25 | 24 | 23

April 20 | 19 | 18 | 17 | 16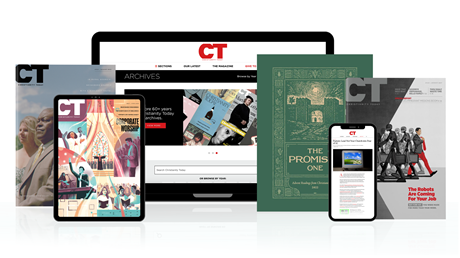 Subscribe to Christianity Today and get access to this article plus 65+ years of archives.
Home delivery of CT magazine
Complete access to articles on ChristianityToday.com
Over 120 years of magazine archives plus full access to all of CT's online archives
Subscribe Now
Pestilence and Famine at Crosswalk.com
Pestilence and Famine at Crosswalk.com