Southern Baptists break off official talks with Vatican
After 30 years of official doctrinal talks between the Southern Baptist Convention and the Roman Catholic Church, Baptists are pulling the plug. "We're not ecumenists," explains R. Philip Roberts, president of Midwestern Baptist Theological Seminary and Baptist chairman of the annual meetings. "We're evangelicals committed to sharing the Gospel." Official dialogue between the churches will end after a previously scheduled 2002 session, which will reportedly culminate in a document about salvation and a summary report (there's also another meeting in September). Over the course of its 30-year history, the meetings have produced several reports, including "Issues in Southern Baptist-Roman Catholic Dialogue" (1982), "Grace" (1984), "To Understand Each Other" (1989), and "Report on Sacred Scripture" (1999). (A note to Weblog readers: If anyone knows where these other documents are posted on the Web, please drop me a line.) Timothy George, dean of Beeson Divinity School, a member of the Baptist delegation, and a Christianity Today executive editor, attributes the end of the talks to the "strong and somewhat strident reaction" of a small faction of Baptists. "I hope there will be open doors in the future," he tells the Associated Press.
Persecution of Baptists reported in Georgia
No, not the state. The country. The Associated Press reports that followers of a defrocked Orthodox priest beat and robbed eight American Baptists Saturday. (Apparently the victims were both Baptists from American and members of the American Baptist Churches USA denomination.) Malkhaz Songulashvili, presiding bishop of the Baptist Union of Georgia, says police just stood and did nothing. Keston News Service, meanwhile, reports that the defrocked priest, Basil Mkalavishvili, is finally the target of a consolidated criminal case after years of violent attacks against Jehovah's Witnesses, Pentecostals, and Baptists.
CBN lays off 50
Pat Robertson's Christian Broadcasting Network is laying off 50 employees—5 percent of its workers—to trim $7 million. The Associated Press reports that most of the cuts will come from the television production side, as camera operations become more automated and international studios produce more. "While our income continues at a modest annual increase, we do think it prudent to respond and adapt to the changing economic environment," CBN President Michael D. Little said. "It is painful for us, but it is necessary to prepare the organization for the opportunities of the future."
From Mob hits to Christian hits
You've heard of The Sopranos, haven't you? It's, like, the best show in the history of television. No, wait. That's not strong enough. It's the best entertainment in the history of the world. It's better than cold fusion. That's all if you believe the hype. And believe me, you shouldn't believe all the hype. Anyway, as part of the continuing hype machine, there's an analysis of the show in this week's issue of The New Yorker, complete with interview of Sopranos creator David Chase. Why is all this in Weblog? At the very end of the story, Chase says he's not going to stick with the show much longer. Instead, he's going to work on a project, backed by HBO and distributed by Warner Brothers, about "the Christian rock scene." This could be very interesting.
Russell Crowe's religious film past
A little-known fact: one of the earliest works by Russell Crowe, the Australian who won Best Actor in last night's Academy Awards, was a pastoral recruitment video for the Seventh Day Adventist Church. In the film, the 18-year-old Crowe played a farm worker who decides to devote his life to the church. Crowe says he did A Very Special Person only because he needed the acting experience: "I didn't have anything official showing I had studied this art form." The film's director of photography, Russell Gibbs, says the film was influential: "It was shown in colleges and high schools to encourage people to become priests. He actually spoke to real ministers in researching for the role and admitted he found the whole thing very interesting." Weblog is sure there's a joke about Christians and gladiators in here somewhere, but he's past deadline …
Related Elsewhere
See our past Weblog updates:
March 23 | 22 | 21 | 20 | 19

March 16 | 15 | 13 | 12

March 9 | 8 | 7 | 6 | 5

March 2 | 1 | February 28 | 27 | 26

February 23 | 22 | 21 | 20 | 19

February 16 | 15 | 14 | 13 | 12

February 8 | 7 | 6 | 5

February 2 | 1 | January 31 | 29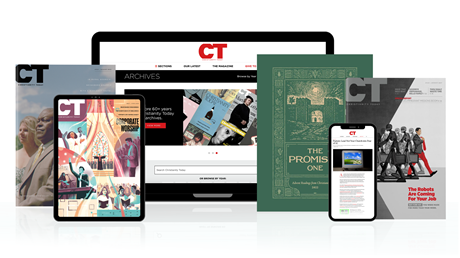 Subscribe to Christianity Today and get access to this article plus 65+ years of archives.
Home delivery of CT magazine
Complete access to articles on ChristianityToday.com
Over 120 years of magazine archives plus full access to all of CT's online archives
Subscribe Now
Southern Baptists Break Ties With Roman Catholic Church
Southern Baptists Break Ties With Roman Catholic Church