In 1997, when a mention of embryonic stem cells would elicit blank stares from all but a handful of readers, a Princeton University biologist, Lee Silver, published a remarkable book that addressed head-on the issues raised by the prospect of "engineering life."
Silver must be a superb teacher; his explanations of "reprogenetic technologies" are exceptionally lucid. He is certainly an unabashed enthusiast, exulting that "we have gained the power to control the destiny of the species," and he impatiently dismisses the fears and moral scruples that might hinder the march of "research" in any way. Hence his book offers an invaluable opportunity for the reader to see these issues through the eyes of the typical mainstream scientist, whose collective authority our national opinion-setters invoke in countless references to that infallible oracle, "science."
The title of Silver's book is instructive: Remaking Eden: Cloning and Beyond in a Brave New World. Let's be done with the old superstitions that would have us in thrall to a fictitious divine Creator. We—human beings—are as gods, and we had better get on with the job.
After all, as Silver remarks while brushing aside arguments from the Vatican about the status of human embryos, "Most people do not want to admit that their views are based on spiritual beliefs because in an advanced technological society like ours, with its foundation in science, arguments based on faith alone are not given much credibility. Scientific arguments are required for a cloak of respectability."
And to have a little fun, to tickle knowing secularists and provoke hidebound believers, Silver introduces his first chapter with an epigraph from Genesis 1 and begins his epilogue with a verse from Revelation: "I am Alpha and Omega, the beginning and the end, the first and the last." Clever!
But surely this mocking appropriation of religious language is rare in serious science writing? Well, no. Of course there are many scientists who don't go in for that sort of thing, but many others relish the opportunity to take a jab at the pious and the faithful.
Such mockery can turn up in the most unexpected places. Consider, for example, the extremely influential 1966 book, Adaptation and Natural Selection, by George Williams, one of the preeminent evolutionary biologists of our time. Unlike Silver's book, written for a popular audience, Adaptation and Natural Selection was intended in the first instance for Williams's peers and students. Here is the very last paragraph in his book:
Perhaps today's theory of natural selection, which is essentially that provided more than 30 years ago by Fisher, Haldane, and Wright, is somewhat like Dalton's atomic theory. It may not, in any absolute or permanent sense, represent the truth, but I am convinced that it is the light and the way.
This lightly mocking appropriation of Scripture ends the book on an urbane note: no blunderbuss blast at the dunderheaded creationists but rather an artfully ironic allusion that flatters the reader: We're in the same club, you and I.
Not all appropriations of religious language in science writing are intended to mock. In the same year that Lee Silver's Remaking Eden appeared, the distinguished cosmologist Lee Smolin published a book called The Life of the Cosmos. Smolin is not a religious believer. In his conclusion, he compares the universe to a city, "an endless construction of the new out of the old. No one made the city; there is no city maker, as there is a clockmaker."
It follows that "there never was a God, no pilot who made the world by imposing order." But this is no cause for despair, for existential angst: "Nietzsche now also is dead," Smolin writes. Instead of brooding, he wants us to celebrate the evolutionary "logic" at the heart of the cosmos: "the logic of life is continual change, continual motion, continual evolution."
Still, Smolin is not as naïvely utopian as Silver. Here are the last sentences of Smolin's book:
All we have of natural law is a world that has made itself. All we may expect of human law is what we can negotiate among ourselves, and what we take as our responsibility. All we may gain of knowledge must be drawn from what we can see with our own eyes and what others tell us they have seen with their own eyes. All we may expect of justice is compassion. All we may look up to as judges are each other. All that is possible of utopia is what we make with our own hands. Pray let it be enough.
Pray? And to whom shall those prayers be directed?
John Wilson is editor of Books & Culture.
Related Elsewhere
Additional "Biotech Revolution" articles on our site include:
Times Fifty | A Work of Fiction by Brenda W. Clough. (Oct. 2, 2001)
The Genome Doctor | An Interview with Francis Collins. (Oct. 1, 2001)
A Matter of Life and Death | Why shouldn't we use our embryos and genes to make our lives better? The world awaits a Christian answer. (Sept. 28, 2001)
Wanna Buy a Bioethicist? (Editorial) | Some corporations have discovered that bioethics makes good public relations. (Sept. 28, 2001)
Article continues below
Lee Smolin's The Life of the Cosmos and George Williams's Adaptation and Natural Selection are available at Amazon.com. Lee Silver's Remaking Eden: Cloning and Beyond in Brave New World is out of print but available used at Amazon.
John Wilson writes Books & Culture Corner every Monday for ChristianityToday.com. Recent Books & Culture Corners include:
Myths of the Taliban | Misinformation and disinformation abounds. What do we know?(Sept. 24, 2001)
The Imagination of Disaster | "We thought we were invulnerable." Really? (Sept. 17, 2001)
More Sex, Fewer Children | Mixed messages on condoms, contraception, and fertility. (Sept. 10, 2001)
The Strange Case of Napoleon Beazley | The latest poster boy for death row chic. (Aug. 27, 2001)
Apocalyptic City | The dream and the nightmare of megalopolis (Aug. 20, 2001)
Megalopolis Forty Years On | The ambiguous face of the city. (Aug. 13, 2001)
The Future Is Now | You want the news? Read science fiction. (Aug. 6, 2001)
Previous Christianity Today coverage of bioethics includes:
Two Cheers | President Bush's stem-cell decision is better than the fatal cure many sought. (August 10, 2001)
House Backs Human Cloning Ban | Scientists say they'll go ahead anyway. (August 27, 2001)
Embryos Split Prolifers | Bush decision pleases some, keeps door open for disputed research. (August 27, 2001)
House of Lords Legalizes Human Embryo Cloning | Religious leaders' protests go unheeded by lawmakers. (Feb. 2, 2001)
Britain Debates Cloning of Human Embryos | Scientists want steady stream of stem cells for "therapeutic" purposes. (Nov. 22, 2000)
Tissue of Lies? | Latest stem-cell research shows no urgent need to destroy human embryos for the cause of science. (Sept. 28, 2000)
Beyond the Impasse to What? | Stem-cell research may not need human embryos after all. But why are we researching in the first place? (Aug. 18, 2000)
Thus Spoke Superman | Troubling language frames the stem-cell debate. (June 13, 2000)
New Stem-Cell Research Guidelines Criticized | NIH guidelines skirt ethical issues about embryo destruction, charge bioethicists. (Feb. 7, 2000)
Human Embryo Research Resisted (August 9, 1999)
Editorial: The Biotech Temptation (July 12, 1999)
Embryo Research Contested (May 24, 1999)
Stop Cloning Around (April 27, 1997)
Have something to add about this? See something we missed? Share your feedback here.
Our digital archives are a work in progress. Let us know if corrections need to be made.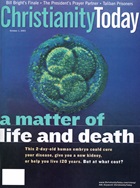 This article is from the October 1 2001 issue.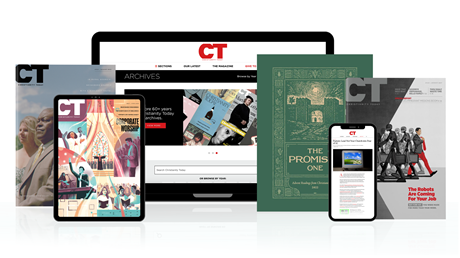 Subscribe to Christianity Today and get access to this article plus 65+ years of archives.
Home delivery of CT magazine
Complete access to articles on ChristianityToday.com
Over 120 years of magazine archives plus full access to all of CT's online archives
Subscribe Now
Manipulating the Linguistic Code
Manipulating the Linguistic Code