As the nation mourns and prepares to fight, stories of courage, grace, and compassion continue to come out of the war zone around the World Trade Center. The day after the calamity, CT heard stories of despair and hope from Christians in neighborhood churches.
Thirty years ago, just as the World Trade Center's two towers were going up, nearby Primitive Christian Church went down in flames. College student Marcos Rivera came running back to his church to find a gutted hollow. Now, like much of the New York church, Primitive has rebuilt and is flourishing. Other church leaders describe Primitive as a place where good teaching and the grace of God have built a people with a character that can stand hard times. It was tested Tuesday morning by the nuclear-like explosion that flew over the neighborhood.
Rivera, now pastor of his church, was sipping his coffee Tuesday morning. He had just picked it up at the Egyptian diner on the corner. On his way to the church, he glanced over his right shoulder at the towers as he does every morning. "In the neighborhood everyone seems to do this," Rivera says. "We grew up with them being built and as part of our lives."
Tuesday seemed another normal day of shuffling and reshuffling the church's schedule.
Across the street, the Rev. Nelson Santiago was splashing some water on his face at the kitchen sink, which has a window framing the towers. As usual, his mind was checking out his to-do list for the day. He didn't notice the fires on Tower One.
His secretary came into the church, saying, "Pastor, the trade tower is on fire." Rivera wondered if she was joking.
"No!" he responded.
"Yes, Pastor, come out."
Santiago and his wife Angela had finally noticed the burning tower outside their window, but they were not worried.
Closer to the towers, the feelings were rising. The High School for Leaders and Public Service stands pretty close to the towers. A smoky odor was beginning to permeate the school. Pastor Rivera's son Matthew, 15, smelled an odor like burning ink. His friend Phillip Santiago, 14, was on the next floor down, the 10th. His room had windows, but he too dismissed the smell. He thought that the papers flying around outside were another prank of a rival high school next door. He quickly returned his focus to the English class. He didn't want the students at the other high school think that they could distract him.
Then the second plane hit. In a flicker of a moment the situation turned into a vital Job-like test.
On Phillip's floor, the windows "rippled like water," one witness recalled. As the building shook, a teacher downstairs started screaming, "A bomb! A bomb!"
Phillip admits he was terrified. When the teacher told the students to continue their work, he thought, "Forget that!" The girls started to cry; the guys were furious.
Matthew immediately started packing his Timberline bag. Turning to his best friend Larry Pitta, he yelled, "I want to get out!"
Back at Primitive Christian, Rivera ran out of the church. "There was a roar of weeping when I got outside," Rivera said. "I started yelling, 'Oh God, have mercy! Protect us!'" Pacing, Rivera was thinking about his son and the other children of the church. Finally, he decided to stay for his people. "I got a hold of myself. I had always told my son to come home in such event and not be spectator. I was pretty sure he would do that."
Santiago and his wife were already on their way to the school but got blocked by police vehicles strewn like pebbles. They turned to each other. "We need to trust God," they told one another. Then they saw "a horror on faces with wide mouths." Tower One had collapsed.
"My God!" Santiago cried.
"Lord, save my baby! Save my son!" his wife prayed.
They fled before the wave of debris back to the church.
Meanwhile, after an orderly exit from the school, the students were swept into the chaos of the streets. They stopped to stare at the burning buildings.
They jogged south to the southern tip of Manhattan. Matthew was a little ahead of Phillip. Then they heard a long rumble. Phillip yelled, "Is that thunder?" They all ducked.
After the thunder they started to hear metal cracking. "You could hear something bending, and then a sound like the cracking of millions of pieces of metal. A huge gray cloud started rolling toward us. It became darker and darker as it got closer," Phillip recalls.
The teachers said to turn back north to an emergency area. But the teachers were unfamiliar with the area, so Matthew took charge of his small group, shouting, "To the church!"
By this time Phillip and another girl were alone. He started running with her and praying. "I prayed God would keep me, and for my parents, that the police would tell them to go back home."
"A huge, boiling cloud of smoke and debris came like a fast-moving flood down a tunnel toward us," Matthew recalls. He led his group south, then around the tip of Manhattan toward the east side, the farthest that they could get from the towers.
Phillip, meanwhile, was bent down, covered with debris. He and his classmate staggered away. But "the smoke kept getting darker and darker until at times I couldn't even see my hand.. . . We couldn't run fast enough, and my classmate and I were starting to have trouble breathing."
Phillip prayed, "God, show me the way." He recalls that he became calm and knew God was drawing him to safety.
He saw a green sanitation van and ripped open the door, shoving his classmate and falling in behind her. "It was a miracle it was open. God was watching!" he thought. "We caught our breath for a few minutes as the debris stormed by."
Throwing open the door, the two students ran some more. "It was very hot in the smoke, and you just felt your throat clogging up, even with a cloth over your face."
Pastor Rivera was scrambling at the church. "Get food! Get tables!" he barked. He took chairs and water outside for the refugees. He scanned the crowds for any sign of his son and the other children.
"I remembered the black pastor who stood over a guy with outstretched arms during the Los Angeles riots. He was standing between the dead and the living. That was me. People needed someone to hang onto."
But Rivera was worried. Every 30 minutes or so, he would lock himself in his office to pace and cry out. "I did not see the walls or pictures," he says, during his prayers.
Across the street, the Santiagos felt helpless and despairing. Phillip's mother at one point prayed, "He is with you!"
"Then, my son walked in. Though he was snowy white, I knew who he was."
Phillip embraced his mother, saying, "I am okay! He was telling me where to go! God was telling me!"
A few minutes before, Matthew walked into the church with his teachers and students behind him, his hair filled with ash, pebbles, and concrete. He stood before his father amid a sea of people streaming by in silence.
The father reached over and hugged Matthew, and they wept. Matthew prayed his thanks.
That night, the Riveras formed a circle in their bedroom to thank God. Rivera closed, "Our goodbyes should be with the knowledge that life is fragile, and we won't always see each other again." Upstairs, the Santiagos looked at the dark clouds where the World Trade Center towers had stood. The father said, "We have to look for someone higher than the 110th floor."
The Riveras and Santiagos had their character tested. They say that they are ready for America's next tests.
Related Elsewhere:
Primitive Christian Church's Web site has a photo of the church and Rivera.
Article continues below
Christianity Today's other articles on the attacks include:
Taking It Personally | What do we do with all this anger? (Sept. 14, 2001)
Shaken Christians Turn to Prayer | Impromptu services usher in the bereaved by word of mouth, road signs, and e-mail. (Sept. 13, 2001)
Christians Provide Comfort in the Shadow of Calamity | Still "stunned and reeling," New Yorkers seek support at prayer service. (Sept. 13, 2001)
Illinois Pastor on Fatal Flight | Jeffrey Mladenik, 43, was involved in workplace ministry, international adoption. (Sept. 13, 2001)
Communication Troubles Challenge U.S. Church Relief Agencies | Aid work continues amid atmosphere of shock, fear, and sporatic harrassment. (Sept. 13, 2001)
Reflections on Suffering | Classic and contemporary quotations for dark times. (Sept. 13, 2001)
When Sin Reigns | An event like this shows us what humans are capable of becoming—both as children of darkness and of light. (Sept. 13, 2001)
In the Belly of the Beast | Christians, calling terrorist attack "satanically brilliant," minister at epicenter of World Trade disaster. (Sept. 12, 2001)
Churches, Agencies Respond to Attacks | Leaders call for prayer, justice, and mercy. (Sept. 12, 2001)
Muslims Fear a Backlash | No matter who is responsible, observers feel a reaction will still be present. (Sept. 12, 2001)
A Wake-Up Call to Become Global Christians | The deadly attacks on America will provoke many responses, but Christians are commanded to love our neighbors. (Sept. 12, 2001)
Nation's Religious Leaders Urge Calm, Pray for Peace | Churches will maintain prayer vigils for victims and leaders. (Sept. 11, 2001)
Church Leaders Around World Deplore 'Unspeakable Horror' of Attack | Christians urged to unite in prayer as they unite in shock and denunciation. (Sept. 11, 2001)
Experts Say Spiritual Roots Will Aid in Coping With Catastrophe | Pray and connect with others, advise nation's chaplains. (Sept. 11, 2001)
Fear and Hate | In times like this, as in all other times, Christians have a responsibility to love above all else. (Sept. 11, 2001)
God's Message in the Language of Events | In the face of evil, we must focus on keeping our hearts right. (Sept. 11, 2001)
For in-depth and continuing coverage, see The New York Times, The Washington Post, BBC, CNN, and Yahoo full coverage.
Yahoo has also compiled aid organization contact information, closure notification, and survivor lists.
For more Christian perspectives and responses, see various articles posted on Christianity.com, Crosswalk.com, and Beliefnet.com.
Article continues below
The Text This Week, a resource for pastors, has collected sermons and reflections in response to the Sept. 11 events.
The BBC, Boston.com, The Village Voice, and USA Today have photo essays of the destruction.
For video or audio coverage, see CNN, ABC News,and Sky News. The Washington Post is running a live Web cam of the Pentagon building.
The Washington Post has a list of tenants of the World Trade Center and a graphic depicting the attack.
The New York Blood Centers declared a blood emergency after the Sept. 11 attacks.
Yahoo has also compiled aid organization contact information, closure notification, and survivor lists.
President Bush addressed the nation on the evening of Sept. 11 (video | transcript). He declared Sept. 14, 2001 a national day of prayer. Bush first learned of the World Trade Center tragedy while preparing to speak to schoolchildren in Sarasota, Fla.. There, he asked Amercians for a moment of silence for the victims.
The Pope and Billy Graham have spoke out on the tragedy and sent out prayers to the victims and their families.
The BBC has compiled reactions from world leaders (with video).
Slate.com explained who responds to crisis situations.
An Interpol report details the 1993 bombing of the World Trade Center.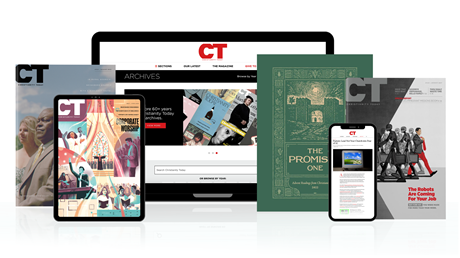 Annual & Monthly subscriptions available.
Print & Digital Issues of CT magazine
Complete access to every article on ChristianityToday.com
Unlimited access to 65+ years of CT's online archives
Member-only special issues
Subscribe
'Is That Thunder?'
'Is That Thunder?'