true
Moviegoers are sure getting a lot of God lately. He's been summoned for help in The Count of Monte Cristo and The Rookie. He prods consciences in Changing Lanes, inspires a missionary in The Other Side of Heaven, and drives a man into a murderous rage in Frailty. Some moviegoers must be puzzling over all of these contradictory portrayals. Which version of the Almighty is most accurate? (This could be an exciting time for Christian moviegoers to discuss which of these stories ring true.)
Hot From the Oven
The preview for Changing Lanes promised an intense drama about how a fender-bender escalates beyond road rage into revenge vendettas. Surprise—the preview only scratched the surface of a complex and challenging motion picture.
It's a simple premise: Two men meet on the freeway—in a car accident. Gavin Banek (Ben Affleck) and Doyle Gipsen (Samuel Jackson) were both on their way to important court cases. The accident leaves them both sorely delayed and desperate. Doyle tries to handle the accident with patience and goodwill, but Gavin ignores the rules and rushes off to court, abandoning Doyle and his wrecked vehicle in the pouring rain. Bad move. The file Gavin needs to win his case accidentally falls into Doyle's hands. And Doyle, whose delay will cost him the hope of familial reconciliation, is now an angry and dangerous man. A game of moral disintegration begins, with both characters forced to learn something from the chaos of their urban combat.
Religious press critics seemed excited by the film's focus on moral issues. The U.S. Conference of Catholic Bishops critic says, "The ending is a tad too sunny to match the preceding events. But after being put through the wringer, the viewer leaves feeling hopeful that doing the right thing is its own reward."
J. Robert Parks (The Phantom Tollbooth) examines the film's questions: "Is it okay to do bad things if they're outweighed by the good? And what is my responsibility to my fellow man, even someone I've never met before? The film's script isn't perfect … but I was willing to overlook those faults in order to focus on these compelling issues. Which are raised in a very compelling film."
Michael Elliott (Movie Parables) writes, "What is most striking … is how easily these characters could have avoided their conflict at any time. By being so immersed in themselves and their problems, and by resorting to retaliation rather than forgiveness, their troubles keep escalating to the point where they nearly destroy themselves. Had Doyle and Gavin simply took a few seconds to remember to 'do unto others what you would have them do unto you,' all unpleasantness could have been avoided."
Holly McClure (Crosswalk) recommends it "because it deals with the ethical and moral dilemmas all of us face at some point in our lives. It also has a strong message of redemption and forgiveness, and it shows how a little kindness goes a long way in righting wrongs in people's lives."
Tom Snyder (Movieguide) recommends it "for discerning adults who are looking for a more redemptive experience at the local multiplex."
But Greg Groninger (Christian Spotlight) says, "Christians will notice some great potential for discussion about our own morality, and the fact that we as humans often come up short." But Groninger was disappointed that the film didn't explain that the gospel is the answer to Gavin's dilemma: "I wanted to shout out 'Ask Jesus Christ to be your Lord and Savior,' but like Gavin I left the movie feeling unfulfilled."
True—Changing Lanes does not spell out the gospel message. But it clearly points in that direction. Christian symbolism appears throughout the film. The accident happens on Good Friday. Doyle seeks comfort and encouragement at an Alcoholics Anonymous meeting. Gavin finds himself drawn to a cathedral, where he asks a priest to help him find meaning and peace. But Gavin's anger makes him impatient; he may suspect the answer, but he doesn't want to face it. Meanwhile, Doyle is trying to do the right thing, but rapidly increasing trials send him into a downward spiral of rage and retaliation.
In my opinion, Changing Lanes is damaged by its implausibility. In an effort to make the film more entertaining, director Roger Michell and his screenwriters let their characters go to ridiculous extremes, making them look like the biggest idiots in town. Thus, the eloquent philosophical monologues are not very convincing. If they had given the film a satirical edge, perhaps these exaggerated deeds would have been more believable.
Still, I applaud the courage of Michell and Company. Jackson and Affleck turn in impressive performances (it's Affleck's finest work since Chasing Amy). Michell gives the film a claustrophobia-inducing aesthetic that lets us feel each character's desperation. The screenwriters raise unpopular questions, spotlighting the modern epidemic of self-absorption. We see ourselves in these anxious, hurried individuals. Their need for speed makes them impatient. One of Doyle's counselors (William Hurt) sums up the problem as an "addiction to chaos." By asking audiences to consider the alternative of patience, compassion, and Christ-like love, they have made this film essential viewing. In spite of its weaknesses, Changing Lanes will remain an important, nourishing piece of filmmaking.
Mainstream critics almost unanimously praised the actors, but they offered mixed reviews of the film itself. Lisa Schwarzbaum (Entertainment Weekly) was bothered by the speeches and religious symbolism. She calls it "a movie about moral conundrums, and more specifically, talk about moral conundrums. Which is to say, it's self-consciously in love with its own words."
But Roger Ebert (Chicago Sun-Times) calls it "one of the best movies of the year." Kirk Honeycutt (Hollywood Reporter) praises it for being "willing to let things end in the calm of philosophical resolution rather than a bang of violence." And Jeffrey Wells (Reel.com) says, "It seems that one difference between the last decade and this one might be seen as the difference between Michael Tolkin's Changing Lanes and The Player, or a switch from defeat and cynicism to guarded optimism."
* * *
Actor Bill Paxton turns in his second performance as a director with the horror film Frailty. The movie is gaining raves from horror fans and mainstream critics, while religious press critics are troubled by the film's plot.
Bill Paxton plays a gentle, loving father who wakes his two sons in the middle of the night to tell them that God has charged them with a holy mission—to hunt down and kill demons in the world. The older of the two boys struggles, emotionally and psychologically, as his father draws the three of them into violent acts of supposedly righteous retribution. Matthew McConaughey plays one of the boys, now grown, who relates to a police officer this chilling tale, right to its troubling and shocking conclusion.
The film has raised the ire of religious press critics chiefly because it portrays faithfully religious people as murderous maniacs. And the film's implication that God might indeed require his followers to behave so wickedly isn't going over too well either.
The USCCB's critic explains that the movie "terrifies, because it takes a good thing like faith and doing God's will, and warps it beyond recognition." But the film fails even in its horror because of "narrative holes that require the audience to fill in the blanks and a few all-too-convenient details that become harder to believe once some thought has been given to them."
John Adair (Preview) writes, "While plenty of good, evangelical lingo about faith is spouted throughout the story, the film joins others that cast religious believers in a strong negative light, since most of the pious phrases come from the killer." But Adair agrees with Carole McDonnell (Christian Spotlight) in observing, "It definitely leads to heavy discussion after its ending."
Tom Snyder (Movieguide) condemns the whole package: "It's often amazing how apparently intelligent people can seem so theologically dense sometimes. That's why the false, abhorrent theology in Frailty is so painful. Not necessarily because the movie will be a very popular one and, hence, lead many people astray, but especially because it represents such a silly waste of good brain power." Snyder adds, "God would never tell someone to commit this kind of horrible vigilante justice, no matter how reprehensible the crime."
I sincerely doubt many moviegoers will be led astray. The horror genre is famous for entertaining us with twisted "What if?" questions. Frailty offers us a fictional world in which God might not be a compassionate and merciful deity. Upon seeing that vision, perhaps viewers will find the reality of God's love will seem more appealing and even more plausible. Frailty's premise echoes those Old Testament stories in which God orders the chosen people to destroy heathen nations. Does God ever compel believers into acts of "righteous rage"? Does he who said "Thou shalt not kill" approve of vigilante justice? Holy wars? Capital punishment? Such questions have kept theologians busy for centuries.
Mainstream critics are impressed by how the film's effectiveness, considering its low budget and its avoidance of extreme violence and onscreen gore.
Roger Ebert doesn't find Frailty so far-fetched. He has encountered presumptuous believers who are quicker to judge others than they are to exhibit Christ's love. "There was just a glimpse of this mentality on the day after 9/11, when certain TV preachers described it as God's punishment for our sins, before backpedaling when they found such frankness eroded their popularity base. Heaven protect us from people who believe they can impose their will on us in this world because of what they think they know about the next."
Junk Food
The Sweetest Thing may also be the emptiest and most appalling thing. Cameron Diaz, Christina Applegate, and Selma Blair star in this romantic comedy that, according to most critics, is neither romantic nor comedic. In it, three flirtatious girls give up on the search for Mr. Right and decide to settle for Mr. Right Now—without realizing this makes each of them Miss Wrong.
Michael Elliott (Movie Parables) says, "It's been twelve hours since I walked out of The Sweetest Thing, and I have to admit that I still have no idea what the title is supposed to reference. There is precious little about this film that could be considered 'sweet.' The sexual and romantic game playing [have] nothing to do with love."
Holly McClure (Crosswalk) says, "This movie is demeaning to women in general and, overall, insulting to men and their intelligence."
"The Sweetest Thing is actually quite sour," declares the USCCB's critic. "Its painfully stupid plot is a thinly veiled excuse to have the female leads parade around in their underwear."
Mainstream critics are equally offended by the film. Jeffrey Wells (Reel.com) writes, "I'd like nothing better than to be soothed or tickled by a clever, sexy romantic comedy. But I lasted a grand total of two-and-a-half minutes with The Sweetest Thing before walking out in disgust."
Foreign Fare
Y Tu Mamá También is being hyped as a "teen movie" for the arthouse crowd. But beyond a doubt this is not a movie for teens, even though two teenage boys are its central characters. In fact, while it is well-made and tells a heartbreaking story, the much-touted explicitness of the characters' sexuality should stand as a warning to viewers of any age who would be led to stumble by such imagery.
Alfonzo Cuaron's movie centers on Tenoch and Julio, two recklessly immature Mexican teenagers who perpetually fantasize about sex and make passes at pretty girls and women. One day they invite Luisa, who is married, to go with them to the beach for some "fooling around." To their amazement, she eventually agrees. Luisa is hiding deep, secret wounds that provoke her to go along with the boys' irresponsible behavior. She decides to use their disrespectful behavior and their ravenous lust against them, to teach them both hard lessons. By giving them what they want, she leads them to humiliating realizations of their own callousness and selfishness.
Several explicit scenes display destructive sexual behavior too realistically. In giving his film a natural realism, Cuaron goes too far. Viewers will end up thinking about the audacity of the actors rather than the choices of the characters. But Cuaron apparently means well, trying to show us subtle changes in the boys' friendship, conscience, self-image, and innocence.
Conservative viewers may do well to skip this one. Movieguide has condemned it as pornography. But the goal of pornography is to arouse through exaggeration and exploitation. The end result of Y Tu Mamá is just the opposite—it strives to humble, even humiliate, men who mistreat and objectify women. And further, it strives to paint us a metaphor for the ruling class of Mexico, who mistreat and take advantage of the peasants. Y Tu Mamá También is an aggressively political movie, a heartbroken testament about a generation without role models or devoted fathers.
J. Robert Parks (The Phantom Tollbooth) also values the film as a truth-telling, cautionary tale: "While the two [boys] continually toast each other over their exploits, it's clear that the fallout the next day will be tremendous. … It is a rare film that can be both joyous and heartbreaking."
Side Dishes
The Other Side of Heaven tells the story of the young Mormon John Groberg, who journeyed to the far off island of Tonga to work as a missionary.
The film is gaining critical acclaim, but religious press critics have mixed reactions. Those who focus on its artistry are impressed. But some are so offended that the story is about a Mormon that they have nothing good to say about the film as a whole.
"From a Christian point of view … [this] is a cultic film," writes Ted Baehr (Movieguide). "It would be more than extremely unfortunate if Christian critics … promote the false gospel of The Other Side of Heaven. Since some of them are doing just that, we pray that the movie will not lead more impressionable people astray, as John led the natives to The Other Side of Heaven—which is hell."
But the USCCB critic gives the film some credit: "Groberg is compelling, firm in his conviction and sincere in his efforts to reveal Jesus Christ to the people in this remote village. And Gorham plays him in an appealing manner. Yet, viewers may feel something missing from his character development: his personal insights, his insecurities, his foibles, his quiet moments of doubt about God. These revelations would have gone a long way in helping an audience make a personal connection with Groberg. Nonetheless, the sincere film, with its topnotch special effects … is fine family entertainment."
John Adair (Preview) also refrains from condemnation: "Although Preview follows more traditional Christian orthodoxy, the positive messages in The Other Side of Heaven can be recommended. The omission of doctrinal beliefs exclusive to the Mormons makes the film more appealing to a wider audience, and avoids the appearance of proselytizing for a particular sect. Without the stigma of sectarian tenets, Elder Groberg provides an example of a man persevering in his faith, which all Christians are called to do. He demonstrates a dependence on God, on his friend and companion in the mission work, and on the people of the small island community."
Still Cooking
Meanwhile, raves for The Rookie just keep pouring in, three weeks after its opening. This week, Cliff Vaughn (EthicsDaily.com) writes, "Like other 'baseball movies' … The Rookie is only superficially about America's game. It's really about dreams, second chances, family and faith."
The Rookie isn't the only commercial film impressing religious moviegoers. Raymond Teague (Unity World Reel Views) offers a new review of a movie that's been around awhile longer—The Count of Monte Cristo: "All the fascinating characters, swashbuckling, treasure, intrigue, revenge, and romance … can't obscure the major player of the story - God," writes Teague. "Events in the life of Edmund Dantes, superbly played by James Caviezel, always come back to the consideration of God—the nature of a supreme being and that power's involvement in life."
Digest: More on Sci-Fi Christ Figures
At Canadian Christianity, Peter T. Chattaway notes the special edition DVD release of Tron and the theatrical special edition of E.T. The Extra Terrestrial by exploring how both films work as Christian allegories. He begins, "The summer of 1982 was a great time to be a science fiction fan, especially if you were a young Christian who was just beginning to explore the relationship between faith and film. It is … fascinating to see just how strong an influence the Christian story has on our culture, even—or especially—if the parallels were unintentional."
Next week: Have American movies affected our understanding of the conflict in the Middle East? Are there any films that offer insight into the troubles of Israel, Palestine, and Afghanistan? Also: Murder by Numbers, a Sandra Bullock thriller.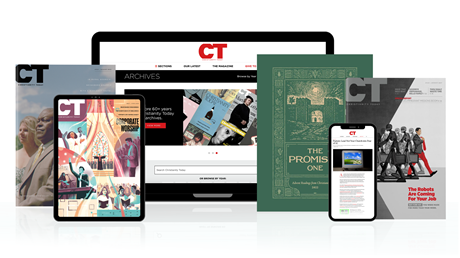 Subscribe to Christianity Today and get access to this article plus 65+ years of archives.
Home delivery of CT magazine
Complete access to articles on ChristianityToday.com
Over 120 years of magazine archives plus full access to all of CT's online archives
Subscribe Now
An Ethical Fender-Bender
An Ethical Fender-Bender