"I am very happy to become a Christian. I feel liberated, a human being," says A. Sekar. His eyes turn moist and his voice chokes with deep emotion. "I feel I am born again." Sekar, 30, is a Dalit in Madurai, in India's southern Tamil Nadu state. Four members of his family of six have converted to Christianity in recent months.
Their Dalit neighbor, Ilaiyaraja, 28, has been going to the nearby Bethel Church to pray. "I've given notice to [the] church for baptism," Ilaiyaraja said. "Next month, I will be baptized. In Hinduism, you pray to a number of deities, while in Christianity there is only one God, which I feel is [the] original God. I find the Hindu caste system very inhuman and oppressive."
India's over 250 million Dalits are Hinduism's "untouchables," relegated by the high-caste Brahmans to an almost permanent underclass status. The caste system, though illegal in India, remains in force socially. Dalits are not allowed to enter upper-caste houses, fields, or temples. They cannot draw water from village wells or wear shoes while passing upper-caste areas. They remain landless and poor.
Human rights observers cite a growing pattern of persecution against Dalits. In October Hindus lynched five Dalits in Jhajjar, Haryana state, for transporting cowhide. (Within two weeks, more than 80 friends and family of the victims converted to Buddhism, Islam, and Christianity in protest.)
In September police and other officials in Uttar Pradesh state forcibly tried to evict a Dalit woman from her land. In another case, upper-caste Hindus hacked three Dalits to death. In Punjab state, assailants stripped a Dalit woman in a marketplace, in broad daylight. Several months ago, some Dalits in Madurai were forced to drink human urine.
Calls for conversion
Unable to reform Hinduism, Dalit leaders are encouraging Dalits to escape their misery by changing their religion. More than 50,000 Dalits converted to Buddhism in a single ceremony in New Delhi last year (CT, Jan. 7, p. 25), and many others are becoming Christians. John Dayal, secretary general of the All India Christian Council (AICC), calls the Dalit conversion movement a "personal search for dignity."
Udit Raj (formerly Ram Raj), national chairman of the All-India Confederation of Scheduled Caste/ Scheduled Tribe Organizations, told Christianity Today, "All Dalits should quit Hinduism. The caste system is built into Hinduism."
Richard Howell of the Evangelical Fellowship of India says Christians are evangelizing Dalits despite the personal and political risks. "The meaning of being a Christian is to give witness," Howell said. "We preach Christ's message of love and equality. If you say it leads to conversions, yes, it does."
Dayal said the church is well positioned to reach out. "There is no future for Dalits in Hinduism," Dayal said. "With the strengthening nexus of [right-wing] forces and political leadership, Dalits would have to fight their way out of Hinduism. What religion they take is up to them. Comparatively, we offer a better model of equilibrium, equality, and development."
Indeed, fully two-thirds of India's 30 million Christians come from Dalit backgrounds. Raj, though a Buddhist convert himself, said he would be happy if more Dalits became Christians.
"We are going to make conversions a national phenomenon," Raj said. "I have a lot of appreciation for the Christians. They changed the lives of Dalits. Christians were the first to open [an] education system for Dalits, giving us a chance to be free and grow. People are converting to Christianity. Dalits have the right to choose any religion they want."
Anti-conversion law
Some Hindus are challenging that right. In October in Tamil Nadu, the state government passed what the AICC calls "a draconian anti-conversion ordinance." The law bans conversions by "force, allurement, or fraudulent means." The AICC says authorities have used similar terminology to harass Christians in the states of Arunachal Pradesh, Orissa, and Madhya Pradesh. Those found guilty could face stiff fines or up to three years in prison.
The AICC called a nationwide nonviolent protest of the new law on October 19, holding a rally in Chennai, which is Tamil Nadu's largest city. More than 3,000 Christian institutions participated. The Christian council also says it will challenge the law in the state supreme court.
Observers say the law was prompted by the conversion of 250 Dalits during an August series of services at a Seventh-day Adventist church in Madurai, the state's second largest city. Such group conversions always spark controversy in India despite the constitutional right to change religion. Hindu radicals say Christians use force and bribery to get poor Dalits to convert.
Dalit leader Raj dismisses such allegations. "Dalits are targeted, raped, murdered, and exploited, not by the Christians, but by the upper caste," Raj said. "Should scavengers and untouchables say with pride, We are Hindus? The Vishwa Hindu Parishad and other fundamentalists ask for dialogue with Christians on conversions. Why don't they ask Dalits. … why [they] are converting?"
Christian leaders scoff at charges of bribery. They point out that Dalits who become Christians lose government-sponsored educational and employment benefits. Dayal says that Christians, one of India's poorest communities, are in no position to bribe anyone. "We can't induce, can't offer money, can't force," he said.
Howell recalls the story of several Dalits who approached a local bishop, asking to become Christians. When he told them they would lose their benefits, they said, "Christ has accepted us in his bosom, and we are not interested in the benefits given by the government."
Howell foresees many hopeful signs. "Dalits have realized if they organize they can have political power," he said. "It is a liberation movement through changing faith, and it will continue and have good consequences."
Dayal agrees. "All Dalits would leave Hinduism to lead a life of dignity. Why should we deny them a chance?"
Sekar is pleased with his choice. "I was not allowed to go near the upper-caste families. In Christianity, I found dignity and freedom. There was no other way."
Have something to add about this? See something we missed? Share your feedback here.
Our digital archives are a work in progress. Let us know if corrections need to be made.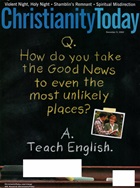 This article is from the December 9 2002 issue.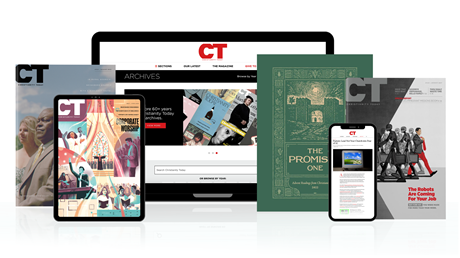 Subscribe to Christianity Today and get access to this article plus 65+ years of archives.
Home delivery of CT magazine
Complete access to articles on ChristianityToday.com
Over 120 years of magazine archives plus full access to all of CT's online archives
Subscribe Now
"India: Despised Dalits quit Hinduism, find new dignity in Christ."
"India: Despised Dalits quit Hinduism, find new ...