Reviews

|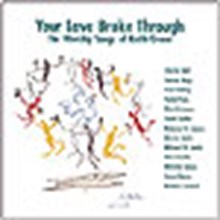 Sounds like … several of today's leading artists and worship leaders covering Keith Green's worship classics with a modern pop/worship approach
At a Glance … the album seems a bit unnecessary and the remakes aren't incredible, but it's still good enough for Keith Green fans and serves as another way to introduce his musical legacy to new listeners.
My first reaction to Your Love Broke Through: The Worship Songs of Keith Green was skepticism — do we really need yet another tribute album for this Christian music legend? Then it occurred to me that we've already come to the 20th anniversary of Keith Green's tragic death, so there's a nostalgia factor playing here. I was also reminded that it's already been 10 years since the previous Keith Green tribute from Sparrow, No Compromise, an excellent album featuring a group of pop inspirational artists such as Michael Card, Susan Ashton, Steven Curtis Chapman, Russ Taff, and Rich Mullins. A second tribute album was released last year, entitled Start Right Here, and it featured several of today's leading alternative artists: Bleach, Hangnail, Cadet, Starflyer 59, and MxPX to name a few. Clearly the goal of that project was to introduce Keith Green's music to kids who probably would never touch it with a 10 foot pole.
Your Love Broke Through is still another way to share Keith Green's music and message with a new generation, while capitalizing on the modern-worship phenomenon at the same time. If No Compromise was aimed at the inspirational-pop crowd and Start Right Here at the alternative-rock listeners, then it might be said that Your Love Broke Through is for the in-between listeners, otherwise known as Christian Hit Radio. The overall album production by John ...
1