Another Christian was sentenced to death in Pakistan, joining Ayub Masih in the line-up of Pakistani Christians on death row for alleged blasphemy against Islam.
Augustine Ashiq "Kingri" Masih, 25, was convicted June 29 by the Faisalabad District and Sessions Court on charges of slandering the Muslim prophet Mohammed. Under the mandatory execution statutes of Section 295-C of the Pakistan penal code, Masih must be hanged for the alleged offense.
Presiding Judge Chaudhry Mohammed Rafique also assessed an additional fine of 50,000 rupees ($830) against the young Christian.
Masih was jailed in May 2000 on accusations that he made derogatory remarks against the prophet Mohammed while some Muslim acquaintances were questioning him about changing his religious faith.
Some two years earlier, Masih had reportedly converted to Islam in order to marry a Muslim girl, taking the name Mohammed Abdullah. Under Islamic family law, a Muslim woman is forbidden to marry a non-Muslim man.
But the young man was never allowed to marry the girl after converting to Islam, a representative of the Catholic community to which Masih and his family belong told Compass today. Some months later, Masih officially changed his religion back to Christianity. The laws of Pakistan allow citizens to change their religion, although Muslims who do so are branded "apostates" and subjected to strong family and societal pressures.
According to a three-page inquiry report obtained by Compass which the local deputy commissioner of police prepared on the incident, Masih's accuser, Rana Mohammed Nisar, had questioned Masih on March 17, 2000, asking whether it was true that after "embracing Islam" he had returned to Christianity.
Nisar claimed that Masih told him in the presence of four other eyewitnesses that he had become a Muslim so he could commit adultery with Muslim girls, declaring, "Your prophet was also very fond of this practice." Nisar told the police he slapped Masih for these remarks, but then some 15 to 20 Christians nearby came to Masih's aid, giving Nisar a beating that put him in the hospital. Muslims and Christians reportedly threw bricks at each other during the clash, which was eventually broken up by local police.
The police commissioner's superior, identified only by his handwritten initials RDM, initialed the police inquiry on April 27, authorizing a formal case to be filed against Masih on May 3 at the Ghulamabad police station in Faisalabad.
In a statement reported today by the "Daily Times," Human Rights Commission of Pakistan (HRCP) head Afrasiab Khattak declared that Masih's verdict should be appealed "because we know that previous cases like this were eventually discarded by higher courts."
Now moved to death row in the Faisalabad District Jail, Masih has seven days to file a high court appeal of his judgment. Masih has already served more than two years in jail without benefit of bail.
Local human rights advocates confirmed today that although they had long been aware of this case, they had not been in direct contact with the prisoner, his family or his lawyer since Saturday's verdict. "I think he had a court-appointed lawyer," said a representative of the HRCP, which is trying to obtain a copy of the official verdict.
Kingri Masih is the second Christian sentenced by Faisalabad's lower courts in the past two months under Pakistan's harsh blasphemy laws.
Elderly Christian given double life-sentence
Despite only hearsay evidence, an elderly Christian named Aslam Masih was convicted of alleged blasphemy on May 7. Faisalabad Additional Sessions Court Judge Mian Safdar Saleem ordered the defendant to serve double life-sentences in prison, along with paying a fine of 100,000 rupees ($1,660).
Illiterate and in his 70s, Aslam Masih was accused in November 1998 of preparing a charm with verses from the Quran to hang around a dog's neck. The defendant, who was badly beaten and never given proper medical treatment, has been jailed without bail ever since.
The prosecution's star witness denied before Judge Saleem's court that he had even been present at the incident or lodged any complaint against the elderly Christian. "He accused the police of making up his statement," the Daily Times reported May 9. His defense lawyers had also argued that it violated criminal procedure codes for the sessions court to hear this particular case, since it had not been registered by either provincial or federal government representatives.
The high court appeal for Aslam Masih, who reportedly is "very weak physically, and shaking all the time," is expected by his lawyers to take at least two more years.
Currently two Christians are on Pakistan's death row on blasphemy charges, with five more appealing life sentences and an additional three still under trial, awaiting their verdicts.
Copyright © 2002 Compass Direct
Related Elsewhere:
Previous Christianity Today articles on Masih's plight include:
Death-row Christian May Hang for 'Blasphemy' | Family pins hopes for release on attorney's novel argument (May 29, 2002)
High Court Injustice | What you can do to help persecuted Christians in Pakistan. (November 14, 2001)
Condemned Prisoner Appeals for Help | Sentenced to death in 1998, Ayub Masih continues to fight "baseless and concocted" blasphemy charge. (October 19, 2001)
Pakistani Bishop's Death Sparks Riots | Suicide was in protest of the death sentence pronounced on Ayub Masih, 25, by a local judge. (June 15, 1998)
Christian Solidarity Worldwide has a special page on Ayub Masih's story.
For more articles, see Christianity Today's areas on persecution and Pakistan.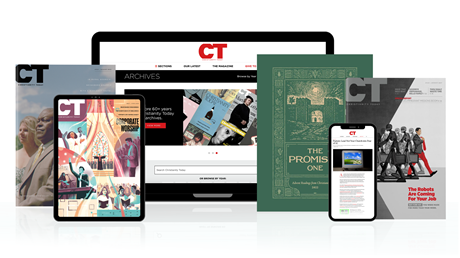 Subscribe to Christianity Today and get access to this article plus 65+ years of archives.
Home delivery of CT magazine
Complete access to articles on ChristianityToday.com
Over 120 years of magazine archives plus full access to all of CT's online archives
Subscribe Now
Pakistan Sentences Another Christian to Death
Pakistan Sentences Another Christian to Death