The Emperor of Ocean Park
Stephen Carter
Knopf, 672 pages, $26.95
Former judge Oliver Garland—famously black, notoriously conservative—came this close to becoming the second black justice on the U.S. Supreme Court. Instead, his nomination went down to humiliating defeat. Now the man known to his children as "the Judge" has suffered a fatal heart attack, leaving behind a damaged, tormented family and an ugly secret. And unless Garland's law-professor son uncovers the truth, he may soon share his father's fate.
It's the stuff of which legal thrillers are made, though it might seem a rather less promising plot for a serious novel. Never mind. Yale law professor (and CT columnist) Stephen Carter has given us both, in a flawed but dazzling literary debut.
Carter, famously black and notoriously devout, has made a name for himself as something of a traitor to his class. He's best known for defending the rights of religious people to participate in the great political controversies of our times—yes, even those right-wing Christian Coalition types. It's not the sort of message you expect to hear from the faculty lounges of New Haven, and so it should come as no surprise that Carter has refused to write anybody else's novel but his own.
His protagonist is Judge Oliver Garland's son Talcott, a wry, insightful introvert in the grand tradition of unlikely gumshoes. Bound up in his scholarly duties, fretful that the wife he stole from another man may soon be stolen from him, Talcott is little more than relieved by the death of his fearsome father. Talcott's sister, a former investigative re-porter with a passion for conspiracies, fancies that Oliver's heart attack may have been deliberately induced, but Talcott finds her easy to dismiss.
It's not so easy to dismiss the wizened old white man at the funeral. Jack Ziegler is a corrupt political fixer with links to the CIA and the underworld. It was his friendship with Oliver that destroyed the Judge's nomination to the High Court. Now Ziegler confronts son Talcott, demanding to know about "the arrangements" his father made against the day of his death.
Of course, Talcott knows nothing. Estranged from the Judge for years, he has never been told of any "arrangements." Ziegler refuses to believe him. His skepticism is shared by others, people who think nothing of committing torture and murder to get at the Judge's secrets. And so Talcott, who wanted only to bury the awful past, is forced, sometimes at gunpoint, to make peace with the tragic legacy of his old man.
As befits a novel that runs to almost 700 pages, Carter's given us two books for the price of one. The Emperor of Ocean Park is partly a sophisticated social novel and partly a complex, densely plotted thriller. If only the two halves were worthy of one another.
Too much of a good thing
It's not for want of trying. Carter's mystery plot is as knotty as any crime buff could wish for. There is layer upon layer of arcana here, much of it rooted in the higher complexities of chess, mixed with a liberal supply of red herrings and pulse-elevating surprises.
Indeed, that's part of the problem. There's just too much. The best thrillers—the crime-horror tales of Jim Thompson, say, or the masterful Parker novels of Richard Stark—are short books that deliver a few brutal shots to the solar plexus, then let you slump to the floor. But Carter's mystery goes on and on and on, ratcheting up the tension to a nice, taut pitch, only to slack off for a chapter or two.
And when the end finally comes, it's rather a disappointment. The Judge has made "arrangements," and left a trail of clues for his son to find. And his secret is indeed mighty impressive. Still, it's difficult to see why the old man had to hide it in quite so Byzantine a manner. He arranges to have crucial hints delivered to Talcott after his death; why not a letter explaining the whole thing?
It's as a richly realized novel of manners that Carter's book excels. Talcott Garland takes us on a guided tour of his world—the pride and pretensions of upper-middle-class black Americans, the tweedy thuggery of law-school faculty politics, the manipulative cynicism of cops and lawyers. This other novel of Carter's is a near-perfect delight, with a grandeur of scope and attention to fine detail that invites comparison with Tom Wolfe, or even Dickens.
In an afterword, Carter begs us to believe that he hasn't written a fictional account of his life or anyone else's. I'm convinced; his characters come so vividly to life on paper that they need no CPR from the world of flesh. Even his minor characters, who pop in for a handful of pages, inhabit our imagination almost as vividly as the book's major figures. Consider the delicious byplay between Tal and an ill-mannered, bigoted chess buff who helps him decipher a crucial portion of the mystery. We only get a few pages of this guy, but come away wishing for more.
And just as in his nonfiction, Carter displays an unmatched skill in writing about spiritual things. There's not a hint of preachery here. Talcott's simply a Christian—not a very good one, but a very real one. His imperfect faith is as much a part of him as his brown skin, his fear of death, his love of his father. This comes through best in a remarkable scene about halfway through, in which Talcott seeks marital counseling from his pastor. Talcott goes in looking to score spiritual points off his apparently faithless wife. But the winsome, scholarly pastor turns the tables with a gracious lucidity that leaves Talcott breathless—and the reader too.
It's some of the best spiritual writing you'll read this year. And it's just one of many pleasures to be had from this remarkable novel.
Hiawatha Bray covers the computer industry for The Boston Globe.
Related Elsewhere
Also appearing on our site today:
Virtue via VouchersThe Supreme Court's recent decision can help prevent more corporate scandals. By Stephen L. Carter
The Emperor of Ocean Park of is available from Amazon.com.
Stephen Carter discussed the book and writing fiction for the first time in a Dick Staub interview earlier this year.
Christianity Today sister publication Books & Culture also reviewed Carter's novel in "The Way It Was Before."
Recent Christianity Today columns by Stephen L. Carter include:
Remedial HistoryThe educational establishment seems confused about our spiritual heritage. (July 10, 2002)
Uncle Sam Is Not Your DadThe separation of church and state protects families too. (March 22, 2002)
A Quiet CompromiseWhy a moment of silence is better than school prayer. (Feb. 25, 2002)
Leaving 'Normal' BehindLife before September 11 seemed more secure, but do we really want it back? (Dec. 4, 2001)
Rudeness Has a First NameInstant informality actually sabotages true friendship. (Nov. 2, 2001)
Why Rules RuleDebates on the Ten Commandments expose our culture's ultimate rift. (Sept. 6, 2001)
We Interrupt This ChildhoodParents who raise their children to do right face a barrage of resistance. (July 11, 2001)
And the Word Turned SecularChristians should count the cost of the state's affirmation. (May 29, 2001)
Vouching for ParentsVouchers are not an attack on public schools but a vote of trust in families. (Apr. 2, 2001)
The Courage to LoseIn elections, and in life, there is something more important than winning. (Feb. 6, 2001)
Have something to add about this? See something we missed? Share your feedback here.
Our digital archives are a work in progress. Let us know if corrections need to be made.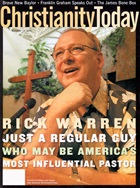 This article is from the November 18 2002 issue.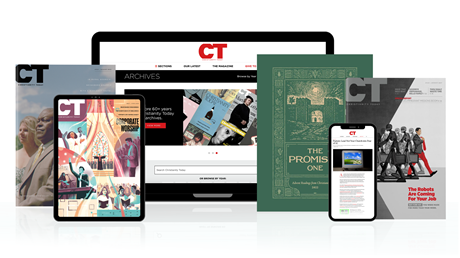 Subscribe to Christianity Today and get access to this article plus 65+ years of archives.
Home delivery of CT magazine
Complete access to articles on ChristianityToday.com
Over 120 years of magazine archives plus full access to all of CT's online archives
Subscribe Now
Stephen Carter's novel
Stephen Carter's novel