Vishal Mangalwadi is an international lecturer, social reformer, and political columnist for The International Indian. He has also written ten books, including The World of Gurus and India, The Grand Experiment. His current project is the ambitious The Book that Shaped a Millennium.
How did you come to the Christian faith?
It was an immoral struggle as a teenager.  I had gone into habit of lying and stealing and felt that this was wrong, but didn't have enough willpower to get out. The gospel that Jesus can save me from my sin came as a very liberating force.
When I was doing my undergraduate studies in philosophy at the University of Allahabad, India, I began to doubt whether the Bible was God's Word. It was after six months of intense intellectual struggle that I came back to see that Bible was actually God's Word.
What helped you in that struggle?
Well, one critical book was Francis Schaeffer's Escape from Reason. I had completed a course in Western philosophy when I began reading it. I realized … that philosophers knew that they couldn't know truth. So, unless there is someone who knows it and can reveal it to us, we cannot know.
I went back to seeking whether God actually revealed himself to us in the Bible. Reading First and Second Chronicles, I came back to believe that this is actually God's word.
Why First and Second Chronicles?
I was reading from Genesis on so by the time I came to Chronicles I felt, "Why should I be reading this?" I'm an Indian young man, I don't know enough about Indian history. Why should I be reading this Jewish history? I was getting bored reading about kings long dead and gone.
And then, as I was ready to throw it all away, I realized suddenly that this was very strange history. Indian history is always telling me how good and great and wonderful Indian kings are. This Jewish book is telling me that Jewish kings were rotten. I thought, maybe this is written by priests and they love condemning the current politicians. But then it was actually saying that the whole Jewish religious establishment was rotten to a point that God hated and destroyed his own temple.
The theme kept coming: That God had chosen the Jews to bless all the nations of the earth. If I want to understand why my nation is degenerating and how it can be rebuilt, this book is telling me how and why.
What got me really interested in what I'm doing now was a realization that God had promised Abraham, Isaac, and Jacob that through their descendants, he's willing to bless all the nations of the earth.
So has he blessed India? Has he kept his promise? I started looking around. As I started looking around I saw that the whole educational system, technology, and science in my nation had come from this book.
Talk about The Book that Shaped a Millennium, and what the aim and goal of this project is.
In 1994, the Catholic bishops invited a Hindu journalist, who is now a minister in central government, to give a lecture on how a Hindu journalist views Christian missions.  His whole family is a product of missionary schools and colleges. The bishops were hoping that he'd commend missions, which they could then use to do more missions.
But he gave a devastating critique of Christian missions. He painted them as a conspiracy of British colonialism, that the British had come and militarily and politically colonized India, and then missionaries were brought in to colonize the Indian mind. He went on to publish his lecture as a book.  And then I began responding to him with a series of letters that became a book called, Missionary Conspiracy:  Letters to a Post-Modern Hindu.
My last letter is called, "The Bible and Civilization in the Second Millennium."  In that letter I say to him, "Surely you don't understand what you're doing. You are ridiculing a book that has created modern India and the modern world."  As I was writing that letter, I realized that a man who went to the best Christian college in India, came to Syracuse for a Ph.D, worked with World Bank, is the editor in chief of the largest newspaper chain in India, has no idea of what the Bible has done. That is because his professor had no idea of what this book has done in giving birth to modern democracy, modern science, technology, free-market economy, and emancipation of women and slaves.
The project will include a book that I'm writing and a seven-hour or so television program for public channels across the world, an interactive global history website, and radio talks on the subject.
The battle is to restore the Bible as the source of cultural authority.  Take for example the 2000 presidential election when Vice President Al Gore conceded to President Bush.  He gave a wonderful speech.  And one of the things he said was that on the entrance to one of our universities are engraved words, "Not under man, but under God and law."
That was his basis for conceding.  Now, if American democracy was Greek democracy, Gore's followers would have killed and fought: "The people have voted for us.  People are supreme. People are sovereign.  They are the ultimate voice. Therefore, our candidate should rule."
American democracy is not Greek democracy.  It's not democracy under men and the citizens, but under God and law. The law was, electoral college decides who is the president. Now, that is not a Greek idea, that's an Old Testament idea of rule by elders. So rule of God, rule of law, rule of elders. Freedom is value. These are biblical ideas, they're not Greek ideas.  But most Americans don't know it.
When you look at the overarching issues the world is facing in the 21st century, what are the issues that are of greatest concern to you as a Christian and as a Christian thinker?
Well obviously, one reason for doing this project is that now the world in the West has no final ultimate source of cultural authority with the rejection of the Bible. This means if truth is gone, then force has to replace it. Force has to fill a vacuum.
The whole struggle to build a civilized society is to put might under right. If you don't know what is right, then you have to have a society that is ruled by might—and driven by might.  And that's dictatorship.  So rejection of truth will lead to totalitarianism, use of force, that you do what I say because I have power. 
So either you have a dictator in Singapore who roots out corruption, or you go back to the Protestant civilization where you have people who are living righteously from inside, and you have freedom from corruption and political freedom at the same time. You have individual freedom.
Is the church up to this task?
Not yet.  Unfortunately, the church has forgotten.
Social scientists who are studying the phenomenon of corruption, for example, they see that Protestant countries or ex-Protestant countries are the least corrupt countries. There's something in Protestants which has eradicated corruption.  But the church doesn't know it.
A Christian publishing house produced a 1,200-page book on Christian worldview, talks about Christian view of everything including a Christian view of chocolate.  It doesn't have a word on a Christian view of corruption.
And therein lies an ongoing challenge for the church in the West.
Related Elsewhere
Visit DickStaub.com for audio and video of his radio program (4-7 p.m. PST), media reviews, and news on "where belief meets real life." The full text of this interview will be for sale on the website soon.
Earlier Dick Staub Interviews include:
Article continues below
Dave Alan Johnson | The creator of Doc talks about balancing entertainment with spiritual depth and TV shows with evil plumbers. (Oct. 15, 2002)
Chuck Palahniuk | The author of Fight Club talks about his new book and the need to see culture not on a TV set but by talking to neighbors. (Oct. 8, 2002)
Frederica Mathewes-Green | The author of Facing East and The Illumined Heart talks about her spiritual journey and transformation. (Oct. 1, 2002)
Chris Seay | The author of The Gospel According to Tony Soprano talks about men who want to be in the "Christian mafia." (Sept. 24, 2002)
John Sloan | The author of The Barnabas Way says Christians need to kiss more frogs and reconsider their prayers for blessings. (Sept. 17, 2002)
Nancy Guthrie | Two years after sharing her story of Hope with Christianity Today, the modern Job tells of losing another child to Zellweger Syndrome (Sept. 10, 2002)
Stephen L. Carter | The Yale University law professor and author of The Emperor of Ocean Park talks about the lack of religious characters in modern fiction (Sep. 3, 2002)
Francine Rivers | The fiction writer says she starts each book with a question that she doesn't know the answer to. God provides the ending. (Aug. 27, 2002)
Ben Heppner | The acclaimed dramatic tenor speaks about getting into opera, his faith, and P.O.D. (Aug. 20, 2002)
Morton Kondracke | The political commentator talks about how being saved from alcoholism, and trying to save his wife from the ravages of Parkinson's. (Aug. 13, 2002)
Mike Yaconelli | The author of Messy Spirituality discusses God's "annoying love." (Aug. 6, 2002)
David Brooks | The Weekly Standard senior editor talks about the spiritual life of Bobos. (July 30, 2002)
Calvin Miller | The author of Jesus Loves Me: Celebrating the Profound Truths of a Simple Hymn talks about childlike faith (July 23, 2002)
Kathleen Norris | The author of The Virgin of Bennington talks about being found by God in the midst of sex, drugs, and poetry. (July 16, 2002)
Thomas Moore | "To really live a secular life and enjoy it is part of being a religious person," says the author of Care of the Soul and The Soul's Religion (July 9, 2002)
Os Guinness | Whether we're seeking or have already been found, we're all on a journey. (July 2, 2002)
Oliver Sacks | The physician author of Awakenings talks about his Orthodox Jewish upbringing, order in the universe, and testing God. (June 25, 2002)
David Myers | People say they know money can't buy happiness, says the Hope College psychology professor. But they don't truly believe it. (June 18, 2002)
Richard Lewis | The comedian, actor, and author talks about his humor, addiction, and spiritual journey. (June 11, 2002)
The Dick Staub Interview
Dick Staub was host of a eponymous daily radio show on Seattle's KGNW and is the author of Too Christian, Too Pagan and The Culturally Savvy Christian. He currently runs The Kindlings, an effort to rekindle the creative, intellectual, and spiritual legacy of Christians in culture. His interviews appeared weekly on our site from 2002 to 2004.
Previous The Dick Staub Interview Columns: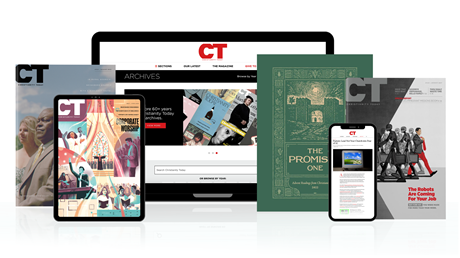 Annual & Monthly subscriptions available.
Print & Digital Issues of CT magazine
Complete access to every article on ChristianityToday.com
Unlimited access to 65+ years of CT's online archives
Member-only special issues
Subscribe
Vishal Mangalwadi
Vishal Mangalwadi