Students, faculty call for Baptist university president's resignation
In 1999, Carlos Webb, a star basketball player at Gardner-Webb University, was caught cheating in his religion class. Three years later, the way the Baptist university dealt with Webb has led to faculty resignations, administration demotions, and calls for the president to step down.
Under the university's honor code, Webb was given a "cheating F." Supposedly, such grades can never be removed from transcripts, even if the student retakes the class. But according to The Chronicle of Higher Education (its deeply reported article is available only to subscribers), faculty athletics representative Jeffrey Tubbs didn't know Webb's F was for cheating and told him to retake the course. By passing that class, and with two As and a B in other courses, Webb would be able to play for the team.
When Webb took Tubbs's advice but was still ineligible because of the irremovable "cheating F," Tubbs admitted his mistake and athletics officials asked the school's vice president for academic affairs to cut Webb some slack. The veep refused, so they went to President M. Christopher White with the same request. He granted it, ordering the registrar in a memo to remove the "cheating F" and recalculate Webb's grade point average.
Webb not only played, but he was named most valuable player as the team won the National Christian College Athletic Association championship. His story, meanwhile, stayed quiet for two years as the school ramped up its athletic programs. It is now a NCAA Division I school.
This September, the spurned vice president revealed what had happened, and the school has erupted. White apologized for "a lack of judgment," but says he didn't violate school rules. The faculty disagreed, and passed a resolution of "no confidence" in White by a 63-39 vote.
Meanwhile, the Board of Trustees hired a law firm to investigate the incident. It sided with White, as did the board of trustees. The vice president who had initially opposed the grade change and an assistant vice president who was also critical of White were both removed from their positions. In protest, three faculty members resigned.
The turmoil continues. Some trustees have reportedly signed a letter of disapproval for White, which says, "Gardner Webb is in serious trouble. We are sure that unless prevailing conditions are changed, the university will experience far reaching, long term adverse consequences of inaction."
Other trustees are standing by White. "We did not feel it was appropriate to remove him from office for a one-time misjudgment made two years ago under complicated circumstances," board chair E. Thomas Hardin says in a letter to the Charlotte Observer. "Integrity requires not bowing to an onslaught of unsubstantiated allegations presented through the news media or at hastily called meetings."
"I know as Christians, we're supposed to forgive," student government president Patrick Woody told the Associated Press. "With forgiveness and mercy comes responsibility, and with responsibility is supposed to come justice—and I don't think any justice has come from this."
Freshman Nicole Potter says she's disillusioned. "I saw Gardner-Webb as being a Christian school that upheld very strong Christian values and morals," she told a Charlotte TV station. "With Dr. White performing the acts that he's performed, that doesn't seem very Christian to me and it's really disappointed me."
On Saturday, alumni and community leaders will meet to discuss the situation.
Greek Orthodox clergy will stay black and bearded
Some Greek Orthodox priests have asked their bishops to change the dress code: long beards, heavy black robes, large hats. Not only is the dress code unbearable in summer's heat, they said, but it makes them unapproachable. (The Associated Press puts it this way: "Opponents of the dress code say most women are unwilling to be seen with a man in robes and a long beard.") Too bad, the church said Wednesday. "The robe makes us responsible and protects us from any wrongdoing," Archbishop Christodoulos explained. The only relief is for priests who live in rural parishes, says Bishop Anthimos, a church spokesman. "Many of them have to tend to their fields. It is acceptable for them to wear shorter robes."
More articles
Missions and ministries:
Crime:
Other stories of interest:
Related Elsewhere
Suggest links and stories by sending mail to weblog@christianitytoday.com
See our past Weblog updates:
October  9 | 8 | 7
October 4 | 3 | 2 | 1 | September 30
September 27 | 26 | 25 | 24 | 23
September 19 | 18 | 17 | 16
September 13 | 12 | 11 | 10 | 9
September 6 | 5 | 4 | 3
August 30 | 29 | 28 | 27 | 26
August 23 | 22 | 21 | 20 | 19
August 16 | 15 | 14 | 13 | 12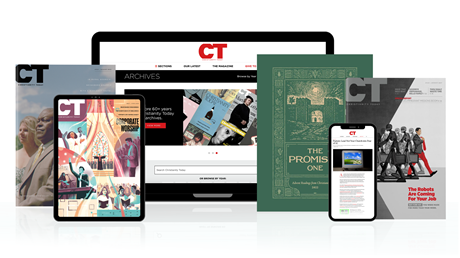 Subscribe to Christianity Today and get access to this article plus 65+ years of archives.
Home delivery of CT magazine
Complete access to articles on ChristianityToday.com
Over 120 years of magazine archives plus full access to all of CT's online archives
Subscribe Now
Baptist University in Turmoil Over Grade Scandal
Baptist University in Turmoil Over Grade Scandal