The granddaddy of U.S. Latino Protestantism, Jesse Miranda, grew up in a poor barrio in Albuquerque, New Mexico, among junk cars and, when he was older, marijuana and gangs. Miranda stayed away from the pot and the street mischief, but those junk cars helped him learn his first lesson in leadership as a small child.
"We'd sit in the cars and say, 'Let's go to California'—wherever that was," Miranda says. "One would say, 'I see the mountains,' then 'I see the desert.' Finally somebody'd say, 'I see the ocean—I guess we got there.' It was imagination: the energy, the excitement as a child." Miranda always sat in the driver's seat.
Then government urban renewal programs cleaned out the scrap-metal hulks. Miranda and his five siblings—children of a sawmill worker from the Mexican state of Chihuahua and a Spanish-descent mother with a third-grade education—had a cleaner neighborhood. But there was nothing left to challenge their imagination.
"The lesson of leadership for me was that leadership starts from within [the community] and not from without," Miranda says. "They told us what we needed and what the solution was rather than working with the community to see how we could work it out. I think we would have had a playground, had they asked what we needed."
Miranda has not forgotten how acutely he felt the needs of his native barrio, even after a lifetime of building coalitions across religious, ideological, and cultural lines. Now seven times a grandfather and founding president of the National Alliance of Evangelical Ministries (AMEN, Alianza de Ministerios Evangélicos Nacionales), Miranda is regarded as the primary visionary uniting disparate U.S. Hispanic evangelicals. He has a reputation as a sharp listener and bridge-builder who has put his vision, imagination, and wit to the service of the Latino church.
It was the Latino church, after all, that served him. He describes his journey of trust in Christ as beginning at age 8, when members of the neighborhood Pentecostal church heard that his mother was ill. "They came and they prayed for her, and she was healed," Miranda recalls. "So I saw it with my own eyes what God was doing, and I saw the change in my family."
The church had already begun reaching out to him two years earlier. "This little Pentecostal church would come in an old broken-down bus, pick us up, and take me to church—that made the difference," he says. "I was six or seven years old. They taught me how to write. They were the only ones that would give us toys for Christmas, because our parents would buy me socks or pants—but toys, that was the church. That stuck very close to my heart."
Adviser to Presidents
Patriarch though he may be, Miranda's impish, high-octane manner recalls the scrappy barrio kid who always wanted to be in the center of the action: the pitcher or catcher in baseball, the quarterback in football—or, more recently, the consultant to three U.S. presidents on Hispanic affairs.
Eventually Miranda really did make it to California, where he earned a doctor of ministry degree from Fuller Theological Seminary. He was the Assemblies of God supervisor of the Pacific District from 1984 to 1992, overseeing 400 Latino churches. He continues to serve as an executive presbyter with the General Council of the Assemblies of God. His belief in homegrown vision for solving problems has meant developing and connecting Hispanic leaders as the distinguished professor of urban and ethnic leadership and director of the Center for Urban Studies and Ethnic Leadership at Vanguard University in Costa Mesa, California.
In other words, the kid in the junk car driver's seat whose immigrant father had four weeks of schooling ultimately journeyed beyond his childhood dreams. He hadn't anticipated counseling U.S. presidents.
"A president that felt that the right wing was very adamant toward him would call," Miranda says, referring to Bill Clinton. "I was representing probably a centrist position to see if, in any way, we could assist in changing the image of his administration with the group [Hispanics] that we might be closer to than he was." Then again, he says, Clinton and both Bush presidents have consulted him mainly on issues of immigration and faith-based organizations.
Occasionally, he has also prayed with them, he says. "I was there on September 20th, the morning of the evening that President Bush was to speak to the nation after 9/11."
Thicker than Water
Miranda is "one of our national evangelical heroes" for bringing together Hispanics of discordant denominations, generations, and nationalities, says Raymond Rivera, president and ceo of the Bronx-based Latino Pastoral Action Center.
"Even though he belongs to the old guard in the sense that he's not part of the baby boomer generation, he's very open and has been a bridge between his generation and the baby boomers and the Generation X," Rivera says. "He's also been a bridge between the evangelical, Pentecostal, and Catholic churches."
AMEN, the networking organization of Protestant lay and clerical leaders Miranda founded in 1994, represents 27 denominations, 70 parachurch agencies, and 22 nationalities across the United States, Puerto Rico, Mexico, and Canada. AMEN built an alliance with Catholics unprecedented in the Hispanic world when it worked with renowned scholar/priest Virgilio Elizondo for a three-year study on Latino participation in public life.
"You're seeing history today, because here we are," Miranda told 120 Hispanic leaders of evangelical, Pentecostal, and Catholic stripes earlier this year at a conference in Washington, D.C., to discuss results of the study. "What we have in common is a people—Latinos—rather than focusing on theology and other differences."
Appealing to Hispanic bloodlines for unity while respecting legitimate theological differences comes naturally to Miranda. A Pentecostal church in the barrio may have set the course of his life, but he is quick to list the biggest influences in his life as his Catholic father and his mainline Protestant mother.
"My parents were my first mentors, even in reconciliation," he says. "I remember I was 13 or 14, and I said, 'Dad, Catholics never read the Bible,' because I never saw him read it. 'Mother, you read the Bible but never come to the Book of Acts.'
"And then they would turn around and say, 'And you Pentecostals never leave the Book of Acts.' So I saw my shortcomings and I saw differences. Yet we loved and respected one another so that we really enjoyed our fellowship. And we all affirmed one another."
Miranda learned early that the church is the primary force uniting a community. His name is often attached to ministries of reconciliation, but he sees himself primarily as builder of bridges among parties unknown to each other.
His starting point has always been joining the church to the community. In order to better connect the Latino community, last year he jumped from Azusa Pacific University, where he was the Graduate School of Theology's associate dean of urban and ethnic affairs, to the smaller Vanguard University.
"I'm in a college, but the college is a servant of the church," he says. "Many Christian colleges are not serving the church. They've become an end in itself, rather than serving. And likewise the church should live not for itself, but for the community."
Of his various mentors, Miranda again first mentions his parents. He absorbed the disciplined lifestyle of his father along with the spiritual nourishment of his mother.
"I remember one time my mother, in one of the church services, put her arm around me and said, 'Now son, I'd like for you to be an educated man,' " Miranda says. "And then she pointed to the only man I ever knew, until I was probably 20 years old, that had a degree. Joe Martinez was there, and he was at the altar on his knees, and he was a layman but a university professor. That's the image that stuck."
Church officials modeled leadership for him and encouraged him to pursue his education. At age 16, Miranda began attending Bible school. His pastor assigned him summer preaching duties by the time he was 17.
"What was important was not only that a pastor took the risk and gave me permission, but he helped me identify my gifts," Miranda says. "He said, 'I'm an evangelist, so I'll preach in the evening. You're more of a teacher; you preach in the mornings.' "
A year later, a few months before summer vacation from Bible school, his pastor pitched him another surprise. "He said, 'Prepare yourself and prepare a lot of sermons, because the church is renting a space and you're going to plant a church,' " Miranda says. "So I came, and what I found was a little storefront building—on one side was a bar, on the other side was a dance hall, and my church was right in the middle. And for a summer I planted a church ."
In his transdenominational bent, Miranda does not compromise his convictions. And diplomatic skills notwithstanding, he can be unflinchingly forthright.
At the Washington conference, Miranda did not hesitate to tell the director of the Hispanic Theological Initiative, a key scholarship and networking program, that it too often allocates resources based on "top-down" rather than "bottom-up, grassroots" criteria. The latter benefits a greater number in the Hispanic community, whereas the top-down emphasis benefits the institutions, said Miranda, who had voiced the concern as a member of the committee that helped design the initiative's criteria.
He punctuated the exchange by recalling, with a grin, that years ago his own application for a scholarship to such a program got lost in the administrative shuffle. "But I'm glad, because it would have taken me away from my community," he added.
Real People, Real Roots
The rarified air of academia and the White House has not whisked him away from his roots. With his increasing education level came the temptation of Latino "brain drain" to the better salaries and positions of Anglo institutions, he says.
"That was always the question—'So, when are you going to leave?'" Miranda says. "Even my wife would say, 'Okay, you're training yourself, and look at all your other friends, they got their degrees, and they went to higher ranks outside our community—at what point are we going?' And I said, 'No—we're not going anywhere.'" His ever supportive wife, Susan, then told him she would work to help ease their financial decisions.
A Latino Pentecostal can face resistance to academic advancement. Denominational colleagues questioned "whether it was all that spiritual," Miranda says, and family members wondered why advanced degrees were necessary. "I stretched myself to give time and understanding [to church and family members] and was always trying to show that there was never any élitism in my conduct toward them," he says.
Elizondo, Miranda's partner in the Pew Charitable Trusts-funded study of Hispanic public life, is also a scholar whose heart remains close to the flock in his work as a priest in San Antonio. He found instant rapport with the AMEN chief based on humor—including a friendly interstate rivalry—and passion for building up the local community.
"His concerns about people are very real, so that any difference we might have had denominationally, or even because he's from New Mexico and I'm from Texas, were quite in the background," Elizondo says.
Miranda is a keen listener, and more than once organizers of the Washington conference had to tear him away from young Hispanic leaders in order to keep events on schedule. One of these was Orlando Crespo, national director of Latino fellowship for InterVarsity Christian Fellowship.
"He listened to me, and I felt we were able to bring up some of the issues that were important for me," Crespo says. "It's pretty important to have people who have been in the ministry for a while who are willing to take time out for others who are still growing in leadership."
Still Dreaming
Miranda describes his life as 20 years in education, 20 years in denominational leadership, and the rest in the pastorate. He's grateful that his family has supported his travel-intensive work. He has no regrets. "I was called to serve the Hispanic community, that's what I've done, and that's what I'll do the rest of my life," he says.
Since the days of playing in backyard junk cars, he has not stopped envisioning a better future. Now, he says, his dream is that his children and grandchildren will live and work among a broader Christian community as a result of his bridge-building.
He first learned to dream, of course, from his own childhood community. "Those junk cars were also the object of conversation for the old people wanting to retire one day in Mexico," he reflects. "They'd point to one of the cars and say, 'You know, that's going to take me back someday.' And you'd look at the cars, and they needed motors and transmissions. But it was a dream, and they died—but with a dream in their heart."
Related Elsewhere
The website of the National Alliance of Evangelical Ministries has more information on AMEN and a bio of Dr. Jesse Miranda.
In 1998, Miranda and William Pannell discussed the next step in racial reconciliation with Christianity Today.
Other related Christianity Today articles include:
The Hispanic ChallengeIt's not easy growing Christian leaders for Dallas's fastest-growing population. (May 16, 2002)
Catching Up with HispanicsNew census data on the Latinos in our midst presents a reality check for cross-cultural outreach. (Nov. 12, 2001)
Wanted: Young, Dedicated LeadersHispanic Ministry Center and Latino Leadership Network provide informal training to equip emerging Latino youth-work leaders. (Oct. 4, 1999(
Reaching Out to LatinosChurch networks are cooperating to launch congregations in unlikely U.S. locations. (Sept. 6, 1999)
Have something to add about this? See something we missed? Share your feedback here.
Our digital archives are a work in progress. Let us know if corrections need to be made.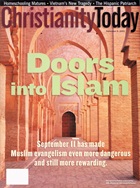 This article is from the September 9 2002 issue.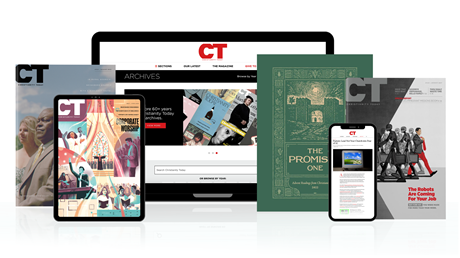 Subscribe to Christianity Today and get access to this article plus 65+ years of archives.
Home delivery of CT magazine
Complete access to articles on ChristianityToday.com
Over 120 years of magazine archives plus full access to all of CT's online archives
Subscribe Now
You Can Take the Boy out of the Barrio…
You Can Take the Boy out of the Barrio…