true
In Barbershop, his directorial debut, Tim Story appeals to our desire for a community and a place "where everybody knows your name." Many Film Forum readers have seen favorite friendly neighborhood hangouts replaced by impersonal, corporate-run, cookie-cutter establishments. The disappearance of such warm, human enterprises makes Barbershop an attractive setting. This strategy has worked well for such successful television sitcoms as Friends and Cheers. More recently, the hit comedy fable Chocolat focused on a small community and its favorite hangout. This approach seems to be working for Story and his talented cast, which includes Ice Cube, Cedrick the Entertainer, Sean Patrick Thomas, Anthony Anderson, and Troy Garity.
The film's story develops on Chicago's South Side. Calvin (Cube) inherits a barbershop from his father, but lacks enthusiasm for the work. After he sells the business, he struggles with guilt and an increasing understanding of what the place meant to his father and to the neighborhood. There's more to it than cutting hair. The shop just might be a sort of cornerstone of their community. A team of talkative barbers shoots the breeze while they wait for customers, covering all manner of community scandals and dramas. Their conversation is like an art form. Their personalities are big and expressive. Humor lightens every heavy subject. There, folks can find counsel, friendship, and even a second chance.
Religious media critics respond to this week's box office champ in a variety of ways. Some are pleased by the lessons and delight in spending time with these comic personalities. Others (Preview, for example) disregard the film due to the vulgar language of the characters, even though such speech reflects the way many real people express themselves.
But Steven Isaac (Focus on the Family) says that the film's portrayal of various immoral behaviors is important to the point of the story. "A large amount of the negative material serves to illustrate positive messages. Crime doesn't pay. Respect is a great equalizer. Racial pride should never eclipse truth and justice. Families mean everything. Hard work is the best — and only way — to truly get ahead. And tradition means far more than your average 20-year-old thinks it does." Isaac concludes by affirming that the film contains "themes of social responsibility, cultural heritage, love for family and respect for self."
"Despite the excessive, mostly light foul language, this movie is not nearly as offensive as other African American movies of late," says Lisa A. Rice (Movieguide). "The protagonist is a good, honest, family man on a genuine search for the purpose to his life. Though there is anti-white racial talk among the men, there is also a great deal of balance amid all of their humor."
Michael Elliott (Movie Parables) is similarly pleased: "This is no silly, sex-minded comedy to be seen, experienced, and immediately forgotten. It is laugh-out-loud funny to be sure, but with the jokes comes something to stimulate both heart and mind. It's the biggest pleasant surprise I've come across in the theater this year."
Phil Boatwright (Movie Reporter) agrees that Barbershop has much to offer: "The film gives an incisive look at how blacks feel about living in America, which can open doors to positive discussions on how to improve life in our country." But he adds, "Please don't mistake this film as some sort of profound essay on black life. Forced and often silly, the subjects and characterizations have all the subtlety of barber's joke."
Likewise, Anne Navarro (Catholic News) says it is "flawed by silly stereotypes and predictability, yet manages to be endearing as it touches on racism, fellowship, and the black man's place in society."
Mainstream critics are divided over whether the film is worthwhile or forgettable. Peter Travers (Rolling Stone) writes, "The barbers … seem like TV stereotypes waiting for more than one note to play. Final verdict: You've seen it all before." But Mary Ann Johanson (Flick Filosopher) calls it "a lovely little film about family and community pride and friendship, one that pokes gentle fun at stereotypes while never forgetting the real people behind a seeming cliché. All of them are perfectly attuned to what makes their characters more than what they appear on the surface, and all of them effortlessly make us love them, flaws and all."
* * *
Crass comedian Tom Green returns to the screen in another lowbrow comedy this week. Fortunately for audiences, Stealing Harvard is not the universally condemned disaster that Green delivered last time (Freddy Got Fingered). Perhaps that is because he did not direct this picture—Bruce McColloch did. And the headlining star is the always-amusing Jason Lee (Vanilla Sky, Almost Famous, Mumford).
Lee plays John, a sensible guy who just wants to marry his longtime girlfriend. But when he is suddenly asked to make good on a foolish promise—to pay his niece's tuition if she got into Harvard—his challenged finances put his marital plans in jeopardy. So he calls on his best friend Duff (Green), an empty-headed troublemaker, to help him make a small fortune in two weeks. Duff's solution: a short-lived crime spree.
According to almost every critic who bothered to review the film, the director and the star are unable to save the film from the unpleasant screen presence of Tom Green. It's no Freddie Got Fingered, but it's not worth eight bucks either.
Gerri Pare (Catholic News) says, "The film's dopey characters and absurd situations are only a tad amusing." Preview's critic writes, "Discerning moviegoers will agree Stealing Harvard should be rated R and spurned by moviegoers."
Phil Boatwright (Movie Reporter) registers complaints as well: "The film's humor, while meant to be wacky, is just outrageous or downright bizarre. And what's the message — it's okay to steal, so long as it's to help a family member go to college?"
Bob Smithouser (Focus on the Family) is equally displeased. "Some movies seem carefully crafted to meet the needs of a specific audience. In the case of Stealing Harvard, it's apparently to provide party-hearty frat houses with a video rental suitable for a Friday-night kegger."
Mainstream critics lined up to dismiss the film. Roger Ebert (Chicago Sun-Times) only laughed once: "The laugh in Stealing Harvard comes early, when we see the name of the company where the hero works. It's a home health-care corporation named Homespital. That made me laugh. It made me smile again when the name turned up later. And on the laugh meter, that's about it. This is as lax and limp a comedy as I've seen in a while, a meander through worn-out material."
Still Cooking
Michael Elliott (Movie Parables) reviews One Hour Photo (covered in two earlier Film Forums) this week. Like most critics, Elliott is most impressed with its star, Robin Williams, who plays a lonely and alienated photo developer named Sy: "Williams fully embodies his character in what should be seen as the finest dramatic performance of his film career. Because of Williams's award-worthy performance, it may be easy to overlook the other elements which helped to make the film so effectively creepy. Romanek communicates a dim and hopeless corporate world to mirror the stark and empty reality that is Sy's life."
After objecting to some extreme and disturbing onscreen behavior in the film, Jan Stallones (Movieguide) adds, "Romanek did a lot of things right. The cinematography … underscored the character's world and mental state. All the [actors] give very strong performances, but the audience needs to know much more about them."
At Dick Staub's Culture Watch, the reviewer poses some questions for after-viewing discussions: "Aren't there a lot of lonely people who long for a 'family' connection? Why do people who 'have it all' so often throw it all away? What would it take to 'heal' Sy?"
* * *
Meanwhile, Swimfan kept critics busy pointing out the moral lessons underlying its formulaic story (our earlier roundup is here).
Holly McClure (Crosswalk) writes, "I enjoyed this movie because of the talented cast and the way it was filmed. However, this is not a movie many parents will approve of even though the rating implies it's 'okay'. Although this won't be the popular answer — and I'll probably get hate mail from teenagers — I think a parent should see this movie with his/her mature teen because in the end, it provides a great platform to address several tough subjects."
Joseph L. Kalcso (Movieguide) says, "Although Swimfan will probably not motivate anybody to run to join their high school's swimming team, it might serve as a warning about the flippant, youthful, hormonal choices of passion. Hollywood is portraying accurate patterns of reaping and sowing, and for that it should be commended."
* * *
Holly McClure (Crosswalk) turned in a review of City by the Sea this week, praising it for its "unique story about parenting that deals with themes of forgiveness, parental responsibility, unconditional love for your children, the importance of family and dealing with the past to be able to go on with the future." (Earlier reviews here.)
Digest
A new independent film called Hell House is beginning to get a lot of attention from mainstream and religious media critics. It is a documentary about a sort of shock-theatre tradition that has been going on in some churches for some time. In the "Hell House," actors portray horrific scenarios of sin and judgment—for instance, a rape, an abortion, or domestic violence—in hopes of terrifying their audiences into accepting Jesus Christ as their savior.
Michael Elliott (Movie Parables) describes the film: "Director George Ratcliff … takes his cameras behind the scenes of the 10th annual Halloween Hell House production offered by the sincere and well-meaning fundamental Christians of the Trinity Church (Assemblies of God) in Cedar Hill, Texas. This surprisingly unjudgmental documentary gives us an extended look into an extremely controversial and oftentimes distasteful exercise in evangelical fervor."
The film has been showing at various film festivals recently. Mixed reviews are coming in from both mainstream critics and religious media reviewers. Many, even some Christian critics, applaud the film's carefully neutral tone, but the same writers express bewilderment at why anyone would engage in such propagandistic theatre.
Have you seen the film? Are you familiar with the "Hell House" tradition? I'd be interested in hearing from you.
In the upcoming weeks, Film Forum will include links to reviews and responses regarding this film that is leaving so many viewers bewildered and disturbed.
* * *
Speaking of films that will potentially provoke strong reactions from Christian moviegoers, there's a film in the works called Saved mentioned in the September 14 issue of The Vancouver Sun. It begins filming in Vancouver soon, with a cast that includes A Walk to Remember's Mandy Moore, Home Alone's Macaulay Culkin, Almost Famous's Patrick Fugit, Jena Malone, Heather Matarazzo, Mary-Louise Parker, and other familiar faces. It's being described as a "dark teen comedy" about a pregnant teenager suffering peer pressure from fellow Christian students at a Baptist high school. The film is produced by Michael Stipe of R.E.M., who described it as a sort of "monster vampire high school" movie, in which the monsters are "Jesus-freak teenagers."
* * *
Have you encountered a believable, intelligent Christian character in a movie or on television recently? I'd be interested in hearing about it. E-mail me at LookingCloserRvw@aol.com.
Next week: More on Hell House, To End All Wars, and a Japanese take on Alice in Wonderland called Spirited Away.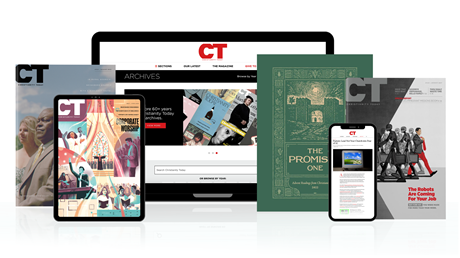 Subscribe to Christianity Today and get access to this article plus 65+ years of archives.
Home delivery of CT magazine
Complete access to articles on ChristianityToday.com
Over 120 years of magazine archives plus full access to all of CT's online archives
Subscribe Now
Haircut Chats and Harvard Brats
Haircut Chats and Harvard Brats