What a supreme paradox. We now call the day Jesus was crucified, Good.
Many believe this name simply evolved—as language does. They point to the earlier designation, God's Friday, as its root. (This seems a reasonable conjecture, given that goodbye evolved from God be with you.)
Whatever its origin, the current name of this holy day offers a fitting lesson to those of us who assume (as is easy to do) that good must mean happy. We find it hard to imagine a day marked by sadness as a good day.
Of course, the church has always understood that the day commemorated on Good Friday was anything but happy. Sadness, mourning, fasting, and prayer have been its focus since the early centuries of the church. A fourth-century church manual, the Apostolic Constitutions, called Good Friday a "day of mourning, not a day of festive Joy." Ambrose, the fourth-century archbishop who befriended the notorious sinner Augustine of Hippo before his conversion, called it the "day of bitterness on which we fast."
Many Christians have historically kept their churches unlit or draped in dark cloths. Processions of penitents have walked in black robes or carried black-robed statues of Christ and the Virgin Mary. And worshippers have walked the "Stations of the Cross," praying and singing their way past 14 images representing Jesus' steps along the Via Dolorosa to Golgotha.
Yet, despite—indeed because of—its sadness, Good Friday is truly good. Its sorrow is a godly sorrow. It is like the sadness of the Corinthians who wept over the sharp letter from their dear teacher, Paul, convicted of the sin in their midst. Hearing of their distress, Paul said, "My joy was greater than ever." Why? Because such godly sorrow "brings repentance that leads to salvation and leaves no regret" (2 Cor. 7:10).
I like to think the linguistic accident that made "God's Friday" into "Good Friday" was no accident at all. It was God's own doing—a sharp, prophetic jab at a time and a culture obsessed by happiness. In the midst of consumerism's Western playground, Good Friday calls to a jarring halt the sacred "pursuit of happiness." The cross reveals this pursuit for what it is: a secondary thing.
This commemoration of Christ's death reminds us of the human sin that caused this death. And we see again that salvation comes only through godly sorrow—both God's and, in repentance, ours. To pursue happiness, we must first experience sorrow. He who goes forth sowing tears returns in joy.
At the same time, of course, Good Friday recalls for us the greatness and wonder of God's love—that He should submit to death for us.
No wonder, in parts of Europe, the day is called not "Good," but "Great" or "Holy" Friday.
Today, Christian liturgies reflect the gravity of Christ's act. Services linger on the details of Christ's death and the extent of His sacrifice. Often the Stabat Mater is performed—a thirteenth-century devotional poem remembering Mary's vigil by the cross. The poem begins "Stabat Mater Dolorosa"—that is, "a grief-stricken mother was standing."
To commemorate the Lord's hours on the cross, many Protestants hold their Good Friday services between noon and 3. They reflect, in a series of readings and songs, on Christ's seven last words. (1: "Father, forgive them, for they know not what they do." 2: "Today shalt thou be with me in paradise." 3: "Woman, behold thy son!" 4: "My God, my God, why hast thou forsaken me?" 5: "I thirst." 6: "It is finished." 7: "Father, into Thy hands I commend my spirit.") This form originated with seventeenth-century Peruvian Jesuits, one of many cases in which modern Protestants have picked up Catholic devotional practices.
In the Catholic Good Friday Mass, the altar is stripped of all adornments, and worshipers venerate the cross by kissing a crucifix. In the "Ceremony of the Winding Sheet," Greek Catholics carry a cloth depicting Jesus' dead body in procession to a shrine, where the priest places it in a symbolic tomb.
Some Western churches still celebrate a medieval liturgy called the Tenebrae, or Service of Darkness, in which candles and lights are gradually extinguished until the congregation sits in complete darkness—a representation of the darkness that covered the earth at the death of Jesus (Mark 15:33). Scripture readings and hymns lead the worshipers in a communal repentance for the sins that made the Crucifixion necessary.
The Tenebrae service ends with the strepitus, a loud, harsh noise such as the slamming of a book or crashing of a cymbal. This echoes several scriptural sounds: the final cries of Jesus, the earthquake at his death (Matt. 27:46-53), the shutting of His tomb, and the second earthquake at His rising (Matt. 28:2).
We do not need to be as notorious in our sinning as Oscar Wilde (1854-1900) to remember our own darkness, as he did, on Good Friday. Wilde's 1881 poem "E Tenebris," titled after the Tenebrae, reflects his own long, conflicted entrance into Christianity that would culminate in a deathbed conversion. In the poem, he appeals for mercy:
Come down, O Christ, and help me! reach thy
hand,
For I am drowning in a stormier sea
Than Simon on thy lake of Galilee:
The wine of life is spilt upon the sand,
My heart is as some famine-murdered land
Whence all good things have perished utterly,
And well I know my soul in Hell must lie
If I this night before God's throne should stand.
'He sleeps perchance, or rideth to the chase,
Like Baal, when his prophets howled that name
From morn to noon on Carmel's smitten height.'
Nay, peace, I shall behold, before the night,
The feet of brass, the robe more white than
flame,
The wounded hands, the weary human face.
Good Friday has always challenged merely human goodness. Its sad commemoration reminds us that in the face of sin, our goodness avails nothing. Only One is good enough to save us. That he did so is cause indeed for celebration.
Chris Armstrong is managing editor of Christian History magazine. More Christian History, including a list of events that occurred this week in the church's past, is available at ChristianHistory.net. Subscriptions to the quarterly print magazine are also available.
Related Elsewhere
Christian History Corner appears every Friday at ChristianityToday.com. Previous editions include:
Top Ten Entry Points to Christian History | Some enjoyable ways to get the most out of the work of church historians. (April 11, 2003)
Top Ten 'Starter Books' | Get rooted in the Christian past with these riveting reads of primary sources. (April 4, 2003)
Top Ten Reasons to Know Christian History | War reports deluge us every hour. Why should we read "old news?" (Mar. 28, 2003)
Saint J. R. R. the Evangelist | Tolkien wanted his Lord of the Rings to echo the "Lord of Lords"—but do we have ears to hear? (March 14, 2003)
Iraqi Christians' Path of Persecution | Not heresy hunters, nor Islamic purges, nor even Mongol hordes could wipe Christianity from Iraq. (March 7, 2003)
Heresy, Salvation, and Jack the Ripper | Why heresy trials will have to do, until something better comes along (Feb. 28, 2003)
Article continues below
Hajj, Feasts, and Pilgrimage | Why Muslims, Jews, and Christians still yearn for their holy places. (Feb. 21, 2003)
Play Me That Hot Puritan Love Song | A little-read book of the Bible reminds us of the astonishing intimacy we enjoy with Christ (Feb. 14, 2003)
Iraq's Christians Caught in the Middle, Again | If the looming war breaks out, 350,000 Iraqi Christians will be caught in a West-East conflict eerily similar to 4th-century events. (Feb. 7, 2003)
Finding God in a Box | Have archaeological discoveries like the James ossuary served or obscured the quest to verify the Bible? (Jan. 31, 2003)
Sex, Politics, and the Bible | Some words just don't mean what they used to (Jan. 24, 2003)
Caveat Gyrator (Elvis Priestly, Part II) | So you've got an evangelistic pop-culture act ready for prime time. Here's a historical pause for reflection. (Jan. 17, 2003)
From Oratorios to Elvis | Pop culture has been coming to a church near you for hundreds of years (Jan. 10, 2003)
The Christian DNA of Modern Genetics | Though open to frightening ethical abuse, genetics has been a Christian vocation since Gregor Mendel did his famous pea-plant experiments in the mid-nineteenth century (Jan. 3, 2003)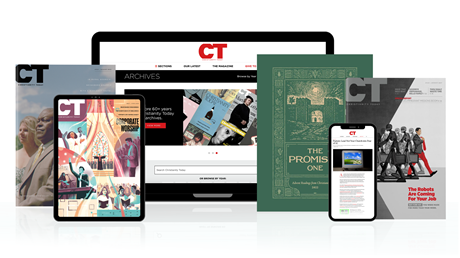 Annual & Monthly subscriptions available.
Print & Digital Issues of CT magazine
Complete access to every article on ChristianityToday.com
Unlimited access to 65+ years of CT's online archives
Member-only special issues
Subscribe
The Goodness of Good Friday
The Goodness of Good Friday