Adel Hermiz Marogi, 47, proudly thumbs through the pages of a thick Bible. The green cover is etched with elaborate Arabic script traced in gold. Then Marogi disappears into the bedroom and reemerges holding a painting of the Last Supper in one hand, a portrait of Jesus in the other. These are among his family's most prized possessions.
But when talk turns to houses of worship here in Al Qa'im, the cheerful Iraqi with the salt-and-pepper moustache and thick black hair shakes his head and sighs.
"Our fathers and mothers tried to build one," Marogi said. "But they could not find the money to do it."
In the barren wastes that stretch from Al Qa'im up to the Syrian border, no one has the resources. The old Iraqi constitution under the despotic rule of Saddam Hussein explicitly protected freedom of religion. It did not protect against poverty. While the dictator would provide free building materials—and even pipe organs—for some churches, this kind of government largesse never reached isolated communities such as Al Qa'im.
Beginning to reach out
Today, however, some are daring to dream again. American soldiers arrived recently and encamped just down the road, at the local railroad station. Marogi plans to visit the camp and ask the Presbyterian chaplain, Capt. Sungjean Kim, to conduct a service, and maybe even help build a church.
"I will speak with the captain and tell him I can collect all the Christians," Marogi said. "We want to have relations, Christian to Christian, and we will be very happy if he can help us have a church."
As Iraq grapples with its newfound freedom, Christians of all types are beginning to reach out, both to outsiders and to one another. Clive Calver, president of the evangelical World Relief agency, just returned from a trip to the country.
"There's the beginning of an opportunity to do something that's never been done before and that is communicate between churches," Calver said. "I went north and found eight churches where there was only supposed to be one. That tells you something. These folks don't know each other exists. It's amazing what can be done to network. It's a moment of opportunity."
Isolated community
Al Qa'im is actually a cluster of villages in northwestern Iraq. To get here, you have to traverse desert wastes dotted occasionally with scrub brush. Most of Al Qa'im's 40,000 people are Muslims. The 20 or so Christian families in this dusty border enclave near the Euphrates are Chaldeans. They are part of the largest Christian denomination in Iraq, which is in communion with the Roman Catholic Church but worships with an ancient Syriac liturgy.
In the Al Qa'im area, the locals still talk about that Sunday back in 1980 when a visiting priest conducted a service at a local home—an event that has not been repeated since.
The Christians have plenty of experience keeping the faith through tough times. In the absence of a church building, Marogi and his wife have filled their squat cinderblock house with religious items. A wooden cross hangs from one wall, a picture of a son standing at the altar in a distant church on another. Christmas cards ring the room. Photo albums overflow with pictures of family trips to Mass and baptisms.
Every year after school is out, Marogi sends his wife and four children to their ancestral home in Mosul. They attend Sunday prayers, in churches so full "you cannot find a chair to sit on all day," and take Sunday school classes.
As the war approached, family members made their way to a house down the road to huddle with other Christian families. There was no priest to preside. But those present lit candles, knelt in prayer for peace, and read the Bible.
Many Christians considered their situation to be better than in many other Arab nations. "There's not much you can say about the old regime," said Samuel Rizk, a spokesman for the Middle East Council of Churches in Beirut, Lebanon. "But one thing you could say is that Christians enjoyed freedom to worship."
New possibilities
Rizk said it might be possible to enhance that freedom now. "In the months ahead, there will be lots of redevelopment and lots of reconstruction," he said. "It's reasonable to assume that churches could be reconstructed, and they may even build new ones, depending on the new constitution."
Meanwhile, up the road, Sungjean Kim ministers to 650 Christian soldiers in his squadron, which is spread out for hundreds of miles. But if the locals will accept a non-Catholic clergyman, he says, he will likely make time for at least one sermon. "It sounds like they could use one."
—Adam Piore in Al Qa'im
Related Elsewhere:
Christianity Today articles on Iraqi Christians and religious freedom include:
Damping the Fuse in Iraq | A veteran peacemaker discusses how religion can help stave off religious conflict after Saddam. (July 9, 2003)
The Mother of All Liberties | Full religious freedom for Iraq is not negotiable. (June 2, 2003)
Christian History Corner: Missionary Tales from the Iraqi Front | The modern Anglican mission to Iraq met with initial success, but its story sounds a cautionary note. (April 25, 2003)
Article continues below
Christian History Corner: Iraqi Christians' Path of Persecution | Not heresy hunters, nor Islamic purges, nor even Mongol hordes could wipe Christianity from Iraq. (March 7, 2003)
Christian History Corner: Iraq's Christians Caught in the Middle, Again | If the looming war breaks out, 350,000 Iraqi Christians will be caught in a West-East conflict eerily similar to 4th-century events. (Feb. 7, 2003)
Keeping Their Heads Down | Vital but dwindling Christians face many pressures. (Nov. 8, 2002)
Death by Sanctions | Iraqi Christians persevere in spite of Saddam Hussein and 10 years of an economic embargo. (Oct. 2, 2000)
Other stories on the war in Iraq and post-war relief include:
No Strings Attached | Christians seek to balance relief work and evangelism in Iraq. (May 20, 2003)
Mercy in Baghdad | North Americans endure bombing to chronicle the war's effects on civilians. (May 7, 2003)
Before the Refugee Dam Breaks | Agencies prepare to help up to 900,000 people in Iraq War. (April 24, 2003)
Apocalypse Again and Again | The Bible doesn't tell us when to go to war but how to live in a war-ridden world. (April 16, 2003)
As Baghdad Falls, Agencies Brace for Flood of Work | Aid and mine removal teams could move into Iraq within days. (April 11, 2003)
Mixing Iraq Aid and the Gospel Stirs Debate | Critics say proselytizing can reflect negatively on other relief groups and governments. (April 4, 2003)
Relief Agencies Prepare to Help Iraqi Refugees | Meanwhile Christians in Baghdad fear the worst. (March 26, 2003)
Evangelicals Plan to Minister to Iraqis' Needs—Physical and Spiritual | Evangelism efforts will join relief work, say Southern Baptist Convention and Samaritan's Purse. (March 27, 2003)
Speaking Out: Where Do We Go From Here? | Now that the bombs are falling, we'll need to repair Iraq—and our nation's moral standing. (March 21, 2003)
CT Classic: Weeping over Baghdad | Desert Storm cost Iraq thousands of lives. At its conclusion, a Christianity Today editorial called for the church to deal with the living souls that remained. (March 21, 2003)
Peacemakers Seek to Show War from Point of View of Iraqi Civilians | Six Christian Peacemaker Team members remain in Iraq as bombs drop. (March 21, 2003)
Standing for Peace on the Eve of War | Christian group seeks nonviolent solution in Iraq. (March 12, 2003)
For more stories on Iraq, see CT's world report.
Have something to add about this? See something we missed? Share your feedback here.
Our digital archives are a work in progress. Let us know if corrections need to be made.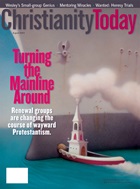 This article is from the August 2003 issue.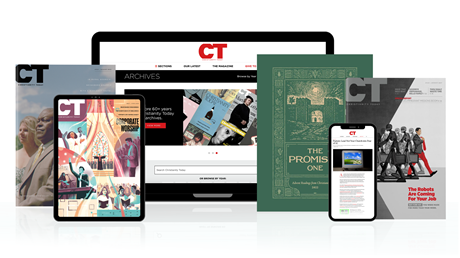 Subscribe to Christianity Today and get access to this article plus 65+ years of archives.
Home delivery of CT magazine
Complete access to articles on ChristianityToday.com
Over 120 years of magazine archives plus full access to all of CT's online archives
Subscribe Now
Daring to Dream Again
Daring to Dream Again