Nicholas Kristof's false dichotomy
Weblog was a bit surprised at the beatingNew York Times columnist Nicholas Kristof took from some religious folks back in March when he complained about the lack of evangelicals in the nation's newsrooms. (CT sister publication Books & Culture had a fine response from historian Mark Noll that deserves wider recognition: it's available here.)
And last May's Kristof column on evangelicals being "the new internationalists" brought quite a bit of praise, though most observers asked "where has he been?"
But Kristof will be fortunate if yesterday's blackout shut down his e-mail server. Today's column is, in a word, bad. And he's going to get slammed for it.
Noting that Americans are three times as likely to believe in the Virgin Birth of Jesus (83%) as in evolution (28%), he writes, "The faith in the Virgin Birth reflects the way American Christianity is becoming less intellectual and more mystical over time."
That's right. If you believe in the Virgin Birth, you're anti-intellectual. And, along with a quote from Hans Küng (who continues to practice theology in spite of the Vatican's revocation of his license), here's how he proves it:
The Virgin Mary is an interesting prism through which to examine America's emphasis on faith because most Biblical scholars regard the evidence for the Virgin Birth, and for Mary's assumption into Heaven (which was proclaimed as Catholic dogma only in 1950), as so shaky that it pretty much has to be a leap of faith. … Yet despite the lack of scientific or historical evidence, and despite the doubts of Biblical scholars, America is so pious that not only do 91 percent of Christians say they believe in the Virgin Birth, but so do an astonishing 47 percent of U.S. non-Christians.
That's right, not only did he lump Jesus' virgin birth and Mary's assumption together as equal dogmas (one is in the Bible, the other is not), he ignores the huge number of serious biblical scholars who do accept the Virgin Birth.
But what's really troubling about Kristof's column is what he's really troubled about: "I'm troubled by the way the great intellectual traditions of Catholic and Protestant churches alike are withering, leaving the scholarly and religious worlds increasingly antagonistic."
In other words, if you actually believe the stuff your church teaches, you are evidence that the church's great intellectual tradition is withering.
Weblog won't go into great length here about the false dichotomy here between faith and intellect—refuting such nonsense is basically the whole raison d'etre of our sister publication Books & Culture and behind much of what we do here at Christianity Today, not to mention the myriad institutions of Christian higher education. But suffice it to say that it turns out Cal Thomas was right: Nick Kristof really does need to get out more and meet some actual evangelicals.
By the way, for a good refutation of Kristof's claims about the Virgin Birth, check out this 1990 Christianity Today article by Richard N. Longenecker.
Defenders of intellectual tradition?
Of course, there are church leaders who deny the Virgin Birth. And the divinity of Christ. And sometimes even the existence of God.
"For all of the fuss over the Episcopalians choosing a gay bishop, what should have been an even bigger scandal has received scant attention," writes Gene Edward Veith in this week's World. "For decades, the Episcopal Church and other Anglican bodies have been electing bishops who are not even Christians. … Heresy is even more harmful to a church than homosexuality. Choosing a bishop who is gay is bad enough, but choosing a bishop who rejects Christianity is surely even worse. And it should not be surprising that a church that has rejected the authority and the truth of the Bible would take the far lesser step of saying that sexual immorality is okay."
Richard Ostling makes a similar point in an Associated Press article. The debate over gay bishops, he says, is divisive because of a larger battle—that over the role of the Bible.
"Until very recently, all Christian branches agreed that same-sex activity was immoral because of their age-old understanding of God's will taught in the Scriptures," Ostling writes.
Most of the world's Christian bodies maintain that belief. But in the last quarter-century, liberal scholars from some so-called "mainline" Protestant denominations in Europe and North America have argued against traditional Bible interpretations, often in books from church publishing houses. They say the Bible's overwhelming overall message is loving acceptance and justice for all people.
This has gradually influenced leadership circles in the Episcopal Church, Evangelical Lutheran Church in America, Presbyterian Church (U.S.A.) and United Methodist Church. Yet the new biblical theories have failed to convince legions of rank and file American churchgoers.
Indeed, it has led to folks like Robinson simply dismissing the Bible in favor of doing what they feel. "Just simply to say that it goes against tradition and the teaching of the church and scripture does not necessarily make it wrong," Robinson earlier told The Washington Post. "We worship a living God, and that living God leads us into truth."
But God is still on the throne, and those who still trust the Bible are still at work. Which leads us to one more story. In Denmark, 158 priests and theologians have denounced a decision to lift the suspension of Thorkild Grosboel, the pastor who told a magazine, "There is no heavenly God, there is no eternal life, there is no resurrection." Allowing someone with those beliefs to continue operating in the state Lutheran Church damages the church's credibility and is unacceptable, they said.
One wonders what Nicholas Kristof would have to say about that.
The "cover up" article you won't see in American papers
Weblog sees many, many articles decrying a lack of good sexual mores in society. Christianity Today has run several of its own, in fact. But Weblog has never seen it done quite like this.
More articles
Ten Commandments battles:
Robinson appointment reaction and aftermath:
Gay marriage:
Catholicism:
Missions and ministries:
Church life:
Judicial appointment controversy:
Politics and law:
Faith-based initiative:
Prison ministry:
Other religions and interfaith relations:
Film:
Books:
Science:
Evolution and Intelligent Design:
Business and money:
Life ethics:
Television:
Music:
Holy Land:
Faith and spirituality:
Persecution:
Crime:
Other stories of interest:
Related Elsewhere
Suggest links and stories by sending e-mail to weblog@christianitytoday.com
Check out Books & Culture's weblog, Content & Context.
See our past Weblog updates:
August 14 | 13 | 12 | 11
August 8 | 7b | 7a | 6 | 5 | 4
July 30 | 29 | 28
July 25 | 24 | 23 | 22 | 21
July 18 | 17 | 16 | 15 | 14
July 11 | 10 | 9 | 8 | 7
July 3 | 2 | 1 | June 30
and more, back to November 1999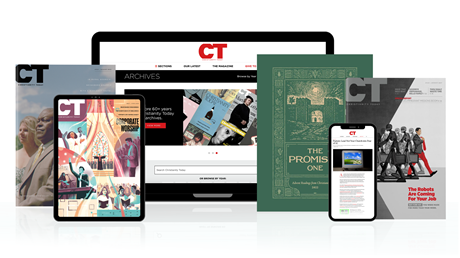 Subscribe to Christianity Today and get access to this article plus 65+ years of archives.
Home delivery of CT magazine
Complete access to articles on ChristianityToday.com
Over 120 years of magazine archives plus full access to all of CT's online archives
Subscribe Now
NYT's Nicholas Kristof Pits Religious Belief Against 'Intellect'
NYT's Nicholas Kristof Pits Religious Belief Against 'Intellect'