U.S. to resume anti-drug flights in Colombia with few changes since 2001
Missionaries in Colombia and Peru beware: the U.S.-Colombian program that killed American missionary Veronica "Roni" Bowers and her 7-month-old daughter in April 2001 is resuming.
The plan allows fighter pilots to shoot down any plane suspected of transporting drugs. Or transporting terror. Or something. According to Secretary of Defense Donald Rumsfeld, the resumption of the U.S.-supported program for the first time since the fatal shooting is because of the war on terror.
Yes, terror. Like the kind that Bowers, her husband, and missionary pilot Kevin Donaldson experienced when the Peruvian military opened fire on them for no apparent reason.
"Me estan matando! Me estan matando!" Donaldson screamed into the radio as the bullets began flying, shredding his leg. "They are killing me!"
The brilliant CIA pilots observing and supporting the shooting spoke less Spanish than the average Sesame Street watcher, and didn't bother to check out the huge registration number on Donaldson's plane or the fact that Donaldson had filed a detailed flight plan. There's an absolutely devastating video of the shoot down, but Weblog can no longer find it online. (Anyone know where it's at? E-mail Weblog.)
Here's what the Los Angeles Times says about the resumption in light of the Bowers tragedy:
U.S. officials said that appropriate safeguards are now in place to prevent a similar tragedy. Under the program, U.S. and Colombian radar sites pinpoint suspected drug flights, then relay that information to the Colombian air force, which has the authority to shoot down the planes. In the past, Colombian air force pilots rarely used weapons, preferring to pressure the planes to land.
Here's The New York Times:
A White House statement said that President Bush had determined that Colombia had since "put in place appropriate procedures to protect against loss of innocent life."
The announcement did not specify those safeguards, but American officials said they would include radio or visual contact, first trying to force suspect planes to land, and then firing warning shots. Only as a last resort, American officials said, would a plane be downed.
"Some of these procedures existed in the old program," one American official said, "but they were not enforced."
Ah, in other words, the policy is pretty much exactly the same as it was when Bowers was killed. Okay, then!
So far, the missionaries' agency, the Association of Baptists for World Evangelism, doesn't have anything to say about the resumption of the program, but given the ridiculous troubles it has had fighting those in the U.S. and Peruvian governments who wanted to blame Donaldson for the tragedy, it can't be thrilled with the news.
It's one thing for missionaries to have to put their life on the line when they go to the mission field. It's quite another to have to be worried that your own countrymen are going to kill you.
Showdown at Montgomery
Today is the deadline given to Alabama Chief Justice Roy Moore to remove his Ten Commandments monument from the state judicial building.
Moore says he won't remove it. The 11th U.S. Circuit Court of Appeals refused his request for more time. Moore has filed another appeal with the U.S. Supreme Court. Alabama Attorney General Bill Pryor (yes, the same Bill Pryor who's been appointed to the 11th U.S. Circuit Court of Appeals but congressional Democrats refuse to confirm) says he'll enforce the court order to remove the monument. About three dozen protesters are holding a candlelight vigil in support of the monument. Anti-Moore newspaper editorials are getting even more rabid (though here's an insightful NPR commentary from Joe Loconte). The stage is set. Tune in tomorrow.
More articles
Liberia:
Church buildings and grounds:
Church life:
Church and state:
Life ethics:
Wisconsin push for married priests:
Missions and ministry:
Books:
Other stories of interest:
Related Elsewhere
Suggest links and stories by sending e-mail to weblog@christianitytoday.com
Check out Books & Culture's weblog, Content & Context.
See our past Weblog updates:
August 19 | 18
August 15 | 14 | 13 | 12 | 11
August 8 | 7b | 7a | 6 | 5 | 4
July 30 | 29 | 28
July 25 | 24 | 23 | 22 | 21
July 18 | 17 | 16 | 15 | 14
July 11 | 10 | 9 | 8 | 7
and more, back to November 1999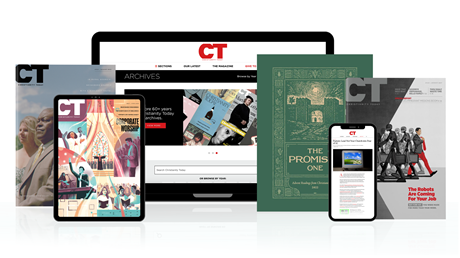 Subscribe to Christianity Today and get access to this article plus 65+ years of archives.
Home delivery of CT magazine
Complete access to articles on ChristianityToday.com
Over 120 years of magazine archives plus full access to all of CT's online archives
Subscribe Now
Anti-Drug Flight Program That Killed Missionary and Daughter Will Resume
Anti-Drug Flight Program That Killed Missionary ...