Allegations of sexual harassment and pornography have sidelined—at least temporarily—the approval of a New Hampshire priest who was elected the first openly gay bishop in the Episcopal Church.
The Rev. V. Gene Robinson, who won approval from lay and clergy delegates on Sunday, had been scheduled to face a confirmation vote by the church's House of Bishops on Monday. That vote was put on hold while a church committee investigates two separate allegations.
The last-minute accusations, aired just hours before Robinson's vote by the bishops, immediately raised charges of a last-ditch effort by conservatives to torpedo Robinson's election, which they have warned will split the church.
In a letter e-mailed to most church bishops, David Lewis of Manchester, Vt., alleged that Robinson "put his hand on me inappropriately every time I engaged him in conversation."
Lewis' letter seemed to indicate that the harassment occurred while he was an adult. Lewis said Robinson "does not maintain appropriate boundaries with men."
"If I were a straight woman reporting heterosexual harassment by a straight male priest, would you hesitate to take the matter seriously? Well, I am a straight man reporting homosexual harassment by a gay male priest from another diocese."
Messages left for Lewis at the phone number listed on his letter of accusation were not immediately returned.
In addition, Robinson came under fire for his association with a gay youth group he co-founded in Concord, N.H. The group's website allegedly contained secondary links to pornographic material on other websites.
"The standing committee and bishop of New Hampshire, together with the bishop-elect, Canon Robinson, have asked that a thorough investigation be undertaken before we proceed with seeking the consent of the bishops," the church's top official, Presiding Bishop Frank Griswold, said in a statement.
Griswold, who met with Robinson in a closed-door meeting on Monday, appointed Bishop Gordon Scruton of Western Massachusetts to lead the investigation committee.
The current bishop of New Hampshire, Douglas Theuner, said the probe would examine Robinson's "relationship" to the Outright website. Theuner said he and his diocese have "continued confidence" in Robinson's election.
"We also continue to maintain an open, prayerful, transparent and spirit-led process," Theuner told the House of Bishops. "We have full confidence in the presiding bishop's commitment to fully investigate these matters."
Robinson, who has been trailed by security guards because of reported death threats, was not available for comment, church officials said.
The investigation also appeared to delay discussions by church bishops on whether to authorize the creation of worship services to bless same-sex unions. That debate and vote could come later this week.
It was not clear how long the investigation would take, or if the investigation might keep Robinson from gaining approval before delegates adjourn the General Convention meeting on Friday. "I suppose there's some chance" the clock could run out, said church spokesman Jim Solheim.
Solheim called the timing of the allegations—hours before Robinson's scheduled vote before the bishops, and a day after lay and clergy delegates gave their approval—"a little curious."
Conservatives, meanwhile, denied charges that they had helped coordinate the effort to sink Robinson's election.
"Gene deserves a right to defend himself," said the Rev. David Anderson, president of the American Anglican Council, who had been aware of the website for several days. "This could be a scurrilous and false allegation."
Earlier, however, Anderson had warned that allowing Robinson to serve as bishop would be a "fatal bullet" to the life of the Anglican Communion, which includes 2.3 million Episcopalians in the United States.
"We are on the deck of the Titanic, saying to the captain, the presiding bishop, that there's an iceberg dead ahead. For God's sake, steer us away from it. Don't hit it," Anderson said.
Robinson's supporters, frustrated and stunned by the allegations, vowed to stand behind him. The Rev. Michael Hopkins, president of the gay group Integrity, said he had Robinson's personal assurance that there were no skeletons that could derail his election.
"I believe in Gene and I can't imagine that the process … isn't going to exonerate him," Hopkins said.
Related Elsewhere
See also CT Associate Editor Douglas LeBlanc's dispatch from yesterday's proceedings.
Just about every media outlet is giving major attention to the allegations. Among the articles available online:
Episcopalians delay vote on gay bishop (Associated Press, link goes to most recent version of story)
Friend of bishop-elect accuser speaks out (Associated Press)
Episcopalian vote on gay bishop postponed (Reuters)
Charges stall confirmation of gay bishop | Episcopalians investigate last-minute allegations of inappropriate conduct (The Washington Post)
Sexual accusations delay vote by Episcopalians on gay bishop (The New York Times)
Article continues below
Allegations delay vote by Episcopalians on gay bishop | The priest is accused of inappropriate touching and ties to a Web site with links to porn (Los Angeles Times)
Gay canon's rise delayed by charge, probe of porn link (The Washington Times)
'He put his hands on me' | "I do not wish to be in the position of being quoted on the subject," says accuser. "To me it's a matter of faith and private life." (Bennington Banner, Vt.)
Allegations delay vote on gay bishop | Impropriety charged; some fear a smear (The Boston Globe)
Turmoil over gay bishop vote (The Guardian, London)
Sex allegations delay vote on gay bishop (The Independent, London)
Gay bishop vote blocked | N.H. clergyman accused of sexual misconduct, tie to pornography (ABCNews.com)
Episcopalians delay vote on gay bishop candidate | E-mail from Vermont man alleges inappropriate touching (CNN)
Gay bishop-elect left in limbo | 11th-hour allegations leave timing of possible confirmation vote uncertain (MSNBC)
Allegations surface to halt vote on gay bishop (Chicago Tribune)
Allegations stall vote on gay bishop | Accusations of a porn link, touching emerge (The Dallas Morning News)
Allegations stall Episcopal vote on gay bishop (Minneapolis Star-Tribune)
More coverage of the General Convention is available from the ECUSA website, which has streaming video. Conservative and orthodox perspectives are available from Classical Anglican Net News, the American Anglican Council's A Place to Stand, and David Virtue's Virtuosity.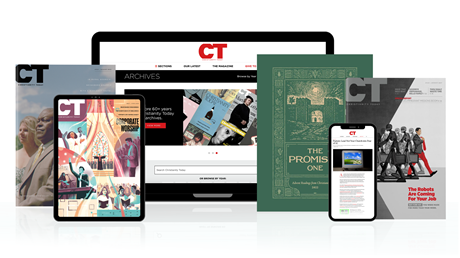 Subscribe to Christianity Today and get access to this article plus 65+ years of archives.
Home delivery of CT magazine
Complete access to articles on ChristianityToday.com
Over 120 years of magazine archives plus full access to all of CT's online archives
Subscribe Now
"Harassment, Porn Charges Derail Approval of Gay Bishop"
"Harassment, Porn Charges Derail Approval of Gay Bishop"