High court says RICO was misapplied to abortion protest case
Seventeen years after Roman Catholic abortion activist Joseph Scheidler and other pro-life advocates were sued by abortion clinics under 1970's Racketeer Influenced and Corrupt Organizations (RICO) Act, the Supreme Court ruled yesterday that racketeering laws are not applicable to the case.
The National Organization of Women (NOW) v. Scheidler was filed in 1986 and charged Scheidler's Pro-Life Action League, Operation Rescue, and other prolife groups with attempting to crash the abortion industry through a "pattern of racketeering activity."
A federal judge originally ruled in 1991 that RICO, which was designed to fight organized crime, could not be used against abortion protests. However, the Supreme Court overturned the ruling in 1994 saying that it could apply.
This ruling led to the 1998 decision that forced three prolife activists, Scheidler, Andrew Scholberg, and Timothy Murphy, to pay $85, 900 to two abortion clinics represented in court by NOW. Under RICO, all fines are tripled which raised the price to $257,000, plus attorney fees.
The Seventh Circuit Court of Appeals upheld the case two years later. The Supreme Court agreed to hear the case in April. A coalition of 70 activists presented oral arguments in December.
Chief Justice William H. Rehnquist, wrote in the decision yesterday that RICO prosecution requires evidence of an underlying crime, such as extortion. The high court ruled, however, that there was no proof.
"It is undisputed that petitioners interfered with, disrupted, and in some instances completely deprived respondents of their ability to exercise their property rights," wrote Rehnquist. "But even when their acts of interference and disruption achieved their ultimate goal of shutting down an abortion clinic, such acts did not constitute extortion because petitioners did not 'obtain' respondents' property."
Jay Sekulow, chief counsel of The American Center for Law and Justice, who represented one of the pro-life organizations in the case, said in a press release that the decision is a "tremendous victory" for social activism. "The decision removes a cloud that has been hanging over the pro-life movement for 15 years," he said. "The ruling clearly shuts the door on using RICO against the pro-life movement."
John W. Whitehead, president of The Rutherford Institute, said yesterday in a press release that the verdict removes a chilling effect on the speech of activists. "The Supreme Court's near-unanimous decision gives breathing room for the First Amendment-protected speech of many political groups that have been virtually shut out of public debate because of threats of huge fines like those imposed on these protesters," he said. "No longer can the civil liability provisions of the RICO Act be used as a bludgeon to silence dissenters from rightfully expressing their views in a public forum."
A Chicago Tribune editorial today also points out that because of the freedom of speech issues involved, "all Americans should applaud the U.S. Supreme Court's decision Wednesday, no matter where they stand individually on the divisive issue of abortion."
Family Research Council President Ken Connor said the case was only built on the abortion industry trying to silence opposition. That ability, he says on the FRC website, has been taken away. "What NOW and other pro-abortion groups want to do is threaten pro-lifers with financial ruin in order to silence debate. The irony is that [if they protest this decision, they] will be exercising the very rights they seek to deny to others. The hypocrisy is breathtaking."
Pro-life and Christian groups also see the decision as a major landmark in the anti-abortion cause.
"Pro-Life activists are not mobsters," said Sandy Rios, president of Concerned Women for America. "The Supreme Court has set the record straight on the time-honored American tradition of the right to protest."
"The court's ruling should help thwart the abortion industry's efforts to silence and punish the free speech and loving outreach of Christian men and women," said James Dobson, president of Focus on the Family. "This decision will help ensure that women with crisis pregnancies will hear the pro-life message."
Scheidler told the press yesterday that unlike some approaches in the past, the pro-life message will now be peaceful and "mostly be prayer vigils and counseling."
Fred Rogers, 74, died this morning
Fred Rogers, a Presbyterian Church (U.S.A.) minister known to millions as Mister Rogers, passed away early today from stomach cancer. The former host of PBS's "Mister Rogers' Neighborhood" learned he had cancer in January.
Rogers started in children's programming in the 1950s. PBS picked up his show in 1968. It became PBS's longest running series. The last original episode was filmed in 2001. Reruns of the show continue to run.
During his career, Rogers received two Peabody Awards, four Emmys, a "Lifetime Achievement" Award from the National Academy of Television Arts and Sciences, and the nation's highest civilian honor, the Presidential Medal of Freedom.
The websites for "Mister Rogers' Neighborhood" and its production company, Family Communications, today offer remembrances of Fred Rogers in addition to guides for helping children cope with the news.
In a 2000 Christianity Today cover story, Wendy Murray Zoba wrote that Rogers was ordained as "an evangelist to work with children and families through the mass media." He did not evangelize on the program nor did he write religious themes into the shows. But what he did, Zoba wrote, was create a neighborhood where children were loved and these "daily neighborhood visits sow[ed] seeds that awaken something basic in their hearts."
"Every time I walk into the studio, I say to myself [as a prayer], 'Let some word that is heard be Yours,'" Rogers said in that interview. "The Holy Spirit translates our best efforts into what needs to be communicated to that person in his or her place of need."
Zoba asked Rogers if his neighborhood was a metaphor for heaven. He said that it wasn't because the show often tackled hard issues like death and divorce.
"When I think about heaven, it is a state in which we are so greatly loved that there is no fear and doubt and disillusionment and anxiety," Rogers said. "It is where people really do look at you with those eyes of Jesus."
More articles
Mixing traditional culture and Christianity:
Life ethics:
Sexual ethics:
Prayer and spirituality:
Other stories of interest:
Related Elsewhere
Suggest links and stories by sending e-mail to weblog@christianitytoday.com
See our past Weblog updates:
February 26 | 25 | 24
February 21 | 20 | 19 | 18 | 17
February 14 | 13 | 12 | 11 | 10
February 7 | 6 | 5 | 4 | 3
January 31 | 30 | 29 | 28 | 27
January 24 | 23 | 22 | 21 | 20
and more, back to November 1999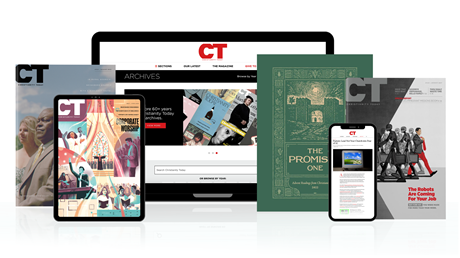 Annual & Monthly subscriptions available.
Print & Digital Issues of CT magazine
Complete access to every article on ChristianityToday.com
Unlimited access to 65+ years of CT's online archives
Member-only special issues
Subscribe
The Supreme Court Rules That Abortion Protesters Are Not Racketeers
The Supreme Court Rules That Abortion Protesters ...