She came to Jesus just as she was—a foul-mouthed, bulimic, alcoholic drug addict. One week after having an abortion, she surrendered to him in her very own version of the sinner's prayer, punctuated with the f-word.
When I recently called Anne Lamott—the funny, nutty, fast-talking, born-again author whose books include Bird by Bird, Operating Instructions, Traveling Mercies, and most recently Blue Shoe—the same earthy candor came through.
To be sure, Lamott is a hard-core liberal. I disagree with her on many fronts, for example with her belief that personhood doesn't start at conception. Yet, deeper within her than her loud liberalism is a reality that has won her many evangelical readers: a zany ardor for Jesus. Lamott's fascination with all things Jesusy (a term she might as well have copyrighted) must be the reason why she is a mixed bag of hilariously antagonistic affections.
Let me count the ways.
Every morning, before she gets out of bed, Lamott reads meditations by Emmet Fox (1886-1951), the progressive New Thought preacher who is popular in Alcoholics Anonymous circles. "You want to buy his book Sermon on the Mount today; it will change your life. I promise," she says. She looks up daily Scripture passages in Zondervan's Women of Faith Study Bible. The conservative publisher puts out "hundreds of books that I love," including If You Want to Walk on Water, You've Got to Get Out of the Boat by Willow Creek Community Church's teaching pastor, John Ortberg.
A commentator for NPR and a columnist at the freethinking Salon.com, Lamott shops "all the time" at Christian bookstores. She calls herself a "bumper-sticker Christian." The two bumper-sticker sayings she lives by are: "God loves you just the way you are but he loves you too much to let you stay like this" and "I don't know what the future holds but I know who holds the future."
Meeting Jesus in the Lavatory
Once she gets out of bed at 7 a.m., Lamott watches CNN as she's making breakfast. At 7:30 a.m., when she's cleaning up after breakfast and making lunch, her soul eats a little breakfast: the program of the "very right-wing, greatest preacher of all time" Joyce Meyer. "I wish the order were reversed," she says. "She's hilarious and a wonderful God-fearing mess."
Lamott also adores the humor of author Luci Swindoll (sister of the brother) and others from the Women of Faith movement, whose statement of faith includes belief in the Bible's inerrancy. The love is mutual. "If I told Luci I want to come over to her place," Lamott says, "she'd say, 'Do you need airfare?' "
Some "right-wingers, often with Southern accents" occasionally call her to tell her that she will rot in hell (she received 30 such calls after writing a negative review of a "God-awful" thriller by Pat Robertson). These are strong words for someone who receives hundreds of letters from people grateful for her bringing them back to Christ, never gives a lecture without mentioning Jesus, orders tapes from Charles Stanley, and invited her secular editor and publisher to her baptism ("They were horrified").
Another pair of strange bedfellows: Lamott is nuts about Jesus, but she's okay with dating someone who isn't. "He's not a believer yet," she says about the South African artist who works in advertising. "But he loves God. It's just that he doesn't quite commit. He's been sober as long as I have, and we both have a higher power. I call mine Jesus."
Speaking of which, she says, sometimes he and Lamott's friends "roll their eyes at me because I'm really Jesusy, there's just no way around it." Jesusy is the adjective that endeared Lamott to her mostly evangelical audience at the 2000 Festival of Faith and Writing at Calvin College. "We'll have the Jesusiest time ever!" she cooed. At her Jesusiest, Lamott not only sounds but even looks like an evangelical: "I'll buy a wwjd bracelet to wear for the day so I can forget about me when I'm on a radio or tv interview, and I'll just remember him and ask myself, 'What is his will for me?' " she says.
When she first sensed Jesus' physical presence during her conversion 17 years ago, some people dismissed the experience because she was hungover.
By the second time she met up with Jesus, she had been sober for over 10 years. She ran into him in an airplane lavatory. The so-far unpublished event happened a few years ago. She was flying to the East Coast to give a sermon and a lecture at a church. Disturbed by her fear of flying, she couldn't concentrate on writing the sermon she was about to deliver. (It's normal for her to prepare her speeches on the way to her speaking engagements. "I just totally trust the Holy Spirit to help me.")
All of a sudden, she felt the urge to go into the restroom—but not for the usual reasons. She went to the bathroom and closed the door. "I started hearing this song, 'Just As I Am,' " she says. "I sat on the toilet, with my knees pulled up, and I started to sing it. And I absolutely, as clearly as I hear your voice now, felt Jesus. I opened my eyes and he didn't go away. I didn't see him like I'm seeing photographs on the wall, but I saw him with my spiritual eyes."
She sat there for about ten minutes mumbling, "Hi, Lord Jesus, hi." ("I've heard various preachers say that Jesus is only as far away as his name," she says.) Then she got quiet and felt Jesus holding her "like a little worried kid."
"Could you describe what he looked like?" I ask.
She says she could only vaguely see "flickers of the face. What I felt was an absolute physical sureness of his presence," she says. "I thought, either I'm having a breakdown or I'm just having a moment where the veil is down between us."
When she returned to her seat, a sermon poured forth from her fingertips. After her flight arrived, Lamott told a pastor who was there to greet her about her tête-à-tête. Lamott said she needed a copy of the lyrics to "Just As I Am" because she was going to quote from it.
"She looked at me and said, 'But that's the song we're singing!' " Lamott says. "And of course I didn't have any program or anything." Later that day, she preached the sermon she wrote in the airplane. Its title was, fittingly, "Just As I Am."
'I just want to hear the word!'
To top off the list of her surprising attachments, what other pro-gay, white member of a black church tunes in to Harold Camping when she's stuck in traffic? Yes, the old-fashioned radio preacher who discredited himself when he began predicting time frames for the Second Coming (all missed so far). The guy who recently said the church era is over.
She explains, "I think he's just mad as a hatter, but sometimes when I'm driving, I just want to hear the Word!" Camping's Family Radio network also airs readings of the Scripture and hymns in the afternoon, "and that to me is literally heaven," she says. So she sings along. But don't for a moment let the picture of Lamott intoning to Family Radio give you the wrong impression.
Here is one of her favorite jokes. "A man dies and goes to heaven," she says. "He is being shown around by an angel. Everything is just so sweet and gentle, the total golden tender presence of God everywhere, a pond over there, a beautiful field there, and some hills for people who like to hike, and this expansiveness in every direction of sky and light and physical beauty. And there is this section separated from the rest; it has beautiful high walls. The man who's just come to heaven says, 'What's over there?' The angel says, 'That's for the fundamentalists. They don't consider it heaven if anyone else got in.' "
It's at this point in the conversation that I begin to wonder if she's a universalist. Later, I follow up in an e-mail message: "Do you think that people from other faiths who don't believe in Jesus are God's children and will go to heaven?"
"Yes," she writes back. "I think Jesus is divine love manifest on earth, as it comes through the community of Christians." He's like the "beautiful Jewish uncle" who says, "Well, I can show you the way."
"Only Jesus has come to me, and I experience God's love in an immediate and personal way through his companionship," she says. Those in other countries and cultures "feel Divine Love come to them through more local teachings, through other expressions of that love."
The idea of everyone enjoying God for eternity appeals to me—as I'm sure it does to God—yet it's hard to reconcile with verses such as John 3:16 and Jesus' assertion that "no one comes to the Father except through me." On the other hand, Lamott's tenderness toward people resembles that of the Shepherd who went looking after one stray sheep.
"Some people have been too starving, attacked, hated, or full of hate to experience God's love," she says. "Sometimes I think God loves the ones who most desperately ache and are most desperately lost—his or her wildest, most messed-up children—the way you'd ache and love a screwed-up rebel daughter in juvenile hall. A 5-year-old girl or her mother in the mountains of Afghanistan, a junkie in L.A., Mother Teresa, you, me, children in Gaza—God created us all and loves us and brings us home, into what may be the first shalom we have ever had the chance to experience."
She disarmingly adds, "I don't even pretend to understand much of anything. I just try to love and serve everyone, and bring everyone water, and lend an ear; that's what Jesus said to do."
A novel approach
Lamott's first Christian (against the advice of an editor) heroine is a mixed bag. Blue Shoe's Mattie Ryder, a size 12 fittings model at Sears (when she's not gaining weight), is a divorced mother of two, and, in some ways, a parent to her ailing mother as well. In churchgoing Mattie, Lamott brings together fervent belief in God and a profound foolishness. Mattie's God seems to have little consequence in her life.
"I wanted to write about a character who is a Christian and yet not the kind of Christian that you might encounter at a Christian bookstore," Lamott explains. "Somebody who is crabby—you know, like me—and lusty, and a mess, and a true believer."
She adds, "I've heard that our greatest cross to carry is ourselves—how gravely we fall short." Mattie does have a lot to carry. Recently divorced, she sleeps with her ex-husband, whom she despises and whose new wife is pregnant. She then begins sleeping with another man she doesn't love. All the while, she is developing a crush on a rat exterminator, Daniel, who turns out not to have the stomach for the job.
"She doesn't have the ability to say no," Lamott says. "Like St. Paul, who said that he did the things he knew he shouldn't do."
Mattie and Daniel become friends and begin to attend church together. They fall in love with one another. There's just one thing: Daniel's married. Conveniently, his wife doesn't go to church; she is moody, demanding, and has "a large, round bottom."
I wish fiction by Christians offered more such realistic portrayals of Christians behaving badly. But it bothered me that, in my unguarded moments, I found myself rooting for Mattie and Daniel to get together. Was Lamott intentionally seducing me with the god of no consequences?
Lamott offers a disclaimer that I'm not sure jibes with the way the book ends: "There is no condoning going on," she says. "When Mattie falls short, she pays for it with her self-loathing. She prays and she is forgiven. There are those times when she's able to stop the behavior, and then she sins again."
She stops for a few seconds, then continues. "I don't sleep with married men, if you want to know. But I certainly have. I did a lot of stuff before I got sober that I wouldn't do anymore."
Then Lamott is back to what she does best: proclaiming the grace of God. "But there wasn't a single thing that I'd do that Jesus would say, 'Forget it, you're out, I've had it with you, try Buddha!' "
Agnieszka Tennant is an associate editor of Christianity Today.
Related Elsewhere
A ready-to-download Bible Study on this article is available at ChristianBibleStudies.com. These unique Bible studies use articles from current issues of Christianity Today to prompt thought-provoking discussions in adult Sunday school classes or small groups.
In December, Anne Lamott returned as a columnist for Salon.com. Her first column is free to all readers, but subsequent columns will only be available to Salon Premium subscribers. All of her old columns, however, are still available on the site.
Lauren Winner reviewed Lamott's Traveling Mercies for Christianity Today in 1999. More of Lamott's books are available at Amazon.com.
Article continues below
The Barnes & Noble website has a biography, audio interview, and more on Anne Lamott.
Other articles by Agnieszka Tennant for Christianity Today include:
The Ultimate Language Lesson | Teaching English may well be the 21st century's most promising way to take the Good News to the world. (Dec. 6, 2002)
The Good News About Generations X & Y | Watch out, promiscuity! Out of the way, relativism! A wave of young Americans just wants that oldtime religion. An interview with the author of The New Faithful: Why Young Adults Are Embracing Christian Orthodoxy. (August 2, 2002)
The Auschwitz Cross | We must come to the cross with desperation, not political agendas. (May 10, 2002)
Nuptial Agreements | Two models of marriage claim biblical warrant and vie for evangelicals' allegiance. Advocates of both claim good results. But do we have to choose? (March 15, 2002)
Adam and Eve in the 21st Century | When it comes to gender roles, CT readers oscillate between complementarian and egalitarian ideas. ? (March 15, 2002)
Possessed or Obsessed? | Many Christians say they are in need of deliverance but some may be giving demons more than their due. (August 24, 2001)
Seahorses, Egalitarians, and Traditional Sex-Role Reversal | A dispatch from the Christians for Biblical Equality conference (July 11, 2001)
The Ten Commandments Become Flesh | A Polish director prods European and American audiences to consider God's timeless standards. (Feb. 14, 2001)
Tennant also interviewed Lech Walesa for the September/October issue of Christianity Today sister publication Books & Culture.
Have something to add about this? See something we missed? Share your feedback here.
Our digital archives are a work in progress. Let us know if corrections need to be made.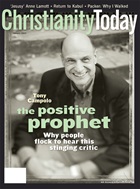 This article is from the January 2003 issue.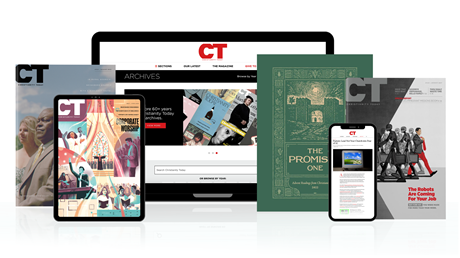 Annual & Monthly subscriptions available.
Print & Digital Issues of CT magazine
Complete access to every article on ChristianityToday.com
Unlimited access to 65+ years of CT's online archives
Member-only special issues
Subscribe
Jesusy' Anne Lamott
Jesusy' Anne Lamott