In "Books of the Year," posted at the end of 2002, we were able to highlight only a handful of titles. In a moment, we'll mention a few more of interest, including a couple of forthcoming books to watch for. But first, a word about the new format for this column. The Books & Culture Corner will continue as an occasional feature (in mid-February, for instance, look for the Corner's report from the annual AAAS convention—the big science meeting of the year—in Denver). The new weekly feature in this space will be the Book of the Week (sometimes Books), with reviews and interviews taking note of books worthy of attention, pro or con. Since many of the past Corners have been reviews or at least reviewish, this won't mark a radical change.
So many books, so little space. … I would like to thank the number of readers who wrote in response to my recommendation of Haruki Murakami. But why didn't any of you mention that I had listed his collection of stories, After the Quake, as "translated from the Italian"? Probably you were afraid to embarrass me, but I'd rather hear the truth. Especially when the error appears online and can be readily corrected, as this egregious one has been.
Very late in the year I received an extraordinary book of photographs: Home Front: American Flags from Across the United States, by Peter Elliott, printed on gorgeously heavy paper and published by Chicago's Lily Bay Press (distributed by University of Chicago Press). I couldn't make my way into most of the books occasioned by 9/11, but Elliott's book is an exception.
As Jody Bottum observed not long ago in The Weekly Standard, we are living in a golden age of reprints—so much so that we tend to assume the immediate availability of any book published in the last 100 years or so. Some of the reissues, like those in Vintage's splendid Philip K. Dick project, are titles that were hard or next-to-impossible to find unless you wanted to deal with collectors. Also demanding gratitude are the ongoing New Directions reprints of Muriel Spark, including most recently her early novel, Robinson (taking off from Robinson Crusoe), an astonishing book brimming over with exuberance at the sheer sorcery of storytelling.
Also late last year, the stubbornly independent Chicago-based publisher, Ivan R. Dee, issued the sixth and final volume of Aldous Huxley's Complete Essays. Huxley began as a materialist but ended as a pioneer of the various consciousness-raising movements (drug-fueled and otherwise) that have flourished since the 1960s. His essays are best read as documents that help to explain how we got where we are today.
Meanwhile, publishers' catalogues for 2003 are arriving at my office everyday. Here for starters are four titles to watch for. First and foremost, from Yale University Press in April, Jonathan Edwards: A Life, the long-awaited biography by George Marsden. From Little, Brown, in February, Ian Rankin's Resurrection Men, the latest book in his immensely successful series featuring the unconventional Scottish police detective, John Rebus. If you like this one, go back to the beginning of the series (Knots and Crosses is the first book) and read them in chronological sequence, since—unlike the protagonists of many long-running sagas—Rebus ages more or less in real time.
Also due in February, from Harcourt's paperback line, Harvest, is Marly Youmans' Civil War novel, The Wolf Pit, first published in hardcover by Farrar, Straus and Giroux in the fall of 2001. Look for a review of this novel by Tim Stafford in the July/August issue of Books & Culture, which will feature a special section on the Civil War. For me, Youmans was the biggest discovery of the past year. I had missed not only The Wolf Pit but also her two previous novels, Catherwood and Little Jordan. Like Muriel Spark, though with an entirely different sensibility, she's a literary sorcerer—and, like Spark, a deeply Christian novelist.
Finally, from Eerdmans in May, Laurance Wieder's Words to God's Music: A New Book of Psalms, a collection of 150 poems inspired by the Psalms rather as Kieslowski's series of films, Decalogue, was inspired by the Ten Commandments. (Make a joyful noise if you remember the very first issue of Books & Culture, which featured George Herbert's rendering of the 23rd Psalm from Wieder's collection, The Poets' Book of Psalms, published by HarperSanFrancisco in 1995.) More bulletins on forthcoming books will follow in the course of the year.
John Wilson is editor of Books & Culture and editor-at-large for Christianity Today.
Related Elsewhere
Visit Books & Culture online at BooksandCulture.com or subscribe here.
Books & Culture Corner appears Mondays at ChristianityToday.com. Earlier Books & Culture Corners include:
Double Indemnity Meets Dead Souls | A conversation with novelist Richard Dooling. (Jan. 1, 2003)
Books of the Year | The top ten. (OK—make that twelve.) (Dec. 30, 2002)
Entertain Us | Nirvana, Pearl Jam, and the rapture of distress. (Dec. 16, 2002)
Article continues below
Boys Will Be Boys | A new book by a leading Christian feminist scholar inadvertently reveals the flawed assumptions underlying much talk about "flexibility" in gender roles. (Dec. 9, 2002)
Street Cred | Dave Eggers: The portrait of an artist as a … what? (Dec.2, 2002)
Epicurus'—and Darwin's—Dangerous Idea | How we became hedonists. (Nov. 18, 2002)
Weird Science? | A Darwinian debate continues. (Nov. 11, 2002)
Of Moths and Men Revisited | A Darwinian debate. (Nov. 4, 2002)
Angels in Heaven | A game that's more than a game. (Oct. 28, 2002)
Number One with a Bullet | America's foist family as a tool for evangelism. (Oct. 21, 2002)
Train Up a Child | Helping children to become intimately familiar with Scripture. (Oct. 14, 2002)
Acting Like Those 'Evangelicals' | Guilty as charged? (Sept. 30, 2002)
Ugly Evangelicals | Is this us? (Sept. 23, 2002)
Herbie Goes Bananas | The rise and fall and rise and fall and rise of the VW Beetle. (Sept. 16, 2002)
So Far, So Near | A graduate of Murree Christian School in Pakistan, the site of a deadly assault by Islamic terrorists in August, reflects on his growing-up years, on what has changed in the interim, and on the beleaguered Christian community in Pakistan (Sept. 9, 2002)
The New York Times Discovers Religion (Again) | Shouldn't the paper of record be able to move beyond Square One? (August 26, 2002)
After the Quake | Bedside reading for the anniversary of 9/11. (August 19, 2002)
How to Avoid the Coming Disaster | "Imitate Japan." "No, don't imitate Japan." Time out. (August 12, 2002)
"Mind Control" and the Christian Citizen | Historian Sean Wilentz's misguided attack on Justice Antonin Scalia. (August 5, 2002)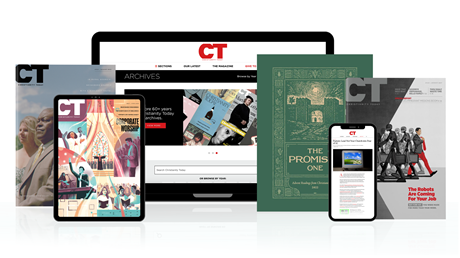 Subscribe to Christianity Today and get access to this article plus 65+ years of archives.
Home delivery of CT magazine
Complete access to articles on ChristianityToday.com
Over 120 years of magazine archives plus full access to all of CT's online archives
Subscribe Now
Books Present, Books Past, and Books to Come
Books Present, Books Past, and Books to Come