Paul Wilson Brand, the pioneering missionary surgeon who wrote a series of books connecting the Christian faith and medicine, died Tuesday after several weeks in a coma following a fall in his Seattle home.
Born to missionary parents in the mountains of southwestern India in 1914, Brand attended London University, where he met his wife, Margaret Berry. The two surgeons returned to Vellore, India, to teach at the Christian Medical College and Hospital.
While working as the school's first professor of orthopaedics and hand research, Brand pioneered surgical work with those suffering from Hansen's disease, a bacterial infection more commonly known as leprosy. He was the first surgeon to use reconstructive surgery to correct deformities caused by the disease in the hands and feet, and developed many other forms of prevention and healing from the disease.
Before Brand, it was widely believed that those suffering from Hansen's Disease lost their fingers and feet because of rotting flesh. Instead, Brand discovered, such deformities were due to the loss of ability to feel pain. With treatment and care, he showed, victims of the disease could go indefinitely without such deformities.
It was on this issue that Brand's work with Hansen's disease met with his theological reflections on what he viewed as "the most problematic aspect of creation: the existence of pain." Pain, Brand believed, was not antithetical to life, but a requisite for it. "God designed the human body so that it is able to survive because of pain," he later wrote.
After 18 years and more than 3,000 surgeries at the Christian Medical College, Brand in 1965 accepted a position at the U.S. Public Health Service's National Hansen's Disease Center in Carville, Louisiana, where he became chief of rehabilitation. He later served as clinical professor of orthopedics, emeritus, at the University of Washington, and president of the London-based Leprosy Mission International.
Brand later extended his work into the treatment of diabetes, and earned several distinguishing honors, including Commander of the Order of the British Empire, awarded by Queen Elizabeth II in 1961.
On June 19, three weeks after suffering a mild stroke, Brand stumbled backward down stairs at his home while carrying a box of books. He suffered several deep gashes on the back of his head, and a blood clot formed in his brain. He did not regain consciousness after surgery to remove the clot.
Many will remember Brand as mentor to Christianity Today Editor at Large Philip Yancey. The two men wrote several books together, including In His Image, Fearfully and Wonderfully Made, and The Gift of Pain.
"I see the world largely through his eyes," Yancey said. "My father died just after my first birthday, and in so many ways Dr. Brand became a father figure to me in the best way. I have never known anyone more brilliant, nor anyone more humble.
"I have written often of bad doses of the faith I got here and there. Truly, I believe that God brought Paul Brand into my life so that I could take all the time in the world to examine one human being and learn what God had in mind with the whole creation experiment. No one has affected my faith more. You need only meet one saint to believe, and I had the inestimable privilege of spending leisurely hours on visits, trips, and phone conversations picking apart a saint piece by piece. He stood up to scrutiny."
Brand is survived by his wife, their six children, and twelve grandchildren.
Related Elsewhere
More information on Brand, including obituaries, are available at the World Concern website and a website set up by Brand's secretary, Molly Coyner Cozens.
Norlynn Audio Visual Services in North Vancouver, British Columbia, has a guide to Brand's video series, "You are Wonderful." The company's website includes a brief video of Brand teaching.
RBC Ministries' website includes the full text of "God's Good Earth," a booklet adapted from Brand's book God's Forever Feast.
Other stories appearing on our site today:
God's Astounding Laws of Nature | "I like to think of God as developing his skills," said Dr. Paul Brand. Interviewed by Philip Yancey (December 1, 1978)
A Surgeon's View of Divine Healing | Do doctors waste their time by doing slowly and painstakingly what could have been done in the twinkling of an eye? (November 25, 1983)
Blood, Part 1: The Miracle of Cleansing | We moderns are repelled by the thought of blood cleansing, but biologically and spiritually the precious liquid does exactly that. (February 18, 1983)
Blood, Part 2: The Miracle of Life | A well-known surgeon talks about that miraculous red river within us as an emblem of life. (March 4, 1983)
Blood, Part 3: Life in the Blood | If Jesus had been born in the twentieth century, would he have chosen the image of transfusion for his forgiveness, love, and healing? (March 18, 1983)
The Scars of Easter | He knows the wounds of humanity. His hands prove it. (April 5, 1985)
A Handful of Mud | Soil is life. Can we preserve it for future generations? (April 16, 1985)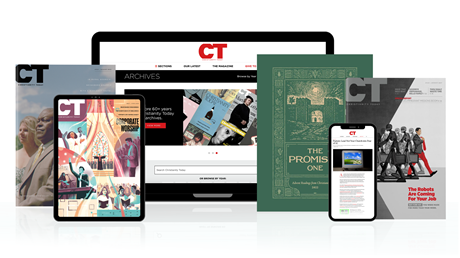 Annual & Monthly subscriptions available.
Print & Digital Issues of CT magazine
Complete access to every article on ChristianityToday.com
Unlimited access to 65+ years of CT's online archives
Member-only special issues
Subscribe
Noted Surgeon and Author Paul Brand Dies at Age 89
Noted Surgeon and Author Paul Brand Dies at Age 89