"Writing can be viewed as a sacrament insofar as it provides graced occasions of encounter between humanity and God," Ron Hansen wrote in A Stay Against Confusion: Essays on Faith and Fiction (2001). But the Gerard Manley Hopkins Professor in the Arts and Humanities at Santa Clara University doesn't just study writing—his novel Atticus was a finalist for the 1996 National Book Award. His other novels include Hitler's Niece and Marriette in Ecstacy. Hansen takes a slightly lighter route with his newest book, Isn't it Romantic?
Why the turn to romantic comedy?
I've always said that the goal of a writer is to educate and entertain. You have to entertain in order to educate. In this one, I put more emphasis on entertainment than on education, but it is giving a glimpse into the lives of people in the Midwest.
I wanted to treat the middle of America as foreign to a lot of people in America. [It's as foreign] as France is to us. There's a sense of alienation that you often find among people who have driven through the Midwest, maybe on I-80, but never have stopped off anywhere. The two coasts think that they know each other well but they don't know very much about the heartland.
What are the educational purposes behind the book?
First of all, I wanted to make people laugh in this. But I also wanted to acquaint people with what we might have lost when we're trying to be cool, when we're trying to be the biggest thing on the block. We kind of lose sight of what makes us good neighbors, what makes us good friends. And this is really about friendship, how it can be achieved, and what's the really important values in life.
What implications has faith had for you as a writer?
For a long time, my faith had been kind of subterranean. After writing a couple books, I wanted to be brave enough to risk writing about my religion. Early on [in a writer's career] I think there's a kind of a prejudice against religion in a lot of publishing circles. They want to categorize you and say, "Well, maybe you should go to a small Christian publishing house."
I wanted to reach a broader audience to show that it, in fact, a faith commitment is not alien from intellectual commitment. Thus, I decided to be more up front about it. And, remarkably, it didn't hurt me at all. It actually helped my career.
There seems to be a huge distinction between "a person of faith who writes" and being labeled a Christian writer. What is that distinction to you?
There is a kind of doctrinaire aspect in Christianity that says the message is more important than the ways you go about doing it. We always suspect that there's not the same level of art in people of faith who practice fiction opposed to other writers. Sometimes, [Christians tend to think] that as long as the end of the book has people receiving Christ as their Lord and Savior, it must be a good book. But I think Jesus would have wanted us to be good writers as well and pay attention to our craft as well as tell a meaningful story.
Jesus was always proposing more questions. He was not always giving answers. All the parables were open-ended. People were kind of ending up scratching their heads, saying, How does this apply to me? And I think that's what good fiction does. It proposes lots of questions about your own life and what you're going to do with it.
How do Christian writers do with confronting the problem of evil?
Evil is just too stark in Christian fiction. But there does exist a more nuanced view of evil in which the devil doesn't propose temptations that are easy to resist. The devil proposes temptations that seem to be good. And you find yourself going down the wrong path for all kinds of good reasons. Christian fiction often makes it kind of Manichaean where you have good versus evil, black versus white, and it's all very easily solved.
A lot of people think that once they've received Christ that their life is going to be smooth running. In fact, it's chopped up incredibly. And you see that if you read the Gospels carefully, there's all kinds of discord and chaos and unhappiness really.
Is there tension between serious fiction and popular fiction?
The difficulty is that serious fiction requires serious reading, and a lot of people just don't have the education or background in order to do it. I was with a taxi driver today and he was talking about Louis L'Amour, and he really liked reading Louis L'Amour's fiction.
He said, "L'Amour makes it so easy that you can see exactly what you're supposed to see. And I don't want to work that hard in reading." He said it is too hard reading serious fiction because you have to be co-creators with the writer.
There's always a subtext going on in serious fiction. There is a surface level but there are also notes underneath. It's almost kind of like a psychological study of the characters. So you have to be as smart as a psychologist to understand what the people are doing and why they're doing it. There are often gaps left in serious fiction where you have to fill in those gaps.
A lot of Christian fiction operates on a surface level while serious fiction works on a deeper level where those stories from the Bible are embedded. In those, it's up to the reader to try and pull those out to see those connections. When I was writing Atticus, I was overt at the very end that it was based on the parable of the Prodigal Son. But I think if I had not put in there, there would have been a lot of people who didn't even notice that it was there.
Do you mean general readers, or even Christian readers?
General readers. There is not as much acquaintance with biblical literature as we would hope. One of my students once turned in a story about Adam and Eve saying, "I found this in some old book my grandmother had."
He called the Bible an old book. I couldn't believe it. He thought he had discovered something.
Related Elsewhere
Visit DickStaub.com for audio and video of his radio program (4-7 p.m. PST), media reviews, and news on "where belief meets real life."
Recent Dick Staub Interviews include:
Gods and Generals' Director Links the Civil War with Today | Ron Maxwell talks about the role his faith plays in his career and what attracts him to the generation of the 1860s. (Feb. 25, 2003)
Why Don Richardson Says There's No 'Peace Child' for Islam | The author and missionary says he has tried to find bridge-building opportunities with Islam, but failed. (Feb. 11, 2003)
Did Martin Luther Get Galileo In Trouble? | David Lindberg talks about the early relationship between science and faith and his own journey on the subject (Feb. 4, 2003)
Dan Bahat on Jerusalem Archaeology  | One of Israel's leading archaeologists talks about the importance of the Temple Mount and key historical finds in the Holy Land. (Jan. 27, 2003)
Eddie Gibbs Reconsiders Gen X Churches | The author of Church Next and Fuller's professor of church growth says his views on church leadership have grown. (Jan. 21, 2003)
Peter Jenkins Finds Jesus While Walking America | The author of A Walk Across America talks about why angels smiled down at him at a revival in Mobile, Alabama. (Jan. 7, 2003)
R.C. Sproul's Testimony | The theologian and author of Five Things Every Christian Needs to Grow talks about how he met Jesus and why playing the violin is like reading the Bible. (Dec. 31, 2002)
Calvin Miller on a Southern Baptist's View of Advent | The author of The Christ of Christmas celebrates the season around the one great miracle (Dec. 17, 2002)
Phillip Johnson | Asking the right questions is at the heart of the evolution debate. (Dec. 3, 2002)
Connie Neal | The author of The Gospel According to Harry Potter talks about leading a friend to Christ through the wizard hero. (Nov. 19, 2002)
Chris Rice | The author of Grace Matters talks about his friendship with racial reconciliation leader Spencer Perkins, his former coauthor and best friend. (Nov. 12, 2002)
John Polkinghorne | The 2002 Templeton Prize winner sees the Bible as "the laboratory notebook" of the Holy Spirit. (Nov. 5, 2002)
The Dick Staub Interview
Dick Staub was host of a eponymous daily radio show on Seattle's KGNW and is the author of Too Christian, Too Pagan and The Culturally Savvy Christian. He currently runs The Kindlings, an effort to rekindle the creative, intellectual, and spiritual legacy of Christians in culture. His interviews appeared weekly on our site from 2002 to 2004.
Previous The Dick Staub Interview Columns: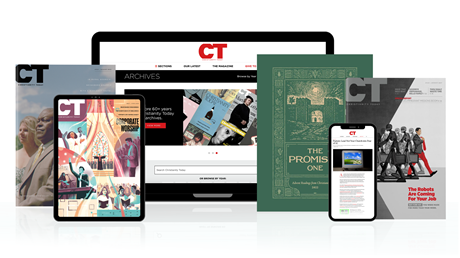 Subscribe to Christianity Today and get access to this article plus 65+ years of archives.
Home delivery of CT magazine
Complete access to articles on ChristianityToday.com
Over 120 years of magazine archives plus full access to all of CT's online archives
Subscribe Now
National Book Award Finalist Ron Hansen on Christian Fiction
National Book Award Finalist Ron Hansen on Christian Fiction