Will proselytizing in Iraq offer comfort and hope to a nation that is 97 percent Muslim?
Or will it reinforce the growing perception of Muslims worldwide that the war, no matter what President Bush says, is against Islam, not Saddam Hussein?
The largest American Protestant denomination, the Southern Baptist Convention, recently announced plans to send relief workers into Iraq to address both physical and spiritual needs. Samaritan's Purse, a relief organization headed by the Rev. Franklin Graham, has similar plans, as do other evangelical relief organizations.
Criticism was both swift and harsh.
Other faith-based relief groups said that proselytizing would tarnish their own humanitarian efforts in Muslim countries.
Several critics said that private relief groups are considered extensions of their governments in the Islamic world. Consequently, said Dan O'Neil, co-founder of Mercy Corps, based in Portland, Ore., "we have to pay the price of groups that don't play by the generally accepted rules of humanitarian engagement."
Some relief groups make proselytizing a firing offense.
"We try to open our hearts to others and see the full dimension of God in their experience," said Tom Getman, the Geneva-based director of humanitarian affairs and international relations for World Vision, a Christian group. "So we have a firm policy that we must never use a gift to persuade people to believe as we believe."
At its root, the proselytism issue is over religious values and interpretation of biblical passages.
Evangelicals believe they have a duty to share the "good news" of the gospel. They cite Jesus' last words to his followers urging them to go forth and "make disciples of all nations."
"The Great Commission is as natural a part of faithfulness to our Lord as loving our neighbors or being kind to the needy or living a faithful relationship with your spouse," said Jonathan Bonk, editor of the International Bulletin of Missionary Research, based in New Haven, Conn.
"So it's normal for Christians to want to proclaim the gospel. From their perspective, it's really good news, and to ignore that is to abdicate one's responsibility, not only to God, but to one's neighbor."
Samaritan's Purse, the Southern Baptist Convention, World Concern and World Relief, the humanitarian arm of the National Association of Evangelicals, say they plan to send relief workers into Iraq.
All the groups say they are taking no government money for their efforts and they will be sensitive, even subtle, in their approach. Receptivity to a religious message, they say, will never be a requirement to receive food, water, shelter or any other aid.
The image of Bible-toting missionaries marching into Iraq as Christian soldiers is inaccurate, they argue, because for the most part, the gospel will be shared only in private, in response to queries from curious individuals.
Teri Johnson, a spokeswoman for Seattle-based World Concern, said there will be no religious services or Bible studies. "We don't proselytize in the sense people think of proselytizing," Johnson said. "What we do is provide for people's needs. Then we look for appropriate ways within the culture to communicate the love of Christ.
"A lot of times, that can just be by our actions and showing them that we love them. But if it's appropriate, and people ask us, we'll also talk about what it means to us to be Christians."
Galen Carey, director of advocacy and policy for Baltimore-based World Relief, said the group has no formal policy about proselytizing, but that common sense prevails.
"You have to be sensitive to improper influence," Carey said. "We have no interest as Christians to see the emergence of what some call `rice Christians'—people who pretend to become Christians, but really aren't. We know we need to respect the dignity and the freedom of the Iraqi people."
How Muslims perceive evangelicals is important, especially since Bush himself is an evangelical Christian with strong ties to Graham, who said a prayer at his inauguration, and to Southern Baptists, who have been loyal supporters, said Ingrid Mattson, assistant professor of Islamic studies at Hartford Seminary in Connecticut.
"The impression all this gives to people, whether it's true or not, is that there may be a motive of the administration that they're not openly stating, that they want to change the underlying nature of the region, and part of that is to push Christianity," said Mattson, who is also vice president of the Islamic Society of North America.
She said the best thing the Bush administration could do to counteract that impression is to make sure Muslim relief organizations are working beside Christian ones in Iraq.
But Ellen Yount, a spokeswoman for the U.S. Agency for International Development, which helps coordinate and fund relief efforts, said given that the groups are "private charitable organizations and activities, we don't have any legal jurisdiction over them."
In other words, unless government money is involved, faith-based relief groups are free to proselytize, or not to proselytize, as they wish.
Related Elsewhere
For more coverage on the current conflict, commentary and thought on just war, or Christian debate, see our CTWar in Iraq archive.
A downloadable Bible study on the implications of war with Iraq is available at CurrentIssuesBibleStudy.com. These unique Bible studies use articles from current issues of Christianity Today to prompt thought-provoking discussions in adult Sunday school classes or small groups.
Recent Christianity Today articles and commentary on the current war with Iraq include:
Evangelicals Plan to Minister to Iraqis' Needs—Physical and Spiritual | Evangelism efforts will join relief work, say Southern Baptist Convention and Samaritan's Purse. (March 27, 2003)
Speaking Out: Where Do We Go From Here? | Now that the bombs are falling, we'll need to repair Iraq—and our nation's moral standing. (March 21, 2003)
CT Classic: Weeping over Baghdad | Desert Storm cost Iraq thousands of lives. At its conclusion, a Christianity Today editorial called for the church to deal with the living souls that remained. (March 21, 2003)
Relief Agencies Prepare to Help Iraqi Refugees | Meanwhile Christians in Baghdad fear the worst. (March 26, 2003)
Keeping Their Heads Down | Vital but dwindling Christians face many pressures. (Nov. 8, 2002)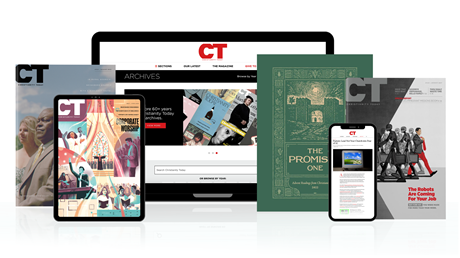 Annual & Monthly subscriptions available.
Print & Digital Issues of CT magazine
Complete access to every article on ChristianityToday.com
Unlimited access to 65+ years of CT's online archives
Member-only special issues
Subscribe
Mixing Iraq Aid and the Gospel Stirs Debate
Mixing Iraq Aid and the Gospel Stirs Debate