true
A case of the "terrible twos"? Not X2.
The first blockbuster action movie of the year, X2: X-Men United, opened this weekend, bringing with it cheers, millions of dollars at the box office, and an unexpected controversy.
Wolverine (Hugh Jackman), Rogue (Anna Paquin), Professor Charles Xavier (Patrick Stewart) , and the meddlesome bad guy Magneto (Ian McKellen) are back on the big screen, continuing the saga of supernaturally talented mutants who are persecuted by a society they're trying to protect. This time, the kind-hearted heroes find themselves in trouble when the elusive Nightcrawler (Alan Cumming) attacks the President of the United States. A brilliant bigot named William Stryker (Bryan Cox) takes advantage of the incident, convincing the President to support military action against the mutants. But even the President does not suspect Stryker's genocidal intentions.
Stryker is causing trouble for more than mutants. He has offended a portion of X2's audience as well. A U.K. news site reports that the Muslim civil rights group Project Islamic H.O.P.E. "and a coalition of Islamic organizations are demanding an apology from X2 director Bryan Singer and are also demanding that anti-Islamic propaganda be deleted from the future release of the DVD version of the film."
Anti-Islamic content? When Stryker is shown signing a document that will further his wicked agenda, the camera catches a glimpse of his ring, which bears the Arabic symbol for "Allah."
The fuss over this inflammatory detail is not hindering the film's success with audiences or critics. According to imdb.com, X2 earned an estimated $85.6 million in its first weekend, an opening just shy of the totals achieved by recent hits Spider-Man and the Harry Potter movies. Critics compare it to some of the most successful and admired sequels ever made, and many say this installment is a significant improvement on the first.
Singer clearly had successful sequels on his mind as he structured his follow-up to 2000's X-Men. Echoes of Star Trek 2: The Wrath of Khan, The Empire Strikes Back, and Terminator 2 resound throughout this exhilarating, exhausting action marathon. A top-secret rebel base is discovered and invaded by stormtrooper-militia. A highlighted kiss mimics the most memorable sequel kiss of all time. One metal-framed hero duels another in a brutal smackdown. Instead of an airborne chase through an asteroid field, X2 gives us airborne pursuit through something just as destructive and dazzling. The heroes' jet even acts like Empire's Millennium Falcon. A troubled hero uncovers startling secrets about his origins. And let's face it: Hugh Jackman is Han Solo with claws and a cigar. These are fleeting but reverent references; X2 has plenty of original ideas in its thrill-filled span.
One thing that sets this franchise apart is the way it lends itself to varying interpretations, all relevant and timely. The story focuses intently on the plight of minorities. The mutants can represent persecuted Jews, alienated teens, sexual minorities, or Christians.
(One Christian movie critic interrupts his X2 review to make sure readers are aware that one of the actors is a homosexual. Film Forum would like to point out that, in truth, all of the actors have sinned and fall short of the glory of God … as have all of its critics.)
Singer works his concerns about intolerance, violent revolt, and peace-seeking diplomacy cleverly into the film's almost nonstop action. He grounds familiar social dilemmas in strong characters and snappy dialogue, so that focus remains where it should be: on plot rather than preaching.
Numerous plot threads, more than a dozen central heroes and villains, and the high-speed storytelling prove dizzying and, for some, confusing. Still, it is remarkable how well Singer acquaints us with his large cast of unusual characters. They are quirky, endearing, and interesting. Each mutant's talents and troubles becomes a different metaphor.
Many critics claim the movie will please only comic book fans. I disagree. I have never read a single issue of X-Men, and I'm enjoying the series immensely. It comes closer to the engaging mix of humor, adventure, surprises, and scares found in the original Star Wars saga than any films since—including the new Star Wars films. (Parents should be warned that this is a PG-13 film with particularly intense violence and some strong sexual references.) Revisit the first film before you see the sequel, and you should have no trouble; this one picks up the plot right where X-Men left off. Its complexity will reward repeated viewings. Its solid performances—generally better than the standard action-genre fare—and its relentlessly clever script makes it the funniest action-adventure film yet.
Not every religious press critic agrees. (My full review is at Looking Closer.)
J. Robert Parks (The Phantom Tollbooth) says the movie "doesn't have time to do more than hint at character development. I found this rushing between characters, with little serious storytelling for any of them, frustrating." He adds, "My Christian friends were thrilled that we see a genuinely religious character join the band … but here there wasn't enough time to have him do more than say the Lord's Prayer."
Michael Elliott (Movie Parables) agrees: "There simply isn't enough time to explore any character or situation fully. The film is a loud, explosive, eye-catching sensory overload that immerses us into its world for over two hours but leaves us relatively unchanged by the experience."
But Steven D. Greydanus (Decent Films) writes, "Larger in scope and darker in tone than its predecessor, as rich in invention but expanding on it, X2 is the most ambitious, sprawling superhero saga to date. This is now one of Hollywood's best and most promising franchises."
He too finds something lacking (and I agree on this point): "The main thing that keeps X2 from being an achievement on the scale of The Empire Strikes Back or The Wrath of Khan is a crucial misstep at a point where both of those earlier movies decisively succeed. A good bit of the film's aspirations hang on a crucial plot point that, when it comes, lacks the emotional impact, or even narrative clarity, that it needed to work."
David DiCerto (Catholic News Service) finds moral significance in the storytelling: "The X-Men's commitment to protecting others—even those who consider them deviants and actively seek their destruction—echoes Christ's mandate to 'love your enemies, and do good to those who persecute you.' One of the heroes even pays the ultimate price, illustrating the Christian ideal of laying down one's life for one's friends. The film is replete with religious imagery and allusions. [Nightcrawler's] faith comes across as genuine and is treated with a reverence rare in Hollywood fare."
"I enjoyed this movie," says Holly McClure (Crosswalk), "and can safely say it won't disappoint the fans who like plenty of action, special effects, interesting characters and unbelievable stunts."
Bob Waliszewski (Focus on the Family) disagrees: "The director describes X2 as 'edgier, darker, funnier and more romantic than its predecessor.' I'm not so sure about the funny part or the romantic part, but he's dead right about the 'edgier, darker' part. Interwoven Scripture recitation, prayer, and positive themes about prejudice don't override these mutants' negativity."
Deanna Marquart (Christian Spotlight) argues, "The inclusion of Nightcrawler's faith was a wonderful surprise and hopefully it will serve as a light in the darkness to viewers who need the Savior. On the other hand, those with reservations about violence and other worldly displays and themes can expect to see their fears realized on the screen. Parents should certainly exercise their best discretion."
By "worldly displays," Marquart is referring to the film's emphasis on evolution. The characters talk about mutation as a form of evolution, but how strong an evolutionary message is a film sending when its boldest act of "evolution" is an act of Christlike sacrifice rather than "survival of the fittest"?
Most mainstream critics express admiration and praise for X2. Lawrence Toppman (Charlotte Observer) calls it "rarity among sequels, a follow-up with as much artistic integrity, complexity, humor and well-designed action as the original." And Mary Ann Johanson (Flick Filosopher) says that those viewers who write this movie off as geek fare are missing "one of the more germane metaphoric portrayals of the terrifying political and social landscape we're living in today in the United States."
Several Christian reviewers charmed by Duff
Junior high student Lizzie McQuire (Agent Cody Banks' Hilary Duff) is cute, but she's also a klutz. Her spectacular pratfalls have made her famous at school. In Rome, however, a different sort of fame awaits. While enjoying a class trip, Lizzie is mistaken for an Italian pop star named Isabella. The resemblance is convincing enough to charm Isabella's former pop partner Paolo (Yani Gellman), and the case of mistaken identity turns into a date. Comedy zaniness ensues as Lizzie, infatuated with her admirer, slips away from the watchful eyes of her strict supervisor (MadTV comedienne Alex Borstein). Before long, she is training to stand in for Isabella at the International MTV Music Awards. Somewhere along the way, she learns lessons about confidence and true friendship.
"The photogenic Ms. Duff has personality to spare," says Michael Elliott (Movie Parables). "Time will tell if she will develop depth as an actress." The movie, he says, "presents a Disneyfied view of life. It is as sugary sweet and sanitized as the Magic Kingdom itself. But despite this, there are still elements of the film which can be utilized to illustrate biblical truths."
David DiCerto (Catholic News Service) is not so impressed: "Sure, Duff is adorable. Sure, the film stresses the importance of friendship. But the contrived narrative is so threadbare that midway through, the film begins to feel like one long Vespa ride played against a grating cotton-candy soundtrack, with breaks just long enough for Duff to change outfits."
Movieguide's critic calls it "a fun adventure fantasy that teenagers everywhere will enjoy. It is almost completely devoid of foul language, violence, sex, and nudity, but it does carry the theme that ordinary kids can be famous if greatness is thrust upon them. Though not a heavy-handed or preachy theme, Christian viewers might want to discuss the Bible's warnings about the lust of the flesh, the lust of the eyes, and the boastful pride of life. The 3 Gs—gold, glory, and guys/gals—can be fleeting pursuits that drive children off the godly tracks of servant leadership and kingdom-mindedness."
The critic does offer further cautions about the film being "a bit soft on deceit" and including a brief scene involving "an effeminate principal."
Holly McClure (Crosswalk) writes, "I didn't think I would enjoy the premise of this movie as much as I did but I have to admit, it kept my attention and made me laugh. This is a lighthearted, enjoy-your-popcorn-with-your-children movie … and the sites of Rome make it delightful for adults."
Loren Eaton (Focus on the Family) says, "Positive takes on friendship, loyalty, parental love, honesty and the need to overcome fear get lots of screen time. The downsides differ only slightly from those seen on TV: occasionally immodest dress, plot points that skew a bit too mature for those 'younger siblings,' loose uses of God's name and a few harsh putdowns. Lizzie's not perfect. But she offers mountains of light-hearted fun heavily infused with positive messages young audiences desperately need to hear."
Mainstream critics debate whether the movie is endearing or annoying. Roger Ebert (Chicago Sun-Times) says the movie "celebrates popularity, beauty, great hair, lip gloss and overnight stardom, those universal obsessions of pop teenage culture. Lizzie … has never had a real idea in her silly little head, and in the real world, her sunny naiveté is going to lead to crushing disappointments."
Parents might do well to heed Ebert's next observation: "As a role model, Lizzie functions essentially as a spokeswoman for the teen retail fashion industry, and the most-quoted line in the movie is likely to be when the catty Kate accuses her of being an 'outfit repeater.' Since many of the kids in the audience will not be millionaires and do indeed wear the same outfit more than once, this is a little cruel, but there you go."
John Malkovich directs drama of political intrigue
Actor John Malkovich makes his debut as a film director with The Dancer Upstairs, a film based on an acclaimed novel by Nicholas Shakespeare. This thriller is set in Latin America, where a police detective (Javier Bardem) is tempted toward marital infidelity by a beautiful dancer (Laura Morante), disrupting his dangerous hunt for the leader of a terrorist organization. The story takes its inspiration from mid-'90s headlines about the search for the ringleader of the Shining Path movement in Peru.
Gerri Pare (Catholic News Service) writes, "The film manages the feat of being a methodical police procedural that is quietly riveting. Much of this can be credited to Bardem's perfectly pitched performance. What lifts the film above the typical thriller action-film genre is the nuanced narrative. Rejas' struggle with marital fidelity and determination to remain uncorruptable also give the drama a thoughtful and welcome moral sensibility. Dancer … has at times a mournful tone that makes one want to offer up a prayer for all the world's victims of terrorism."
But the critic at Movieguide objects, saying the film "settles for psychological ambiguity rather than moral clarity."
Beckham earns applause, Cancun morally bankrupt
Christian critics continued to catch up with other films covered earlier in Film Forum.
Nate Clarke (InterVarsity) says Bend It Like Beckham "is not a perfect movie. Keira Knightly … overacts quite a bit and Jess's love interest, Jonathan Rhys-Meyers, is prone to longful boy-band gazes. The film's plot is also fairly conventional. However, the metanarrative of life between two cultures is so wonderfully and gently handled that any miscues are easily overlooked. [It] could easily have been an overbearing social commentary or a trivial silly-fest. Instead it is an honest (and fun) look into the lives of a family trying to make sense of what it means to be British and Sikh."
The so-called reality movie The Real Cancun may have found new lows in critical derision. David DiCerto (Catholic News Service) says, "Every once in a while a movie is so utterly inane that to dignify it with a review seems to compound its absurdity by somehow deeming it worthy of analysis. Such is The Real Cancun—a film which gives credence to 20th-century Irish playwright St. John Ervine's assessment that most American movies are created 'by the half-educated for the half-witted.'"
Next week:
'Christian' movies—Are they a good idea? Readers, critics, filmmakers, and industry professionals respond with their opinions.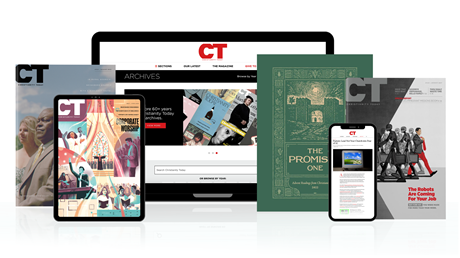 Subscribe to Christianity Today and get access to this article plus 65+ years of archives.
Home delivery of CT magazine
Complete access to articles on ChristianityToday.com
Over 120 years of magazine archives plus full access to all of CT's online archives
Subscribe Now
A Sequel with Metal Claws and a Moral Backbone
A Sequel with Metal Claws and a Moral Backbone