Media goes nuts over Army general's comments on religion
After reading dozens of articles about comments U.S. Army Lt. Gen. William Boykin made to church groups, Weblog still can't figure out what all the fuss is about. Apparently, many believe the following beliefs make him unfit for military service: that America is engaged in a spiritual war, that Satan is more of a threat than Osama bin Laden, that Islam is tantamount to idolatry, that America is grounded in a Judeo-Christian heritage, and that Islamic terrorists have targeted the U.S. because of that heritage.
Now, CT has written quite a bit on all of these things, and we probably wouldn't state things quite the way that Boykin did (here's us on whether Islam is idolatry, for example). But while Boykin's phrasing needs more nuancing, the rhetoric of his critics is simply startling.
The chief inquisitor is William M. Arkin, a former Army intelligence analyst and consultant. After a month of "investigative" reporting, he was behind both an NBC Nightly News broadcast and a series of articles in the Los Angeles Times targeting Boykin as "divisive" and "controversial." He says Boykin's comments suggest that the war against terrorism is a religious war. "I think that it is not only at odds with what the president believes, but it is a dangerous, extreme and pernicious view that really has no place," Arkin told the Times. (And, for the record, that's where the quote ends. He doesn't say "has no place in military leadership. It apparently has no place anywhere.) In a Timesop-ed piece, he calls the Lt. Gen. "an intolerant extremist."
An "intolerant extremist," it should be pointed out (as the Times did in one of its articles), who regularly talks to churches about how radical Islamic terrorists are as different from most Muslims as the KKK is from most Christians.
Let's look at some of these "intolerant, extreme" comments.
Who is that enemy? It's not Osama bin Laden. Our enemy is a spiritual enemy because we are a nation of believers. You go back and look at our history, and you will find that we were founded on faith. Look at what the writers of our Constitution said. We are a nation of believers. We were founded on faith. And the enemy that has come against our nation is a spiritual enemy. His name is Satan. And if you do not believe that Satan is real, you are ignoring the same Bible that tells you about God. Now I'm a warrior. One day I'm going to take off this uniform and I'm still going to be a warrior. And what I'm here to do today is to recruit you to be warriors of God's kingdom.
What's so offensive here? That bin Laden isn't the enemy? That Satan is? Is belief in Satan diametrically opposed to military service? Is the belief that Satan is a spiritual enemy of the American state?
And we ask ourselves this question, 'Why do they hate us? Why do they hate us so much?' Ladies and gentlemen, the answer to that is because we're a Christian nation, because our foundation and our roots are Judeo-Christian. Did I say Judeo-Christian? Yes. Judeo-Christian. … Our religion came from Judaism, and therefore these radicals will hate us forever.
Again, what here makes Boykin unfit for service? If anything, it puts the lie to the idea that Christians like him are intolerantly anti-Semitic.
There was a man in Mogadishu named Osman Atto. … He went on CNN and he laughed at us, and he said, 'They'll never get me because Allah will protect me. Allah will protect me.' Well, you know what I knew that my God was bigger than his. I knew that my God was a real God, and his was an idol. But I prayed, Lord let us get that man.
"Three days later … we got him. We brought him back into our base there and we had a Sea Land container set up to hold prisoners in, and I said put him in there. They put him in there, there was one guard with him. I said search him, they searched him, and then I walked in with no one in there but the guard, and I looked at him and said, 'Are you Osman Atto?' And he said 'Yes.' And I said, 'Mr. Atto, you underestimated our God.'"
Okay, there's some confusion about the word "our" there, but is the comment really that noteworthy? When the Council on American-Islamic Relations called the comment ill-informed and bigoted, were they saying that Atto's God really is their Allah? Isn't their usual line that terrorists like Atto aren't true Muslims?
That this has made the news in so many outlets (The Washington Post, Chicago Tribune, Newsday, Associated Press, Reuters, AFP, Voice of America, BBC, The Daily Telegraph, The Guardian, others) is surprising, but far more predictable are the comments of liberal and Muslim pundits.
"Everyone is entitled to their own religious beliefs, no matter how ill-informed or bigoted, but those beliefs should not be allowed to color important decisions that need to be made in the war on terrorism," CAIR executive director Nihad Awad told the Times. "Gen. Boykin should be reassigned to a position in which he will not be able to harm our nation's image or interests."
Likewise, said Interfaith Alliance head Welton Gaddy, "The remarks of Gen. Boykin fly in the face of the pleas of the president and violate the basic principles of tolerance and inclusion that are implicit in the culture of this nation."
U.S. Rep. John Conyers (D-Mich.) said in a letter to Defense Secretary Donald Rumsfeld, "I urge you to reassign or reprimand him; we cannot afford to have such an extremist speaking on behalf of our nation and our military."
Here's the shocker: some newspaper editorial pages went much further than even Awad, Gaddy, and Conyers, calling not for his reassignment, but for a full discharge. The San Francisco Examiner called for a denial of his right to free speech.
"As a citizen of this country, Boykin has every right not only to hold this opinion, but to try to persuade others to hold it, too," said an editorial. "But … as a soldier—and an officer—his words and actions become the concern of the entire American public. … There is no right for an officer in uniformed service of his country to proclaim which religions are good and which are bad."
The Examiner compared Boykin's comments to those of Malaysian Prime Minister Mahathir Mohamad, who told Muslim leaders, "The Europeans killed 6 million Jews out of 12 million, but today the Jews rule the world by proxy. They get others to fight and die for them."
The paper said that Boykin's comments, "while somewhat less obviously inflammatory, nonetheless were deplorable because of who said them and when."
The Los Angeles Times, editorializing on Boykin a day after Arkin slammed him on the op-ed page, drew an even closer connection with Mohamad. "The two men perceive the world in similar terms. One sees a perfidious plot against Asian and Islamic values; the other … appears to believe that the entire Islamic world is America's enemy." (This, one day after its news page reported, "In his public remarks, Boykin has also said that radical Muslims who resort to terrorism are not representative of the Islamic faith.")
"Boykin mocks Bush's attempts to emphasize that the U.S. is targeting terrorists, not Islam," the Times claims, though no one claims he has ever done anything of the sort. Like the Examiner, the Times believes the Lt. Gen. shouldn't be free to talk about his religious beliefs. "At his level anything said outside his living room will be seen as speaking for the U.S. military. … It's up to Defense Secretary Donald H. Rumsfeld to retire the Pentagon's self-proclaimed crusader before he does more damage."
Boykin, whom no one has quoted as proclaiming himself to be a "crusader," told NBC News that he's going to curtail his comments in the future. "I don't want … to be misconstrued. I don't want to come across as a right-wing radical," he said. He reiterated those comments today.
Vietnam lightening up?
Weblog was heartened to see an article from the Vietnam News Agency today noting the Government Committee for Religious Affairs's praise for the Evangelical Church of Vietnam, which won official recognition in 2001. The government has been persecuting Protestant ethnic minorities; might this be a sign of greater tolerance? Or might it just be a sign that John Hanford, U.S. State Department's ambassador-at-large for religious freedom, is visiting the country?
A clarification
Some understood Weblog's Wednesday posting as suggesting that Christopher S. Johnson of Midwest Conservative Journal has deformed feet (" … one foot and nine toes … "). He in fact has 10 toes, nine of which have withdrawn from the Episcopal Church USA.
More articles
Anglican troubles:
Australia's hate law case against anti-Islam speech:
Politics and law:
Government funds for religious organizations and study:
Pledge of Allegiance:
Polls:
Church and culture:
Bible:
Theology:
Missions and ministry:
Pop culture:
Sexual ethics:
Persecution:
Crime:
Messianic Jews:
Education:
Life ethics:
Pope John Paul II's 25 years:
Mother Teresa:
Artifacts:
Abuse:
More stories of interest:
Related Elsewhere
Suggest links and stories by sending e-mail to weblog@christianitytoday.com
Check out Books & Culture's weblog, Content & Context.
See our past Weblog updates:
October 17a | 16 | 15 | 13
October 10 | 9 | 8 | 6
October 3 | 2 | 1 | September 30 | 29
September 25 | 24 | 23 | 22
September 19 | 18 | 17 | 16 | 15
September 12 | 11 | 10 | 9 | 8
September 5 | 4 | 3 | 2
and more, back to November 1999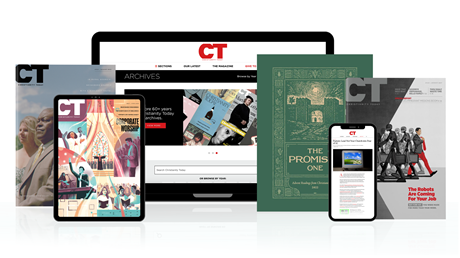 Annual & Monthly subscriptions available.
Print & Digital Issues of CT magazine
Complete access to every article on ChristianityToday.com
Unlimited access to 65+ years of CT's online archives
Member-only special issues
Subscribe
Should Christians Be Banned from the Military?
Should Christians Be Banned from the Military?