Among the many gifts Condoleezza Rice's dad gave her was his own example of persevering in sorrow while clinging to the God he loved. "Even in his sickbed, he was still the spiritual leader," says Gregory Bailey, Rice's stepbrother. Bailey recalls a Thanksgiving gathering in which the family had assembled around Pastor Rice, whose condition required 24-hour nursing care and had rendered him barely able to speak.
"I was getting ready to lead the prayer. Right before I spoke, John said, in the clearest, most commanding voice, 'Our Father in heaven,' and he basically said a beautiful, eloquent prayer in the clearest, most resonate tone. It was almost like he was in the pulpit, and at the end everyone clapped and cheered and was in tears."
Rice's own approach to struggle combines the godly influences of her family members with her own deeply rooted faith. Not long after becoming provost at Stanford, Rice preached at Menlo Park Presbyterian Church on "The Privilege of Struggle."
Struggle and sorrow, she said, "are not license to give way to self-doubt, to self-pity, and to defeat," but are "an opportunity to find a renewed spirit and a renewed strength to carry on." How else but through struggle, she said, "are we to get to know the full measure of the Lord's capacity for intervention in our lives? If there are no burdens, how can we know that he can be there to lift them?
"The affirmation of that paradox of the human condition, a belief in the privilege of struggle, is heard in the words of a Negro spiritual. In the most horrendous of conditions, when it must have seemed that there was no way out, nowhere to go, slaves raised their voices in 'Nobody Knows the Trouble I've Seen.' Glory, Hallelujah."
As Rice spoke of how she had found the strength to go on after the death of her mother, her father sat near the back row and choked back his tears. She said, "I understood, for the first time in my life, the peace that passeth all understanding."
On September 11, 2001, when terrorists slammed planes into the World Trade Center and the Pentagon and killed more than 3,000 people, Rice was prepared spiritually. She approached 9/11 the same way she had approached her previous trials—with prayer and an earnestness to learn and to grow.
"Terror and tragedy have made us more aware of our vulnerabilities and mortality," Rice said at the National Prayer Breakfast this February. "We're living through a time of testing and consequence, and pray that our wisdom and will are equal to the work before us."
Music too has carried Rice through hard times. At Camp David on the weekend after September 11, Bush and his top advisers met to discuss the administration's response. After the meeting, Attorney General John Ashcroft sat at a piano and played "Amazing Grace" and "His Eye Is on the Sparrow" while Rice sang.
In asking God to guide her decisions, Rice told Newsweek, "It's not as if you ask God, 'Should we try to take down the Taliban?' " Rather, when Rice kneels at night, she often asks that God help her to "walk in your way and not my own."
Related Elsewhere
Also appearing on our site today:
The Unflappable Condi Rice | Why the world's most powerful woman asks God for help.
Hard Line on the Road Map | Can Rice put pressure on the nation she admires?
Christianity Today sister publication Christian Reader profiled Rice last fall:
Condoleezza Rice's Secret Weapon | How our National Security Adviser finds the strength to defend the free world. (September/October 2002)
Bios of Condi Rice are available at the Hoover Institute at Stanford University, The White House, and The State Department.
More related coverage includes:
Walking in faith—The Washington Times (August 27, 2002)
Condoleezza Rice: A Talk with the National Security Adviser—NPR (March 1, 2002)
Profile: Condoleezza Rice—BBC (September 25, 2001)
The quiet power of Condi Rice—Newsweek
Previous Christianity Today articles on the faith of the Bush White House include:
The Bush Doctrine | The moral vision that launched the Iraq war has been quietly growing in the President's inner circle. (April 25, 2003)
Texas Pastor James Robison on the Life-Changing Faith of George W. Bush | The president of Life Outreach International talks about his friend's faith, the moral need of America, and his own conversion. (March 11, 2003)
Scrutiny of Bush's Faith Continues with Newsweek Cover Story (March 3, 2003)
Christian Leaders Respond to Bush's National Security Strategy | The White House outlines foreign policy in a changing world. (September 25, 2002)
Bush's Defining Moment | The President, facing a grief-stricken nation under attack, finds his voice and his mission. (November 2, 2001)
The Minister of 'Good Success' | Meet Kirbyjon Caldwell—megachurch pastor, real-estate whiz, community developer, and the President's spiritual confidant. (October 5, 2001)
A Presidential Hopeful's Progress | The spiritual journey of George W. Bush starts in hardscrabble west Texas. Will the White House be his next stop? (September 5, 2000)
Have something to add about this? See something we missed? Share your feedback here.
Our digital archives are a work in progress. Let us know if corrections need to be made.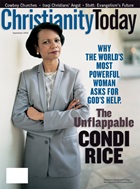 This article is from the September 2003 issue.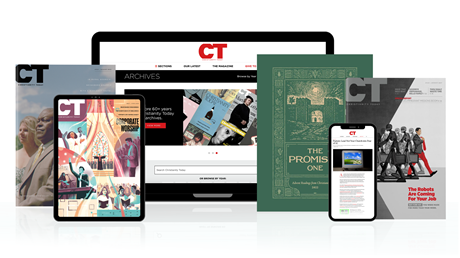 Subscribe to Christianity Today and get access to this article plus 65+ years of archives.
Home delivery of CT magazine
Complete access to articles on ChristianityToday.com
Over 120 years of magazine archives plus full access to all of CT's online archives
Subscribe Now
'The Privilege of Struggle'
'The Privilege of Struggle'