The church in Sri Lanka is notably home-grown. One reason is that since few missionaries get visas. That cuts off the church from foreign influence, and to some extent from foreign funding.
A second reason is that the Assemblies of God are the most dynamic church in Sri Lanka. Pentecostalism goes back a long way in Sri Lanka, inspired by the 1923 visit of Madam Livini, a converted Danish actress. Stirred by her example, a number of local families began Pentecostal ministries. These kept their distance from the prevalent colonial churches.
The Ceylon Pentecostal Mission became the largest. Its members dressed in white robes and stressed celibacy for church workers.
The Assemblies grew from the same root, but somewhat more conventionally, thanks to the presence of American Assemblies of God missionaries. These withdrew in 1963, however. According to Pastor Colton, the Assemblies' respected white-haired leader, the missionaries found Sri Lanka a "difficult field."
"Missionaries and funds go together," Colton told me, "even though they speak of indigenous work. When suddenly you are weaned from your mother's milk it is a time of real difficulty. Most of our workers and their families were almost at the point of starvation.
"But it was a blessing in disguise. 'The just shall live by faith,' as the Scriptures say. Colonial rule had crushed our ability to stand on our own initiative. We were the 'Island of Palms'—we always had our palms out.
"I started my church with 50 hens for self-support. People began tentmaking, and that really helped the work. It began to grow on indigenous principles. We must clothe Christ in the garb of the people, and speak of Christ in the language of the people." By all accounts the Assemblies have become the most vital denomination in Sri Lanka.
The Methodists tell a different but equally hopeful tale. All the traditional churches, identified with colonialism, have been in decline since independence. "Asian" theology tried to rethink Christianity from within the local culture, but its liberal impulses neglected evangelism and discipleship. As Duleep Fernando, who heads the Sinhala Methodist Evangelistic Training College, told me with a twinkle in his eye, "We were going to end up with very few people to talk about justice."
In the 1990s evangelical Methodists convinced the church to launch two evangelist-training colleges. As evangelists have gone out to plant churches, the orientation of established churches and ministers has gradually shifted. "Now maybe 50 percent of the ministry is involved in evangelism," Duleep said. Difficulties remain, but the Methodist church has become far more engaged in reaching out.
With such renewal come new challenges. Converts in Sri Lanka inevitably lack Judeo-Christian concepts of a single holy God, of sin, and of heaven and hell. Duleep tells of a convert from a rural village. "He told me that his daughter was having some kind of trouble with evil spirits, and he had gone to his local monk to have the curse removed. That fellow wanted 30,000 rupees to do the job, whereas the Christians were willing to do it for free. So he became a Christian."
Duleep laughed when he told me this, but he wanted me to understand that accepting Christ is only the first step for someone raised without a concept of the one true God.
"People have severe needs," says Ivor Poobalan, principal of Sri Lanka's Colombo Theological College. "They experience much demonic activity." The prayers and counsel of Christians affect them powerfully, but "sometimes we are in danger of preaching a gospel of meeting needs. The Buddhists have done cartoon booklets characterizing Christianity as coming to your door and saying you will be healed, you will get a job, and so on. They see this is how the gospel is portrayed.
"When I meet Christians, I find that their concept of sin is missing. Many have never heard about repentance. Is the conversion really conversion, or it is really pre-conversion that we have?"
Vinoth Ramachandra wonders whether gospel preaching that neglects reconciliation can truly be considered gospel. "Reconciliation is not just something for higher level Christians. It is not a second blessing." His wife Karin adds, "If you don't give the whole gospel in the beginning, people won't accept it later on."
Vinoth decried the younger churches' unwillingness to grapple with ethnic strife. "Only when persecution comes, they want to talk about human rights. But when non-Christians are in trouble, there's no interest." He cites 1991, when Tamil separatists drove Muslims out of Jaffna. "Not a single Christian voice spoke up."
Tim Stafford is senior writer for Christianity Today.
Related Elsewhere
Related articles appearing on our web site today include:
The Joy of Suffering in Sri Lanka | How Christians thrive in the land where ethnic and religious strife is always just around the corner.
A Man of Peace | While other monks march against peace, this fierce-looking cleric seeks accord.
Article continues below
Being the Leaven | Why only a handful of Sri Lankan Christians wage peace via the difficult political process.
More reports on religious freedom in Sri Lanka are available from the U.S. State Department, Open Doors International, and International Christian Concern.
The Sunday Leader, an English newspaper based in Colombo, Sri Lanka, recently reported on a "new wave of Christianity" in the country (second item) and an increase in attacks on churches.
Earlier Christianity Today articles on Sri Lanka include:
Violence Erupts in Sri Lanka as Churches Look to New PM to Bring Peace | The island nation reels from an ethnic conflict which has claimed more than 64,000 lives since 1983 (Dec. 19, 2001)
The Hard-Won Lessons of Terror and Persecution | Overseas Christians reflect on painful experiences (Sept. 26, 2001)
Christians and Buddhists Build Bridges for Peace in Sri Lanka | Religious officials secret meeting with Tamil Tigers draws criticism (Mar. 7, 2001)
Sri Lanka to Investigate Attack on Evangelical Church | Buddhist fervor for tradition and anger at Christian evangelism boils over in church assault (Feb. 28, 2001)
Christians Mediate for Peace | Sri Lanka churches try to reconcile Sinhalese Buddhists and Hindu Tamils. (Apr. 10, 2001)
Sri Lanka's Churches Pray for Peace as War Rages Around Jaffna | Country's Protestants to unify in prayer June 16. (June 5, 2000)
In Sri Lanka's No Man's Land, Churches Provide Some Hope for Refugees | Christians mobilize to help nearly a million left homeless by Tamil conflict (Apr. 18, 2000)
Sri Lanka's People Are Not Divided, Just the Politicians, says Archbishop | Churches call for peaceful end to Tamil fighting (Feb. 28, 2000)
Dispatch From Sri Lanka: Bombs Away | How Western military actions affect the work of the church (June 14, 1999)
Sri Lanka: A Light in Buddha's Shadow | "With no end in sight to the war, we persevere in seeking to be faithful to God." (Nov. 16, 1998)
Dalai Lama, Evangelical Leader Talk | The discussion focused on the persecution of Christians in Sri Lanka by Buddhists (Aug. 10, 1998)
Assemblies of God Church Attacked | There has been a 230 percent increase in anti-Christian incidents on the island nation south of India in the past year (Feb. 9, 1998)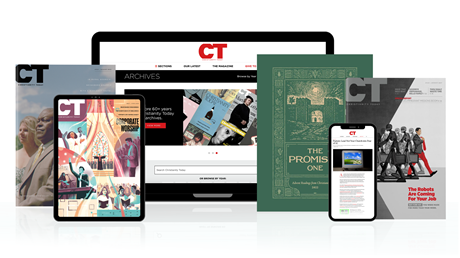 Annual & Monthly subscriptions available.
Print & Digital Issues of CT magazine
Complete access to every article on ChristianityToday.com
Unlimited access to 65+ years of CT's online archives
Member-only special issues
Subscribe
Indigenous and Evangelistic
Indigenous and Evangelistic