Conservative religious organizations were hardly indivisible in responding to the Supreme Court's decision-or rather, indecision-on the Pledge of Allegiance.
Focus on the Family's James Dobson, for example, said the Court "showed a lack of principle that is truly appalling," while American Center for Law and Justice chief counsel Jay Sekulow praised the justices' "proper conclusion."
The majority was probably right to throw out the case based on atheist Michael Newdow's standing, since the mother of his daughter has "exclusive legal custody," and she's an evangelical who wants her daughter to recite the Pledge as it is. If someone with no custody rights can bring a suit on behalf of his daughter against the wishes of a parent with exclusive custody, the term has no meaning. Besides, Newdow's daughter is also a Christian, so even if he won, his daughter would have continued to recognize herself "under God."
But it's almost irrelevant. Observers almost unanimously agreed that Newdow was going to lose. Other "under God" challenges are already working their way through lower courts, and analysts say they won't succeed either.
What we don't know, however, is why the justices will support the phrase. And that's why the concurring opinions are so important-they offer fundamentally differing views of religion in the public square.
Historical opportunities
Chief Justice William Rehnquist says the Pledge's religious language is okay because it's historical. "Our national culture allows public recognition of our Nation's religious history and character," he wrote. "The phrase 'under God' in the Pledge seems, as a historical matter, to sum up the attitude of the Nation's leaders, and to manifest itself in many of our public observances. Examples of patriotic invocations of God and official acknowledgments of religion's role in our Nation's history abound." Describing our Republic as one nation under God is merely a "recognition of the fact … that our Nation was founded on a fundamental belief in God."
Justice Sandra Day O'Connor agrees that the phrase is historically religious. "It is unsurprising that a Nation founded by religious refugees and dedicated to religious freedom should find references to divinity in its symbols, songs, mottoes, and oaths," she wrote. "Eradicating such references would sever ties to a history that sustains this Nation even today." But such references are not okay because they're old, she argues; they're okay because they've lost all religious meaning. "Whatever the sectarian ends its authors may have had in mind, our continued repetition of the reference to 'one Nation under God' in an exclusively patriotic context has shaped the cultural significance of that phrase to conform to that context. Any religious freight the words may have meant to carry originally has long since been lost." This is "ceremonial deism," and O'Connor says it serves "to solemnize an occasion instead of to invoke divine provenance."
Christians who truly believe themselves "under God" should find this argument far more troubling than the idea of children reciting the Pledge without the phrase. Good Christian theology warns against making strong distinctions between "secular" and "religious" purposes as O'Connor does here. We hold allegiance to our country, after all, only because we hold our wholehearted allegiance to God, and he has commanded us to be subject to the governing authorities. But we must never use the name of God blithely for patriotic purposes. Scripture repeatedly tells us that God is jealous for his name. We dare not ever invoke it without "religious freight." That would be the very essence of taking his name in vain.
Rereading the First Amendment
Justice Clarence Thomas differs sharply from O'Connor. "Pledging allegiance is to declare a belief that now includes that this is 'one nation under God,'" he wrote. "It is difficult to see how this does not entail an affirmation that God exists." According to Supreme Court precedent, he argued, "the Pledge policy is unconstitutional." But, he added, Supreme Court precedent has long ignored what the Constitution actually says: It only bans the establishment of a national religion. "Through the Pledge policy, the State has not created or maintained any religious establishment, and neither has it granted government authority to an existing religion," he wrote. "The Pledge policy does not expose anyone to the legal coercion associated with an established religion. Further, no other free-exercise rights are at issue. It follows that religious liberty rights are not in question and that the Pledge policy fully comports with the Constitution."
Thomas's argument that the First Amendment's establishment clause allows states to establish religion is the real bombshell in the Pledge decision, and it deserves much more discussion in both the American church and the legal community. (Philip Hamburger's history, Separation of Church and State, is crucial reading here.)
But the rest of the Supreme Court needn't be as radical as Thomas to rebut the menace of O'Connor's meaningless "God" or the toothlessness of Rehnquist's historical deity. As U.S. Solicitor General Theodore Olson noted in oral arguments, "under God" is a "descriptive phrase," not a prayer. It acknowledges the foundation, not just the founding, of our country. The right to revolt and to create a government was, and is, grounded in a religious principle. Reciting the Pledge is a patriotic act, but that doesn't make "under God" a meaningless phrase. Instead, recognizing that our nation is "under God" makes our patriotism possible.
Related Elsewhere:
Also posted today is Pledging to Fight | Atheist says battle over 'under God' has just begun.
The complete decision is available from the Supreme Court.
A compilation of our coverage of the "Under God" battle is available from our Pledge Hot Topic page. Some highlights include:
Weblog: Supreme Shocker—'Under God' Stays Because of a Technicality | Supreme Court says Michael Newdow doesn't have authority to speak for his daughter. Plus: Reactions from conservative Christian advocacy organizations. (June 14, 2004)
Atheist Dad in 'Under God' Case Literally Applauded, But Likely to Lose | Supreme Court justices will probably overturn ruling, but maybe without addressing Pledge issues. (March 25, 2004)
One Nation Under God—Sort of | We've got bigger problems than the Pledge of Allegiance. (Jan. 07, 2004)
A Crack in the Wall | Two recent books help explain Thomas Jefferson's intent for "separation of church and state." (Oct. 10, 2002)
Is Patriotism Dead? | The day that patriotism ceases, that day we will have ceased to be a people. (July 3, 2001)
Christian History Corner: Should We Fight for 'Under God'? | The right approach to these two little words may not be obvious. (June 04, 2004)
Is God an American Institution? | The Ninth Circuit Court's decision is about more than the mention of God in a patriotic ritual, it goes to the heart of the debate about our nation's spiritual heritage. (June 27, 2002)
Have something to add about this? See something we missed? Share your feedback here.
Our digital archives are a work in progress. Let us know if corrections need to be made.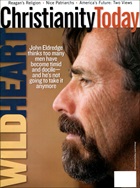 This article is from the August 2004 issue.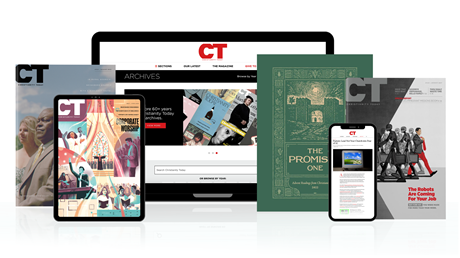 Subscribe to Christianity Today and get access to this article plus 65+ years of archives.
Home delivery of CT magazine
Complete access to articles on ChristianityToday.com
Over 120 years of magazine archives plus full access to all of CT's online archives
Subscribe Now
Divisible After All
Divisible After All