Since the late '80s, evangelical Protestants have been arguing among themselves about male headship in marriage. They have divided into the complementarians (who call for distinct gender roles) and the egalitarians (who call for couples to discover and negotiate roles and responsibilities in marriage). These two groups have often seemed to be engaged in what academic psychologist Mary Stewart Van Leeuwen has called "proof-text poker." Each side hopes their "hand" of biblical citations will trump the other.
In recent years, male-headship advocates have taken increasing care to condemn abuse and to portray male headship as servanthood—all the while maintaining that the Bible commands men to take a leadership role in marriage. The effort seems to be paying off. (See the interview with W. Bradford Wilcox on page 44 regarding his new book, Soft Patriarchs, New Men.)
Now comes Does Christianity Teach Male Headship? The Equal-Regard Marriage and Its Critics. This collection of 11 essays lacks the polemical tone of some earlier books. This is due in large measure to the fact that most of the writers are more intent on solving a social problem than in winning an argument.
Headship as responsibility
Co-editor David Blankenhorn sets up the problem. Blankenhorn, who advocates for fatherhood in a father-impoverished culture, recalls interviewing a group of African-American Pentecostal women at their church on the south side of Chicago. He asked the women, "Is the father the head of the family?" They all said yes. When he asked them what that meant, they said, "Working hard to support the family financially … leading the family in prayer at meal times … and … taking the family to church on Sundays." Blankenhorn pressed them: Aren't women capable of leadership? They smiled knowing smiles back at him. Of course they could do all the things they wanted men to do, they patiently explained. But they want men as heads of families because the "alternative is drugs, prison, and early death. That's the choice that our men must make, and we praise God for those who make the right choice."
Blankenhorn calls the appeal of these Chicago women the best argument he has heard for male headship in marriage. But in doing so, he shifts the meaning of the term, and headship becomes code for responsibility.
Don Browning, a second co-editor of the book, argues against notions of male headship. He recognizes that one of great social achievements of Christianity and Judaism has been the "stabilizing of male responsibility and giving it sacred meaning." But he argues that Southern Baptists and the Promise Keepers are wrong in believing that "a little soft patriarchy is the price to be paid for male responsibility."
Browning briefly pits Ephesians against Aristotle to show that early Christian ideas for ordering households were significantly out of step with prevailing Hellenic notions of male headship. He characterizes the early Christian view as "equal regard," meaning "both husband and wife treat each other as equals—as persons—and never as means to other ends, i.e. as objects of manipulation." This relational framework means that the equal-regard advocates in this book do not come across as ideologues committed to an abstract ideal, but as scholars concerned for healthy marriages.
Browning thus sets the stage for Van Leeuwen, the book's third co-editor, to set forth her argument that "'proof-text poker'… betrays a very low view" of Scripture because it treats distinct passages as factoids rather than as parts of a "redemptive-historical flow." Here Van Leeuwen sketches the views she set out more thoroughly in her 1990 book, Gender and Grace, that male domination is an effect of the Fall and should not be read back into creation (or, presumably, projected forward into the economy of salvation).
Fortunately, pro-headship author Robert Godfrey rises above proof-text poker. Godfrey points to the representative nature of the head of a family, tribe, or nation in biblical thinking. This is an anti-modern notion, but it reflects the reality that people exist in webs of relationships that provide their identity. Without rediscovering the representative role of the head person, we cannot understand biblical discussions of salvation, church life, or family life.
John Miller, emeritus professor at Conrad Grebel College, begins the book's second half by asking: Can a gendered problem (male irresponsibility) be cured by a degendered solution (equal regard)? There is an instinctual rightness to Miller's challenge. But because of Van Leeuwen's essay, the challenge is misplaced. In her hands, "equal regard" is clearly not degendered. Each sex has its own particular temptations to overcome in order to work out the meaning of Christian love in the context of marriage.
Assertiveness for Families
Van Leeuwen reads Genesis 3:15-16 to say that "as a result of the fall, there will be a propensity in men to let their dominion run wild—to impose it in cavalier and illegitimate ways," including "on the helper." And the woman's propensity "is the temptation to avoid taking risks—to avoid exercising legitimate dominion—if such risks would upset existing relationships."
"To recapture a responsible rendering of the image of God," Van Leeuwen writes, "men may often need to be less assertive and women more." But when you place Van Leeuwen's analysis into the context of epidemic fatherlessness, it is not that men need to be less assertive, but that their assertiveness needs to be channeled into building up families.
The book nears its end with Maggie Gallagher's summary essay. Gallagher plays a bit of verbal jujitsu. Just as equal-regard advocates have been arguing that Promise Keepers—and Southern Baptist—style male headship is mired in "soft patriarchy," she claims that equal-regard advocates are trapped in "soft androgyny."
For conservative family activists like Gallagher, the issue is not really headship. Indeed, she admits that her Catholic tradition has largely ignored male headship as a theological category. Instead, the issue is a social one—male irresponsibility—and millions of women and children are suffering the consequences.
How to fix that? The motivation for male involvement in the family is about feeling and being needed. Some men feel indispensable in the workplace, but all can potentially feel that way at home. Here is where the language of equal regard may fail to inspire, whereas the language of headship motivates.
Headship language promotes male responsibility when it is framed by strong church-based teaching about what men owe their wives and children and about the value of the family. Can equal-regard language be as effective? The challenge is now for equal-regard advocates to create the grassroots organizations that can deliver a similar impact in creating involved husbands and fathers.
Related Elsewhere:
This month's Editor's Bookshelf selection is Does Christianity Teach Male Headship? Elsewhere on our site, you can:
Read an extended interview with Maggie Gallagher
Order Does Christianity Teach Male Headship? from Christiabook.com and other book retailers.
Read other Editor's Bookshelf reviews and interviews
Earlier Christianity Today articles on gender roles include:
Headship with a Heart | How biblical patriarchy actually prevents abuse. (Feb. 10, 2003)
Nuptial Agreements | Two models of marriage claim biblical warrant and vie for evangelicals' allegiance. Advocates of both claim good results. But do we have to choose? (March 15, 2003)
Article continues below
Adam and Eve in the 21st Century | When it comes to gender roles, CT readers oscillate between complementarian and egalitarian ideas. (March 15, 2003)
CT Classic: Adam and Eve in America | In 1990, readers first revealed what they thought it means to be created male and female. (March 15, 2003)
Can We Talk? | We may never resolve all our differences about women in leadership, but we can help each other toward better understanding. (March 15, 2003)
A Different Kind of Women's Lib | A dispatch from the Council for Biblical Manhood and Womanhood conference. (October 12, 2001)
Seahorses, Egalitarians, and Traditional Sex-Role Reversal | A dispatch from the Christians for Biblical Equality conference. (July 11, 2001)
The Next Christian Men's Movement | Just because Promise Keepers no longer fills stadiums doesn't mean men's ministry is dead. Far from it. (Sept. 15, 2000)
What Has Gender Got to Do with It? | Wesleyan-Holiness churches were led by women long before the rise of the modern women's movement. (Sept. 12, 2000)
A Woman's Place | Women reaching women is key to the future of missions. (Aug. 4, 2000)
Integrating Mars and Venus | Gender-based ministries may be effective, but are they biblical? (July 12, 1999)
Finding Power in Submission | Two feminist scholars write about women you'll recognize. (Apr. 27,1998)
Will Episcopalians Step into the 'Radical Center'? | Homosexual ordination discussed, women's ordination mandated. (Sept. 1, 1997)
Presbyterian Groups Sever CRC Ties | Women's ordination splits two denominations. (Aug. 11, 1997)
Have something to add about this? See something we missed? Share your feedback here.
Editor's Bookshelf
David Neff was editor in chief of Christianity Today, where he worked from 1985 until his retirement in 2013. He is also the former editor in chief of Christian History magazine, and continues to explore the intersection of history and current events in his bimonthly column, "Past Imperfect." His earlier column, "Editor's Bookshelf," ran from 2002 to 2004 and paired Neff's reviews of thought-provoking books and interviews with the authors.
Previous Editor's Bookshelf Columns:
Our digital archives are a work in progress. Let us know if corrections need to be made.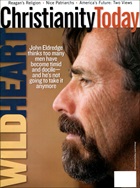 This article is from the August 2004 issue.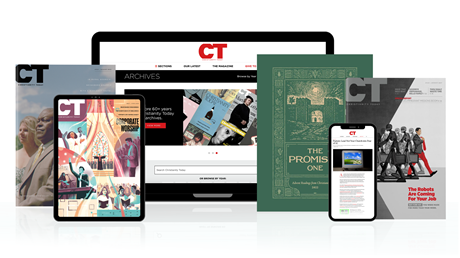 Subscribe to Christianity Today and get access to this article plus 65+ years of archives.
Home delivery of CT magazine
Complete access to articles on ChristianityToday.com
Over 120 years of magazine archives plus full access to all of CT's online archives
Subscribe Now
Creating Husbands and Fathers
Creating Husbands and Fathers